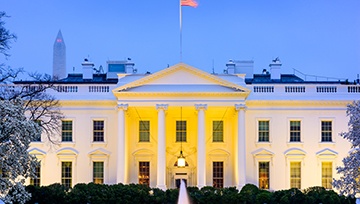 Trump Announces Tariffs Against China, Brings US Closer to a Trade War
- President Trump announces $50 billion in tariffs against China; aims for "reciprocal trade"
- Major trade steel exporters receive steel tariff exemption, but China does not
- DXY awaits response from China
- See the DailyFX Economic Calendar for upcoming economic data and for a schedule of live coverage see the DailyFX Webinar Calendar
A few days ago we have a brief summary of the recent global trade tensions including the US' proposal to the EU for tariff exemptions. This afternoon, President Trump has doubled down on his initial steel tariffs by announcing an additional $50 billion in tariffs targeted directly at China. Secretary Ross reasoned that the new tariffs are justified given the technological property rights that China has stolen from the U.S. Trump argued that action levy against China could have been $60 billion but ultimately that figure came around to $50 billion. The President saw the measure against China as fair reasoning, "The word that I want to use is reciprocal… If they charge us, we charge them the same thing."
In addition, earlier this morning US Trade Representative Robert Lighthizer announced that the European Union Australia, Argentina, Brazil and South Korea will get a temporary exemption form the steel and aluminum tariffs that the Trump administration announced earlier this month. Although, Lighthizer notably left out Japan, a major trade partner of the US. It appears that the Administration has tailored their protectionist measure towards nations in which the US runs the largest trade deficit. Here are some of deficits the US runs with key trade partners according to the Census Bureau in January:
China:

-$35.95b

Japan:

-$5.65b

Mexico:

-

$4.134b

Canada:

-3.64b
Although, the recent strategy to target China on steel may be amiss. The US has now exempt the top for steel exporters to the US. Notably, China did not receive an exemption despite being the 10th top steel exporter to the US. Here is a list of where the US gets most of its steel from by percentage:
Canada: 16.7 %
Brazil: 13.2 %
South Korea: 9.7 %
Mexico: 9.4 %
Russia: 8.1 %
Turkey: 5.6 %
Japan: 4.9 %
Germany: 3.7 %
Taiwan: 3.2 %
China: 2.9 %
India: 2.4 %
Earlier this month, Senior Currency Strategist Christopher Vecchio, explained the impacts of the tariffs and trade wars on the US. The Administration aims to "get China to modify its unfair trade practices." However, the effect may be quite different. We will continue to cover the tensions between trade partners as they arise. Notably, how will China respond?
Chart 1: DXY 15-minute Chart (March19 – March 22, 2018)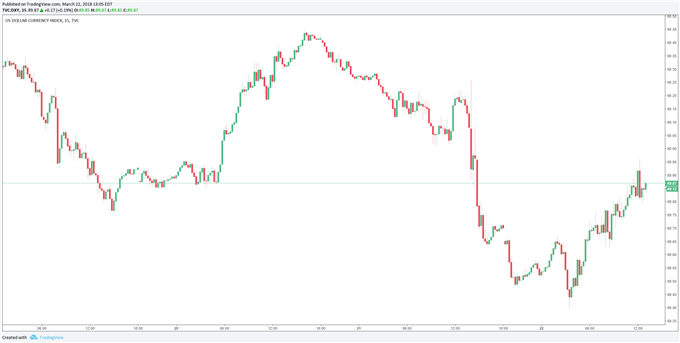 DXY hasn't shown much reaction to the announcement yet. Traders are likely waiting for a response from China and other key trading partners. At the time that this was written DXY traded at 89.87.
--- Written by Dylan Jusino, DailyFX Research
DailyFX provides forex news and technical analysis on the trends that influence the global currency markets.