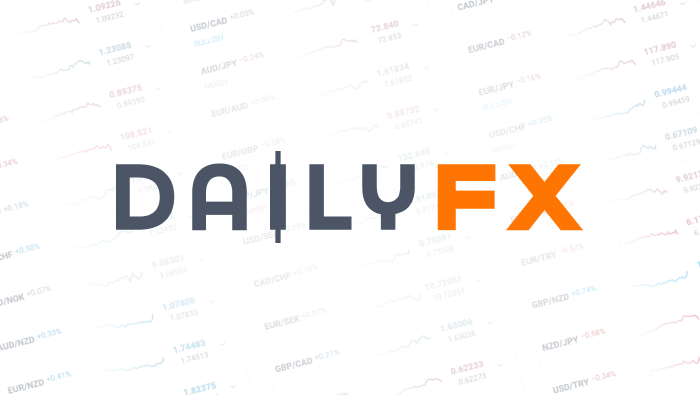 US Gives EU Five Conditions For a Tariff Exemption
- President Trump gives CAD and MXN a boost following tariff exemptions
- EU and Trump heighten likelihood of trade war with exchange of tariff threats
- US allegedly stated conditions for EU to meet in exchange for tariff exemption; EU responds
- See the DailyFX Economic Calendar for upcoming economic data and for a schedule of live coverage see the DailyFX Webinar Calendar
Earlier in the month, Senior Currency Strategist, Christopher Vecchio reported that the Canadian Dollar (USD/CAD) Mexican Peso (USD/MXN) outperformed the rest of the G10 currencies as Trump exempted Canada and Mexico from recently-imposed aluminum and steel tariffs. While trade tensions with the bordering nations may have eased threats from the European Union ramped up. Earlier this month, the EU retaliated by threatening to slap tariffs of their own on various U.S. products motorcycles, bourbon whiskey, and jeans. Trump, in his own response on Twitter, threatened to place tariff on European automobiles which "freely pour into the U.S."
Earlier today, we got news of an unofficial response out of the U.S. to the E.U. on a potential exemption to the metal tariffs. A Bloomberg reporter stated that the U.S. has stipulated five conditions that it would expect the European Union to meet. According to the reporter the conditions are:
Limiting exports of the two materials (steel and aluminum) to the U.S. to their 2017 levels
Actively addressing China's various trade-distorting practices
Ensuring good cooperation with the U.S. in the Global Forum on Steel
Working with the U.S. on relevant World Trade Organization (WTO) cases related to Chinese trade-abusive practices
Enhancing security cooperation with the U.S
The reported retrieved the information from a European Official familiar with the matter. In response, according to an internal memo seen by Bloomberg, the European Commission noted the following:
EU exports are not the cause of the difficulties facing the US industry. The EU is the highest priced significant exporter of steel to the U.S. market, on which the main price pressure arises from overcapacity triggered notably by non-market behavior in China
The EU has effective legislation in place to deal with unfairly-traded imports and applies its legislation firmly
The EU has reinforced its trade defense arsenal to better tackle unfair practices originating in distorted economies
The EU is prepared to introduce its own safeguard measures when required, including as a result of the potentially disruptive impact of United States tariff measures
The EU is working with the U.S. and Japan to address the problems caused by unfair trade
The EU is not contributing to global overcapacities of steel and aluminum and these sectors in the EU are also suffering from its effects
The EU has an important security relationship and cooperation with the United States and is not a threat to its national security
It is clear that the EU believes they are already meeting the expectations that the U.S. set. However, it remains to be seen as to whether the U.S. will exempt the EU or whether they will push them to take a harder stance against China.
Chart 1: EUR/USD 15-minute Chart (March17– March 19, 2018)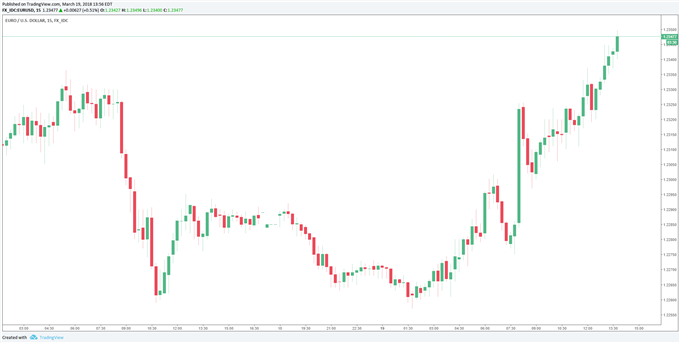 Though no official statements have been made out of the EU or US, the Euro has taken the news favorably. At the time that this was written the Euro traded 0.50% higher against the dollar at 1.2348.
--- Written by Dylan Jusino, DailyFX Research
DailyFX provides forex news and technical analysis on the trends that influence the global currency markets.