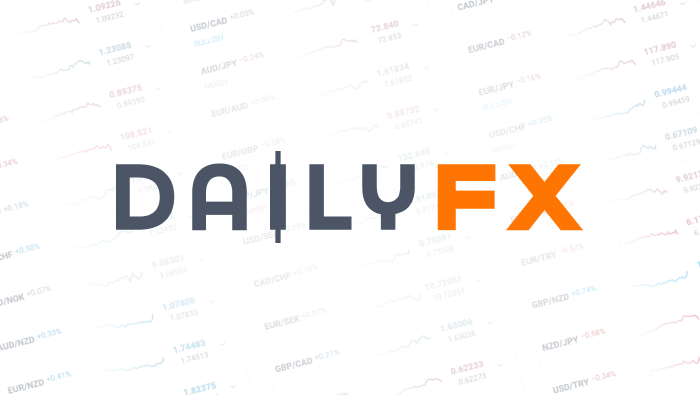 Bearish Canadian GDP Print Fails to Push Loonie In Either Direction
- Canadian annualized GDP grew at a decelerating pace in the 4th quarter: 1.7% vs 2.0% estimated
- Household consumption exhibits signs of weakness while investment remains strong
- USDCAD doesn't hold onto gains has Loonie trades narrowly
- See the DailyFX Economic Calendar for upcoming economic data and for a schedule of live coverage see the DailyFX Webinar Calendar
Real Gross Domestic Product (GDP)
Real GDP, express at annualized rate, rose by a rate of 1.7% in the fourth quarter of 2017. In comparison, real GDP in the United States grew at a rate of 2.5% in the same period. Domestic demand rose by 1.0% and business investment by 2.3%. Notably, businesses substantially increased outlays for machinery and equipment (3.0%) for the fourth consecutive quarter.
Conversely, real household final consumption expenditure slowed to +0.5%, after a 0.9% increase in the previous quarter. Although, spending on durable goods and non-durable goods rose by 0.4% while services rose by 0.6%.
Exports were up by 0.7% following after falling by 2.7% in the third quarter. Although this was offset by higher imports coming in at 1.5%. Statistics Canada specifically noted that,"improved terms of trade boosted economy-wide purchasing power, and real gross national income increased 1.0%." Export prices rose 3.6% in the fourth quarter on the strength of energy products, compared with a 1.5% increase in import prices.
For a better understanding of the contributions to real Canadian GDP see the table below: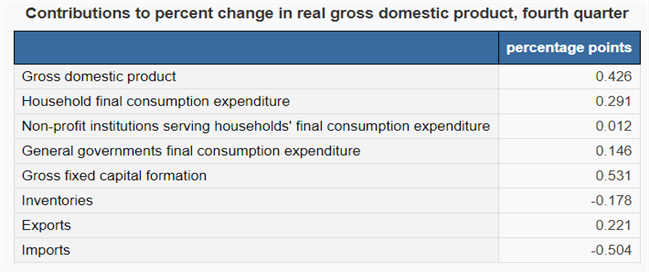 Housing Investment Climbs While Spending Decelerates
Business gross fixed capital formation grew 2.3% in the fourth quarter over 0.8% in the previous quarter. Higher investment in residential structures was the main growth factor rising by 3.2% after a flat third quarter.
Resale activity represented by ownership transfer costs at 9.3% while new housing construction rose by 3.0%.
Household spending did not see the same robustness as the housing market. Final consumption expenditure slowed to a 0.5% growth rate, following a 0.9% gain in the previous quarter.
Household disposable income increases
Household disposable income increased by 1.3%, decelerating slightly from a 1.4% gain in the third quarter. The growth was mainly attributed to increased compensation of employees (+1.5%), on higher wages and salaries in most industries.
The household saving rate also decelerated at 4.0%, from 4.2% in the third quarter to 4.2% in the fourth quarter. Notably, household disposable income outpaced household expenditure (0.5%). the debt service ratio of households edged up to 13.83%. This was attributed to increased mortgage costs from rising interest payments.
Potential Trade War
We will be closely the impact of tariffs and trade wars on the US economy, and how it will either favorably or adversely impact the Canadian economy and the Loonie. Aside from the recent steel tariffs that US President Trump had proposed yesterday, Canada is still in hardline negotiations over the North American Free Trade Agreement (NAFTA). President Trump has proposed numerous times to pull out of the agreement if negotiations are not favorable to the US. In all, today's economic data suggests that Canadians are saving more, businesses are investing more, and housing prices are still on the rise.
Chart 1: DXY 15-minute Chart (February28 – March 3, 2018)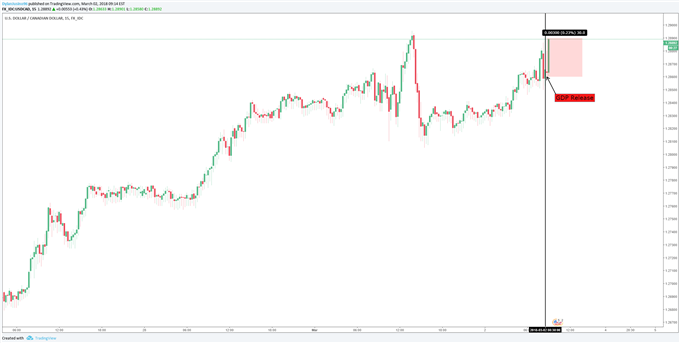 We can see that USDCAD has been on the rise this morning. Although, the GDP print failed to push the pair in either direction. Bulls have since come in and versed the swing lower following the data. At the time that this was written, USDCAD moved as much as 0.23%, and traded at 1.2889.
--- Written by Dylan Jusino, DailyFX Research
DailyFX provides forex news and technical analysis on the trends that influence the global currency markets.