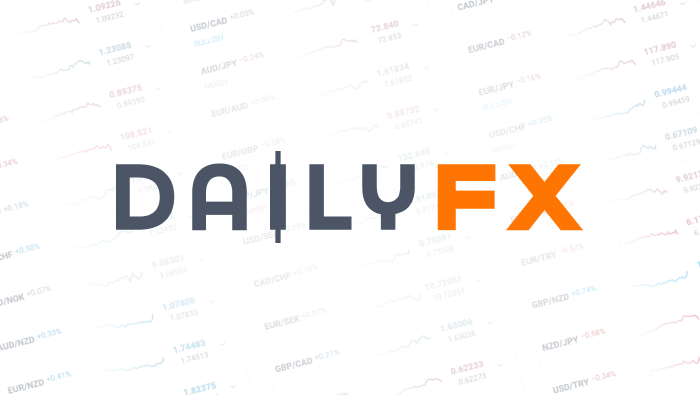 DXY Falls On Powell's Testimony Before Senate Banking Committee
- Federal Reserve Chairman made his first appearance before the Senate Banking Committee commenting on the his views of fiscal policy, wages, and inflation
- DXY did not have nearly the same reaction as it did during Powell's Congressional Testimony
- See the DailyFX Economic Calendar for upcoming economic data and for a schedule of live coverage see the DailyFX Webinar Calendar
Beginning at 16:00 GMT:
Earlier this week we recapped the Federal Reserve's Chairman, Jerome Powell's testimony before the Senate. This morning, the Fed Chairman continued his testimony but this time he appeared before the Senate Banking, Housing, and Urban Affairs Committee. From comments on wage growth, productivity, and inflation, here are Powell's most pertinent comments.
On Fiscal Policy:
The Federal Reserve Chairman was careful not to offer suggestions on fiscal policy. However, he defended his position by reiterating that the US is not on a sustainable fiscal path and that "now is a good time to get on one." He vaguely clarified that "fiscal policy is one of many factors behind our [FOMC] rate outlook." Powell added that he does expect fiscal policy to "add meaningfully to demand." His comments today were very similar to his testimony on Tuesday.
On Wages and Productivity:
Powell defended his views, and that of the Fed, multiple times when questioned about wages. Fed said, "I expect to see more wages increases." In another instance Powell noted that rate hikes would not adversely impact wages, "We expected wages to move up amid gradual rate hikes." The Fed Chair later admitted that he was not amused by the labor force participation rate, "Our labor force participation not even at the median of comparably wealthy countries" he reasoned, "…the evolution of technology, and flattening out of US educational attainment" as potential causes. Although, Powell he optimistically mentioned that he believes the US is nearing long run participation.
On Inflation:
Inflation was also a hot topic among the Committee Members and one that Powell found himself having to explain multiple times. When asked why he thought inflation has been stubbornly low thus far Powell did isolate a single factor. He stated, "We see idiosyncratic factors behind low inflation and its part of a global phenomenon." His statements, are a follow-up to his comments on Tuesday in which he insisted that the stock market is not a representation of the economy, though, it plays a factor. He also stated that he sees no signs of the economy overheating.
The Bait: The Tax Bill versus Stock Buy
The Fed Chairman was careful not too explicitly comment on the particulars of the tax bill's effect on large stock buybacks implemented by corporations. When Powell was pressured on the effectiveness of buybacks on the economy he outright stated, "It's not the Fed's job to help or hurt stock investors… I would think that money from stock buybacks goes back into the economy."
The Federal Reserve Chairman spoke little of the number of rates hikes expected this year. He also dodged questions on recent trade proposals, particularly the rumored steel tarriffs that the US may implement.
Chart 1: DXY 15-minute Chart (February28– March 1, 2018)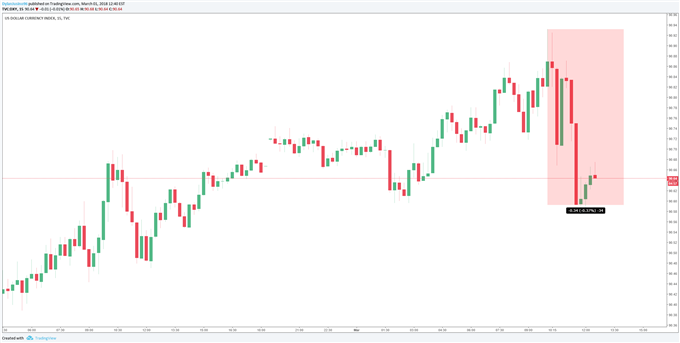 The US Dollar took a turn for the worse as Powell testified. This is a stark difference from the reaction we saw during his testimony on Tuesday. Still, DXY trades steadily above 90.00 Despite the -0.37% drop, DXY traded at 90.64 at the time this was written.
Leading up to Jerome Powell's testimony, DXY had been on a clear uptrend as markets anticipated his comments. Prior to the release of the Fed Chairman's statement, DXY broke through the recent 90.00 resistance level. And throughout Powell's testimony the US Dollar Index managed to sustain that rally. At the time that this was written DXY traded at
--- Written by Dylan Jusino, DailyFX Research
DailyFX provides forex news and technical analysis on the trends that influence the global currency markets.