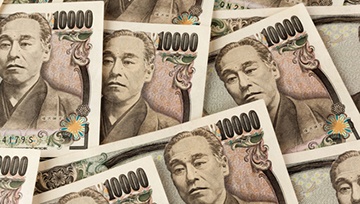 Japanese Yen Remains Very Elevated Despite Return of Kuroda
Talking Points:
Bank of Japan Governor Haruhiko Kuroda was reappointed to a rare second term at the helm last week

The

Japanese Yen

remains near 15-month highs against the

US Dollar

It's likely that attempts to talk it down will increase
What to retail foreign exchange traders make of the Japanese Yen's current prospects? Find out at the DailyFX Sentiment Page
The Japanese Yen remains very much in thrall to US Dollar movements at present, which means the market barely paused last week when Haruhiko Kuroda was reappointed as Governor of the Bank of Japan.
The 73-year old monetarist warhorse first took office in 2013 after stints at the Japanese Finance Ministry and at the helm of the Asian Development Bank. His reappointment for a rare, second five-year term atop the BoJ was not unexpected. All the same it sends a powerful signal that the administration of Prime Minister Shinzo Abe wants no let-up in the fight against deflationary forces.
Kuroda is the monetary face of Japan's 'Abenomics' programme, named after the Prime Minister and encompassing a package of reforms aimed at restoring growth and, crucially, pricing power to the Japanese economy.
The growth part of the plan has been a success. The current run of expansion began in 2012 and endures, making it the second longest in post-war Japanese history. The reflation portion has been less of a hit.
Despite presiding over negative real interest rates, control of the Japanese government yield curve and vast stimulative bond buying, consumer price inflation remains stubbornly below the BoJ's 2% target. At last look it was running at just 0.9% annualized. Optimists might point out that it is at least heading upward as Mr. Kuroda would like.
Even so, current price gains and stagnant wages seem like a poor return for the stimulus programme. The BoJ's balance sheet has swelled to match Japan's US$5 trillion Gross Domestic Product. In addition, it has reached the point where the central bank physically owns about 40% of all outstanding Japanese government bonds.
What Kuroda's reappointment means for the Japanese Yen is that it cannot rely on any interest-rate differential support for the foreseeable future. Other central banks may be removing their post-crisis stimulus, or thinking about removing it as a next step. Kuroda's Bank of Japan will very clearly do no such thing, and his reappointment sends just that message. Finance Minister Taro Aso said Tuesday that he expects the Bank of Japan to keep working with the government to 'beat deflation,' and there's little chance that he'll be disappointed.
That said the Yen is doing well enough at present without that support as stock market turmoil burnishes the appeal of assets perceived to offer safe haven. The Japanese currency is one such. USD/JPY has declined precipitously this year and is now at levels not seen since late 2016. Its strength is already causing problems for Japanese exporters.
Japanese authorities are unlikely to remain silent as the Yen remains elevated. Indeed, they've already started to worry aloud about it. Aso said Yen gains were 'one sided' as recently as last Friday. The markets may not have reacted much to Kuroda's reappointment but, with the Yen soaring and inflation simply not playing ball, it's likely he'll have plenty to say which they can react to in the weeks ahead.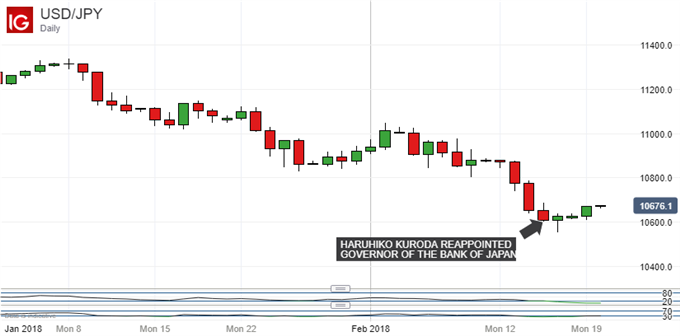 --- Written by David Cottle, DailyFX Research
Follow David on Twitter: @DavidCottleFX or us the Comments section below to get in touch
DailyFX provides forex news and technical analysis on the trends that influence the global currency markets.