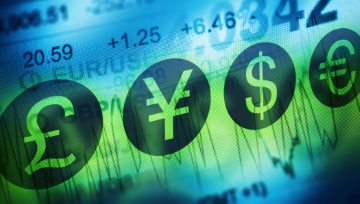 OECD Sees Strong Short-Term Growth, Housing Bubbles and Rate Hikes
Talking Points:
- Economic growth across economies favors the short-term
- High debt loads pose uncertainties in years to come
- See the DailyFX Economic Calendar for upcoming economic data and for a schedule of live coverage see the DailyFX Webinar Calendar.
According to the OECD Economic Outlook annual growth of the world economy is projected to improve in 2018. However, growth will remain below the pre-crisis period.
Weak Long-Term Growth
The group's outlook notes persistent sub-par growth in private sector performance. This includes investment, trade and productivity. The OECD noted that overall employment rates are above pre-crisis rates in many OECD economies and overall unemployment is falling. However, rising unemployment has yet to translate into "really solid real wage gains."The Outlook further stated that, "in the absence of a clear sign of change in underlying trends, growth across the OECD is projected to weaken in 2019."
Strength in the Short-Term
As for short-term growth, performance is on the rise contributing to a positive outlook. That said, OECD Secretary-General Angel Gurria still sees signs of weaknesses. She suggests that there should be a focus on fiscal action to boost long-term growth as central banks claw back monetary stimulus. In her speech she states, "Countries should implement reform packages that catalyse the private sector to promote productivity, higher wages and more inclusive growth."
High Debt Threatens Sustainable Growth
The OECD's Outlook also found that debt on the corporate and household level are high which is a cause for a concern for medium term growth and general stability.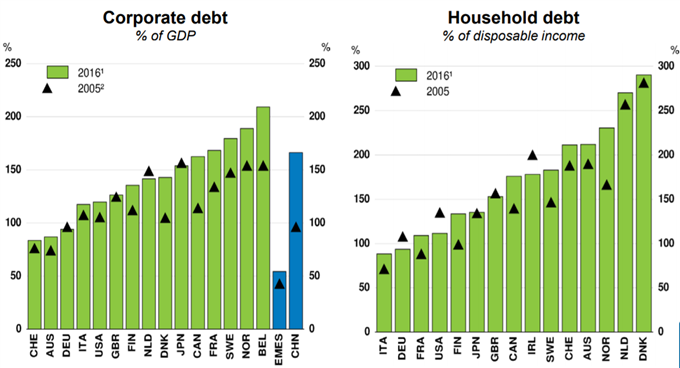 The chart above is from the OECD Outlook. Both corporate and household debt reflect high levels of debt as a percent of gross domestic product.
Housing Improvement
OECD states that, "a sounder and healthier financial system would reduce the tax bias towards debt, deepen equity markets and improve the design of insolvency regimes." By removing tax subsidies in the housing sector and increasing the overall supply of homes the OECD argues it would mitigate "boom-and-bust cycles."
Economic Outlook
The OECD projects that the global economy will grow by 3.6% this year, 3.7% in 2018 and 3.6% in 2019.
In the US, economic growth is estimated to expand 2.2% in 2017, acceerating to 2.5 % in 2018, but then cooling to a 2.1% pace in 2019.
As for the Euro area, growth is projected at 2.4% in 2017 and a 2.1% 2018. The OECD has made upward revisions from previous projections driven by stronger growth in "key" European countries. However, economic growth is projected to slow to 1.9% in 2019.Germany is projected to grow at 2.5% in 2017, 2.3% in 2018, and 1.9% in 2019. France is projected to grow at 1.8%between 2017-18 and 1.7% in 2019. Italy should see a 1.6% growth rate this year, a 1.5% pace in 2018 and a 1.3% in 2019. Again, revisions reflect stronger-than-expected performance in the first half of 2017. Particularly, rising employment, accommodative monetary policy, and stronger consumption have lead the charge.
The UK, growth slowdown is expected to persist through 2018, due to continuing "Brexit" uncertainty. The impact of higher inflation on household purchasing power are expected outcomes associated with EU negotiations. The UK's economy is projected to grow by 1.5%in 2017, 1.2% in 2018 and 1.1% in 2019.
Japan is projected to grow at 1.5% in 2017, which is a downward revision from the OECD's forecast in the September.It should around 1% in 2018 and 2019 with fiscal consolidation and an accelerating decline in the working-age population. In reference to the BoJ's massive stimulus policy, the group suggested the authority may need to rethink its approach if inflation remains elusive.
For Australia, the OECD projected growth this year of 2.5%, 2.8% the following year and 2.7% in 2019. Inflation was projected to slowly pick up to 2.2% through 2019, but the group would still advocate for the RBA to raise rates soon to take curb the bubble that had arisen in certain cities' housing markets.
Finally,Canada is expected rebound to 3% growth rate this year, before slowing to 2.1% in 2018 and 1.9% in 2019 as monetary stimulus is removed. Canada was also highlights as the country where citizens were most saddled with debt particularly in housing.
The chart below reflects the world average GDP growth comared to growth from leading economies.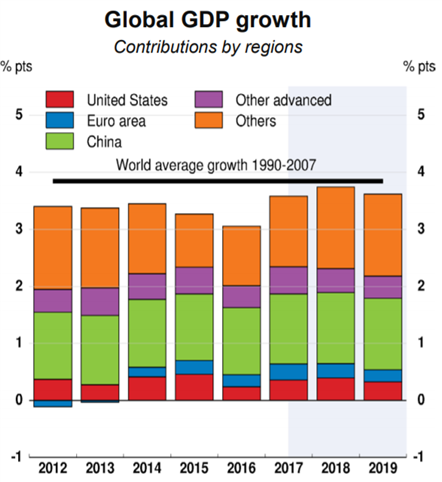 Learn how to trade with our free trading guides covering USD, EUR, Gold, and more.
--- Written by Dylan Jusino, DailyFX Research
DailyFX provides forex news and technical analysis on the trends that influence the global currency markets.