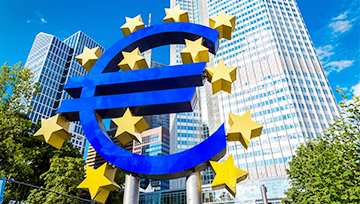 Euro Stumbles as ECB Signals Tightening of Monetary Policy
Talking Points
- The ECB will halve its asset purchases to €30 billion per month from January until the end of September, or beyond if necessary.
- All its key interest rates are left unchanged and it expects them to remain at their present levels for an extended period of time.
- UPDATE: EUR/USD remains below 1.1760 amid Draghi's press conference.
What Does the Fourth Quarter Hold for the Euro, Equities, Oil and Other Key Markets? Find out here
Updated with Commentary
The ECB press conference has led to more widespread weakness in EUR-crosses as a dovish tone was deployed by President Draghi in detailing the taper to the QE program. Much like the Federal Reserve did once it ended its QE program, Draghi made clear that the ECB will keep its interest rates on hold at present levels for "an extended period of time" after its QE program ends.
Even though the current taper sets the QE program to run to September 2018, Draghi made clear that it is possible that the ECB extends its QE program beyond said date, including another incremental tapering in the process. Furthermore, even after QE ends, the ECB will reinvest the proceeds of its asset purchases to help support credit markets.
Even as Draghi sounded an optimistic tone on growth, he did say that growth was still reliant on ECB support. Noting that an "ample degree of stimulus is still needed," Draghi pointed to "domestic price pressures [remaining] muted" and that "core inflation has yet to show convincing upward trend" to justify the ECB's patience on rates.
Evidently concerned by some of the risks surrounding the ECB's forecasts, Draghi noted that "downside risks to growth include FX developments." Draghi may be effectively be putting a ceiling over the Euro, suggesting that further gains will be met with animosity and resistance by policymakers.
Later on at 9:30 EDT/13:30 GMT, the ECB will release details on how it will conduct its QE program.
Original Note
The Euro stuttered in the currency markets Thursday after a meeting of the European Central Bank's Governing Council at which it decided on the widely expected move to taper, or reduce, its monetary stimulus program for the Euro-Zone economy from January next year.
In a classic "buy the rumor, sell the fact" slide, the Euro faltered after the ECB decision to halve its asset-purchase program to €30 billion per month from €60 billion and extend it by nine months from January, in line with analysts' consensus forecast. The ECB also stressed that all its key interest rates will remain at their present levels for an extended period of time.
Today, it left its refinancing rate at 0%, its deposit rate at -0.4% and its marginal lending facility rate at 0.25% – all as predicted.
A signal that the ECB will keep Euro-Zone interest rates at their present levels well past the end of its asset purchases is negative for the Euro, and the ECB also gave itself flexibility by saying that it could extend or increase its asset-purchase program if necessary.
While the central bank's announcement was in line with forecasts, a minority of economists had suggested that it might decide to buy a lower proportion of government bonds in its total asset purchases or announce that it was prepared to buy bonds with longer maturities than it does at present
The idea had also been floated that it might unveil a longer-term plan to reduce its purchases to zero by next September, perhaps in three steps of €20 billion, or announce that it would be reducing its purchases by more than €30 billion but would be buying bonds for longer. Now, traders are looking ahead to the press conference by ECB President Mario Draghi at 1230 GMT for further details.
Chart: EUR/USD One-Minute Timeframe (October 26, 2017)
In its statement, the ECB said: "If the outlook becomes less favorable, or if financial conditions become inconsistent with further progress towards a sustained adjustment in the path of inflation, the Governing Council stands ready to increase the APP [asset-purchase program] in terms of size and/or duration."
It added: "The Eurosystem will reinvest the principal payments from maturing securities purchased under the APP for an extended period of time after the end of its net asset purchases, and in any case for as long as necessary. This will contribute both to favorable liquidity conditions and to an appropriate monetary policy stance.
"The main refinancing operations and the three-month longer-term refinancing operations will continue to be conducted as fixed-rate tender procedures with full allotment for as long as necessary, and at least until the end of the last reserve maintenance period of 2019."
Read more: Preview for October ECB Meeting and Outlook for EUR-crosses
--- Written by Martin Essex, Analyst and Editor and Christopher Vecchio, CFA, Senior Currency Strategist
DailyFX provides forex news and technical analysis on the trends that influence the global currency markets.