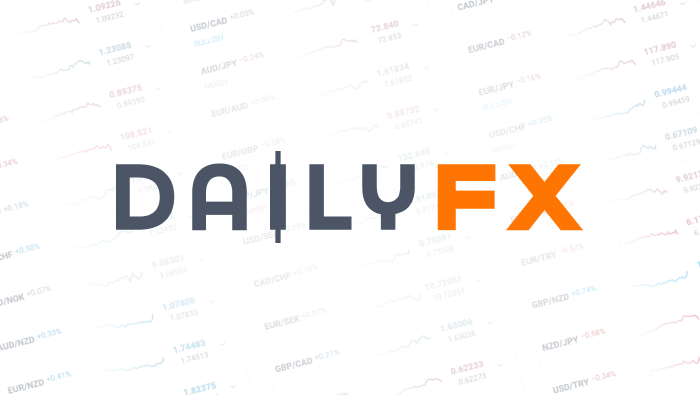 Consumer Prices and Spending Disappoints as The Market Does Not See a Third Hike
Talking Points:
- The US Consumer Price Index (CPI) missed estimates slightly at 2.2% versus 2.3% expected.
- USD Advance Retail Sales also missed projections at 0.4% versus the 0.6% projected as discretionary spending falls; previous revised up.
- See the DailyFX Economic Calendar for upcoming economic data and for a schedule of live coverage see the DailyFX Webinar Calendar.
This morning has been full of economic activity for the US with consumer prices and retail sales data. While the prints have been largely lack luster, previous retail sales data was revised up to give us an overall mixed economic outlook. The Consumer Price Index came in at 2.2% y/y, missing the expected 2.3% y/y. Core CPI also missed projections at 1.9% versus 2.0% y/y. Retail sales also missed projections at 0.4% vs 0.6%.
CPI assesses changes in the cost of living by measuring changes consumer pay for a set of items. CPI serves as the headline figure for inflation and inflation reflects a decline in the purchasing power of the dollar, where each dollar buys fewer goods and services. CPI serves as away to quantify changes in purchasing power. The report tracks changes in the price of a basket of goods and services that a typical American household might purchase. An increase in the Consumer Price Index indicates that it takes more dollars to purchase the same set basket of basic consumer items. While inflation is generally bad news for the economy it has become the missing the component to the US economy. The Fed closely observes inflation as it weighs into monetary policy decisions.
While the Fed prefers the PCE Deflator as its primary inflation gauge, CPI along with retail sales may provide us with an informed economic outlook. Energy prices increased by 9.3% but energy only accounts for 7.16% of CPI. Services which account for 64% of the index ticked up by a meager 2.8%. Although there were modest declines retail sales. Health came in at -0.6% and department stores at -1.2%. Retailers may still be offering deep discounts to lure demand which would account for the decline in that sector.
Following the release of the data CME's FedWatch Tool revised down the chances of hike in July. Below is a summary forecast of the target rate at the upcoming FOMC meetings.

The probability of a hike next month, while still likely, now stands at 74%. However, the chance of a third hike is no longer priced in for this year. Earlier in the week, Fed President Eric Rosengren mentioned that he would like to see the Fed shrink the balance sheet after the next hike and that three more hikes in the year seemed reasonable. The Fed has faced increased pressure to shrink the balance sheet and ramp up rate hikes in fear that the economy might overheat. At very least, traders are waiting to hear the Fed's game plan.
Below is a list of data that has moved the US Dollar higher:
- USD Consumer Price Index (MoM) (APR): 0.2% actual versus -0.3% previous
-USD Consumer Price Index Ex Food & Energy (MoM) (APR): 0.1% actual versus -0.1% previous
- USD Consumer Price Index (YoY) (APR): 2.2% actual versus 2.4% previous
- USD Consumer Price Index Ex Food & Energy (YoY) (APR): 1,9% actual versus 2.0% previous
- USD Consumer Price Index Core Index s.a. (APR): 251.172 actual versus 250.993 previous
- USD Consumer Price Index n.s.a. (APR): 244.524 actual versus 243.801 previous
- USD Advance Retail Sales (APR): 0.4% actual versus 0.1% previous
- USD Retail Sales Less Autos (APR):0.3% actual in line with previous
- USD Retail Sales Ex Auto and Gas (APR):0.3% actual versus 0.4% previous
- USD Retail Sales Control Group (APR):0.2% actual versus 0.7% previous
Chart 1: EUR/USD 15-minute Chart (May12, 2017 Intraday)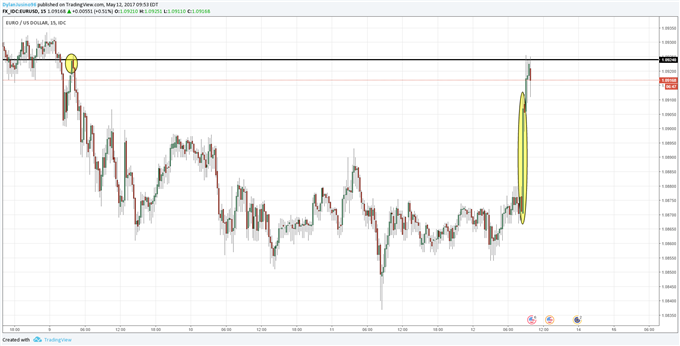 Immediately following the data, the Euro spiked against the US Dollar.The Euro hit 1.0924 erasing most of the losses from earlier in the week. Traders punished the dollar following weak prices and spending prints. At the time of this report the pair traded at ~1.0922.
--- Written by Dylan Jusino, DailyFX Research
DailyFX provides forex news and technical analysis on the trends that influence the global currency markets.