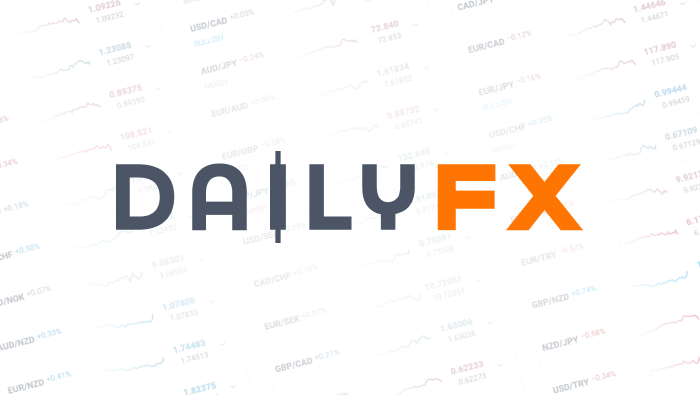 Yen Remains Strong as Risk Aversion Trumps GDP: Inflation on Deck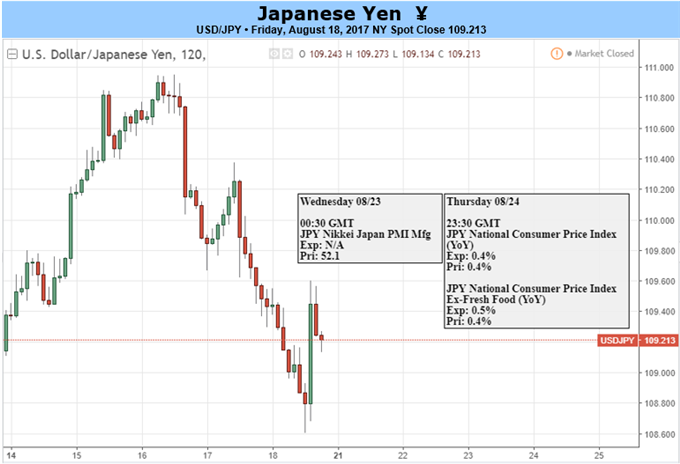 Fundamental Forecast for JPY: Neutral
Talking Points:
The Japanese Yen is moving towards the close of what was an interesting week for the currency. While there were very few Japanese economic drivers to speak of, the larger overall theme of risk aversion continued to show in some very key areas such as U.S. stocks. This helped to keep the Yen strong against most major currencies as the JPY ran-up to fresh highs, including a print of a fresh four-month low in USD/JPY early in the U.S. session on Friday before buyers responded to push higher off of the lows. Next week brings a key piece of Japanese data on Friday morning (Thursday night in the U.S.) with the release of July inflation figures.
As we discussed last week, the big drivers for the Japanese currency largely emanated from outside of Japan. A burgeoning up-trend off of last week's lows in USD/JPY in the early portion of this week was eradicated on Wednesday after the release of FOMC meeting minutes. The one high-impact Japanese print on the calendar for the week was GDP, released on Monday morning (Sunday evening in the U.S.). GDP for the second quarter came-in at a very respectable 4%, well-above the expectation for 2.5% annualized growth. While this would normally bring on some element of JPY strength under the presumption that stronger growth would bring stronger inflation, which could eventually motivate the BoJ away from their gargantuan stimulus program; that theme didn't show up at all.
The Yen weakened in the early portion of this week after this robust GDP print, and this was likely more-related to the easing of risk aversion after last week's heightened worries around North Korea. U.S. stocks popped-higher on Monday, and held gains on Tuesday and going into Wednesday; mirroring the move of weakness in the Japanese Yen, even despite this stronger-than expected GDP report that opened the week. But after those FOMC meeting minutes were released on Wednesday, the tone changed: Yen strength showed-up again, stocks sold off, and we rallied off the lows as we move towards week-end.
This highlights the fact that there is much more at work in the Yen right now than just Japan. As we discussed last week, long Japanese Yen is likely one of most attractive venues under environments of continued global risk aversion. And the reason isn't necessarily because investors 'feel' safer in the Yen, or in Japan; but more of what this means for the QE-driven trade sponsored by the Bank of Japan over the past five years. The massive stimulus outlay from the BoJ combined with negative rates make the Yen very attractive as a funding currency for carry trades. And in a solid environment, positive carry can be a fairly attractive way for traders to build their approaches: Borrow cheap Yen with weak rates, and then buy a stronger currency with a higher rate and pocket the difference for the trouble. This is why pairs like EUR/JPY and GBP/JPY flew so high after the announcement of 'Abenomics' in 2012: It wasn't that something 'great' was going on in the U.K. or Europe. But the Bank of Japan essentially told markets that they'd help to fund carry trades, and this got traders excited around the prospect of Yen weakness on the back of a low rates regime.
This worked for a while. We even saw inflation run above the BoJ's 2% target in 2014 after this program had been in force for a little over a year. But to the BoJ's dismay, this was a fleeting observation as inflation rates sunk lower in 2015 as worries began to build around China. Inflation spent the rest of 2015 and the first half of 2016 dwindling-lower, eventually falling below zero, again, as the decades-long struggle with falling prices looked set to continue for the Japanese economy. In October of last year, inflation went positive, and since then the rate of inflation has tenuously remained above zero with a slight build showing over the past few months. Inflation rose to .4% in March after a .2% print in February. After two more months at .4%, markets are looking for a similar print of .4% at next week's Japanese CPI release. We can see a higher-degree of sensitivity in the Yen to this inflation print opposed to what was seen against that robust GDP number earlier this week. Beats of the .4% expectation will likely elicit a touch of JPY-strength, which a fall below .4% could bring on the sellers as the hope remains that the BoJ will remain 'pedal to the floor' with QE until that 2% inflation target comes into view.
Likely – the bigger overall theme of global risk aversion will continue to play a key role here. Next week brings a key event relevant to this topic, as the Jackson Hole Economic Symposium kicks-off and goes into next weekend. If we do see markets stepping back from the proverbial ledge, Yen weakness could remain an attractive theme under the expectation for the BoJ to remain one of the more dovish global Central Banks. If we do see risk aversion continuing to develop, long Yen will probably remain as one of the more attractive vehicles to work with that theme. Traders will likely want to direct these trades away from what's become an extremely messy U.S. Dollar, and EUR/JPY and GBP/JPY can remain as attractive candidates for this multi-variant theme, as we discussed in our Analyst Pick last week.
The forecast for next week will remain at neutral on the Japanese Yen.
--- Written by James Stanley, Strategist for DailyFX.com
To receive James Stanley's analysis directly via email, please SIGN UP HERE
Contact and follow James on Twitter: @JStanleyFX
DailyFX provides forex news and technical analysis on the trends that influence the global currency markets.