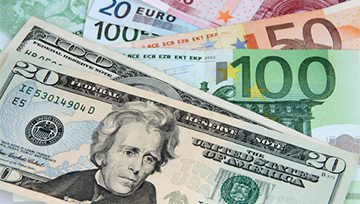 EUR/USD Churn Continues as Shooting Star Shows: A Bullish and a Bearish Case
Talking Points:
- EUR/USD strength continued into yesterday's session, at which point bears took over around a prior swing-high. This exposes a shooting star formation for yesterday's EUR/USD candle.
- The shooting star near resistance is bearish, but IG Client Sentiment remains aggressively short, and given how this often works in a contrarian manner, this could be pointing to further up-side. We discuss both bullish and bearish approaches on EUR/USD below.
- Looking for trade ideas? Check out our trading guides. And if you're looking for something more interactive in nature, check out our DailyFX Webinars.
To receive James Stanley's Analysis directly via email, please sign up here
In yesterday's article, we looked at the recent surge in the Euro while asking the key question: Are Euro Bears Done? After opening this week in the midst of its weakest run of price action since November of last year, EUR/USD carried the potential for a deeper bearish move as 2017 gains were further digested. When the ECB extended QE at their rate decision in October, the primary bullish factor that was driving the single currency higher was, in essence, put on the back shelf. And after the Euro had spent most of the year rallying while the U.S. Dollar spent most of the year selling-off, it made sense to look for some of that move to give back as we headed towards year-end.
But once this week opened, matters began to change. EUR/USD had caught a quick move of strength on Thursday of last week around the reports of US tax cuts being delayed, potentially as far out as 2019. But yesterday saw a set of red-hot GDP prints come out of Europe, led by Germany's .8% quarterly GDP growth to drive the Euro-Zone as a whole up to .6% for Q3. This puts Europe on pace to grow faster than the United States, and that's an economy that's already seen four rate hikes in the last two years, with an almost certain fifth on track for the December FOMC meeting. The ECB, meanwhile, haven't yet touched tighter policy, and as we heard at that last rate decision – they aren't planning to lift rates until well into the future, inferred to mean 2019 at the earliest. So this continued improvement in European data highlights a heavy case of divergence that we've seen in Central Bank policy between the Fed and the ECB. So, while the Fed is probably going to be the next to hike, longer-term, the ECB may have some catching up to do if our current growth story continues unabated.
This led to a strong top-side pop in the Euro on Tuesday. This move shot prices above a key zone of prior support that had started to show-up as resistance (1.1685-1.1736), going on to test the group of October swing-highs in the pair. The surge continued through Tuesday and into Wednesday, at which point sellers began to take over. This left a shooting star formation on the daily chart, and this can often show up around bearish reversal setups, highlighting how a previous day's worth of bullish activities was soundly faded out of the market, and then some, as sellers responded to resistance.
EUR/USD Daily: Shooting Star Shows Near October Resistance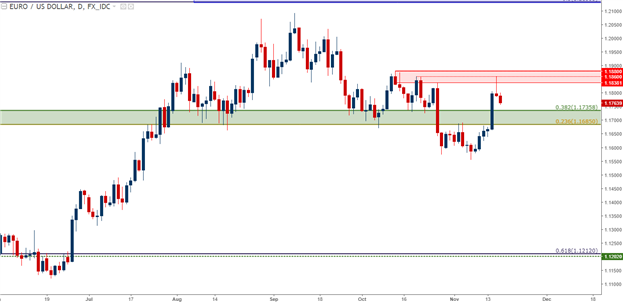 Chart prepared by James Stanley
The big question here, of course, is one of EUR/USD trajectory. As in, was this week's bout of strength an aberration? Or was this more of a re-ignition of the bigger picture, more general trend as markets continue to try to price-in this case of expected future divergence between the Fed and the ECB. There's really a case to be made on both sides, and given the current price action setups across the various time frames, there's likely a manner to trade either of those aims.
Bullish Case
The bullish case here would be shorter-term in nature, driven by the expectation for this recent flare of strength to continue into the 2017 bullish trend. Retail has been selling in droves, and given how retail sentiment is often a contrarian indicator and that retail traders were selling this bullish move with such aggression, this could point to further upside.
EUR/USD: IG Client Sentiment Remains Aggressively Short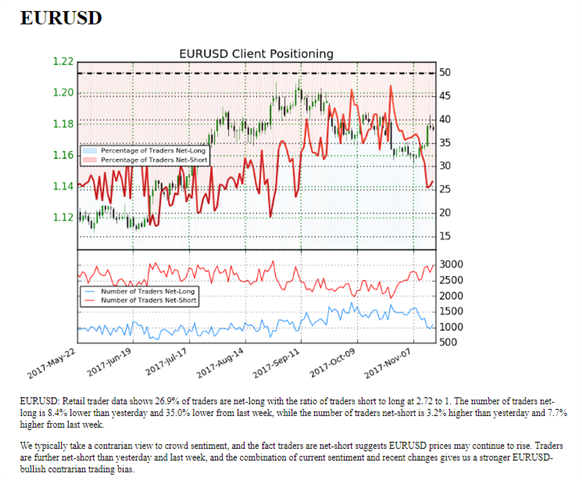 Taken from IG Client Sentiment, available here.
Also of interest on that side of the coin is how aggressively bulls took over after those GDP prints on Tuesday. If there was a building bearish case for EUR/USD or the Euro in general, one would likely have expected that sellers would've used that pop to wiggle into positions. But that didn't really happen, the bullish move ran rather cleanly all the way into yesterday when we ran into that batch of October resistance.
So the primary obstacle to the bullish side of the Euro or EUR/USD appears to be technical in nature as that recent topside advance was rebuffed by October resistance. For this approach, traders can look for support to show above the recent swing low around 1.1550. Given that we've moved back above that prior zone of support from 1.1685-1.1736, this could be an ideal area to watch for that near-term higher-low to show-up. Support in that area can open the door for a stop below the prior swing-low, looking for a re-test of the psychological 1.2000 level ahead of year-end.
EUR/USD Hourly: Higher-Low Support to Continue the Near-Term Move (Focus on 1.1685-1.1736)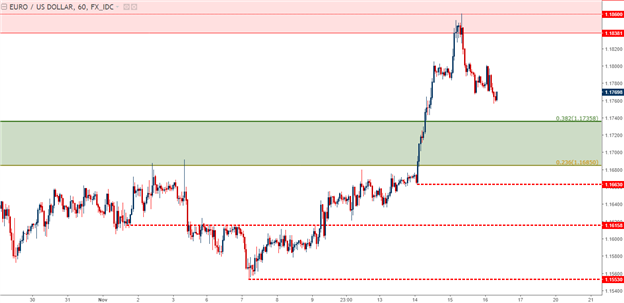 Chart prepared by James Stanley
The Bearish Case
The short-side argument around EUR/USD would be longer-term in nature, driven by the expectation for the 2017 bullish move to continue giving-back. The bullish move in the Euro this year was largely driven by the expectation that the ECB would begin to step back from stimulus which could, eventually, lead to higher rates. We'd even started to see markets pricing in potential rate hikes out of the ECB in 2018, albeit minimally, looking for two 10 basis point hikes next year.
But at no point throughout this year has the ECB exhibited a willingness to let go of the uber-dovish policy outlay. While October's rate decision did see the bank reduce the amount of bond purchases,
€30 Billion is still a massive amount; and the ECB coupled that announcement with the proclamation that they weren't expecting to nudge rates higher anytime soon, inferred to mean 2019 or later. If the Fed is going to continue in their persistently bullish scope, that divergence between Central Banks can go the other way next year as the Fed continues to hike while the ECB remains dovish.
Under that scope, with the expectation for the Fed to continue hiking into next year while the ECB remains dovish as they have throughout 2017 – the argument can be made that EUR/USD is still over-priced. The recent pullback in the bullish trend saw a mere 30% give-back. But even that was fleeting, as bulls quickly took over to re-drive prices back towards prior resistance. At this point, we're at an approximate 18% pullback of the bullish 2017 move in EUR/USD; so the pair has retained considerable strength, even in light of this shifting fundamental backdrop.
The bearish case on EUR/USD would be driven by the expectation for more of the 2017 move to retrace on the basis of that fundamental shift; in which the ECB extinguished the hope for near-term higher rates. The setup would be driven by the prospect of yesterday's high functioning as a 'lower-high' below the October swing, exposing the potential for deeper losses as the shift in trend continues.
EUR/USD Daily: Bearish Case Driven by Prospect of Shooting Star at Lower-High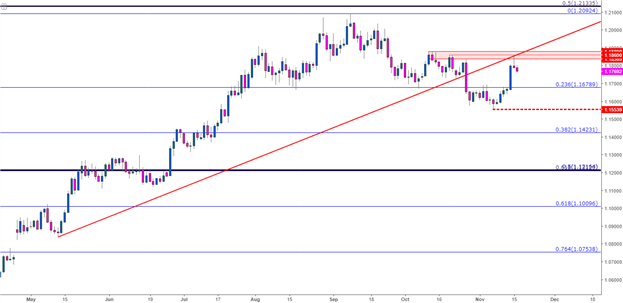 Chart prepared by James Stanley
For those that would like to approach the setup a bit more conservatively: There is the potential for another bearish formation to show based on today's price action. If today's candle closes below the half-way point of Tuesday's, currently showing around 1.1734, then we'd have an evening star bearish reversal formation. While this would increase the distance to the stop on bearish plays, it would make the prospect for continued downside more attractive given an additional day of follow-thru.
What to do if you don't have a bias, or aren't sure what to do around the Euro?
The answer to this is probably going to be simpler than you'd hoped to hear, but if you aren't sure what to do on the Euro here, or in any market really, don't force it. You can move over to another market that does have setups that might be more attractive to your style or strategy, but trying stick a 'square peg in a round hole' often brings on adverse results for traders and market participants.
One potential option is to focus-in on themes. As we've been discussing around the U.S. Dollar: While the Greenback carries the potential for a bullish shift, looking to trade that theme against a volatile Euro that also appears to be going through some form of shift can be challenging, to say the least. Rather, traders can look to trade USD-strength against a currency that's exhibited a more consistent brand of weakness, such as the Australian Dollar. We've been following a set of trades in the Aussie over the past few weeks very much under a similar aim, looking to avoid the chaos that's been showing around the Euro.
On the flip side, for those looking to trade Euro strength, removing the U.S. Dollar from the equation could potentially simplify matters. If the Dollar is going to go on some grander run of strength, this could be a significant hindrance to the bullish side of EUR/USD. Alternatively, traders can look to buy the Euro against a currency like the Yen, which could continue to weaken even with the backdrop of the global growth story continuing at a more brisk pace. We discussed EUR/JPY yesterday in the article, EUR/JPY Technical Analysis: Support Bent, but Not Broken.
The key to remember here is opportunity cost. As a trader, your bottleneck is capital, not opportunities or setups. It's a trader's job to evaluate setups and opportunities throughout the day or the week, so this is something that if you miss one, another is on the way. Capital, however, doesn't just come back or show-up on its own. If you lose it, it's gone. So, it's really important to employ that precious, finite capital in ways that we can strategically expect some element of edge. If you don't feel certain about a market or a setup, or if you don't have a bullish or a bearish bias on EUR/USD that could fit one of the above setups into your approach, look elsewhere until you find something more befitting of your strategy and approach.
--- Written by James Stanley, Strategist for DailyFX.com
To receive James Stanley's analysis directly via email, please SIGN UP HERE
Contact and follow James on Twitter: @JStanleyFX
DailyFX provides forex news and technical analysis on the trends that influence the global currency markets.