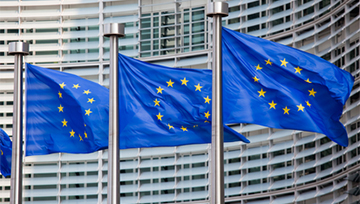 Will Weaker ECB Inflation Projections Crush the Euro's Bullish Trend?
Talking Points:
- Tomorrow brings a series of drivers to the fray for global markets: an ECB rate decision is followed by the James Comey testimony in front of the Senate Intelligence Committee – and throughout the day voters in the U.K. will be heading to the polls for general elections.
- A leaked report this morning indicates that the ECB is set to decrease inflation projections at tomorrow's meeting on the basis of lower energy prices, and this has driven weakness into previously strong Euro-trends.
- If you're looking for trading ideas, check out our Trading Guides. They're free and updated for Q1, 2017. If you're looking for ideas more short-term in nature, please check out our IG Client Sentiment.
To receive James Stanley's Analysis directly via email, please sign up here.
Tomorrow morning brings a widely-watched ECB meeting around which anticipation has been building for some time. In December of last year, the ECB announced another round of stimulus that was set to run to the following December, or six months from now. But shortly after that round of stimulus was announced, European economic data started to show more and more signs of improvement, leading to the idea that once this round completes in December, the European Central Bank will be able to move-forward without stimulus and eventually this could entail higher rates. In March, we discussed the 'green shoots' that had begun to show in Europe as economic data continued to improve; but with a series of pivotal elections in the immediate future, there was a very valid reason for the ECB to remain dovish and passive for fear that even more political turmoil might endanger the young, budding recovery.
As both Dutch and French elections resolved with fairly market-friendly outcomes, focus began to shift to ECB policy under the expectation that the continued growth in the bloc would entail a more-hawkish or, at the very least, a less-dovish tilt from the European Central Bank. We heard from prominent voices in Northern Europe like Angela Merkel that the value of the Euro was 'too weak'; or from Jens Weidmann, the head of the Bundesbank, that the ECB was starting to debate whether to reflect the improving economic data in its policy guidance.
Collectively, with the improvements in growth, inflation and employment, combined with this growing chorus of calls for an exit from stimulus has driven investors to unwind previous short Euro positions, leading to a rather strong 2017 for the single currency. On the chart below, we're looking at the burst-higher in EUR/USD so far this year.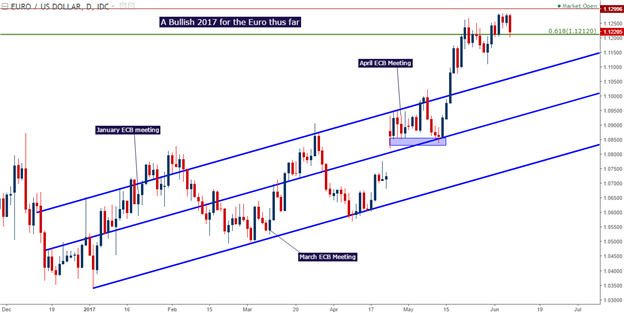 Chart prepared by James Stanley
There's only one hang-up to this theme of continued Euro strength: It flies directly in the face of what Mr. Mario Draghi has been saying that the ECB is looking at. For much of this period, the ECB President has been rather casual about the prospect of stimulus exit. At the last ECB meeting in April, he even went so far as to directly say that the bank had not yet discussed the prospect of exiting stimulus. Since then, we've had multiple iterations of 'Dovish Draghi' trying to talk down to the prospect of stimulus exit, as recently as last week before the ECB went into their 'quiet period' ahead of tomorrow's rate decision.
In a meeting with Dutch Parliament earlier in May, Mr. Draghi faced a firing line of Dutch MP's that have been rather skeptical of the ECB's bond buys since the get-go. Mr. Draghi laid out his case for continued stimulus, saying that while inflation is returning, it's not the 'good' kind of inflation like wage gains. Rather, this inflation is derivative of a rise in oil and energy prices that, frankly, doesn't filter down to the average worker, and exiting stimulus at this point could potential derail the points of recovery that have been seen so far.
Nonetheless, the bulls have remained in control of the Euro. The past three months have seen a remarkable recovery that's brought EUR/USD back to a really big level of 1.1212. This is the 61.8% Fibonacci retracement of the 'lifetime move' in the pair, but perhaps more importantly, this level has garnered a significant amount of support and resistance in the 30 months since price action re-encountered this area on the chart. Over the past 30 months, 22 have had some element of interaction with this level.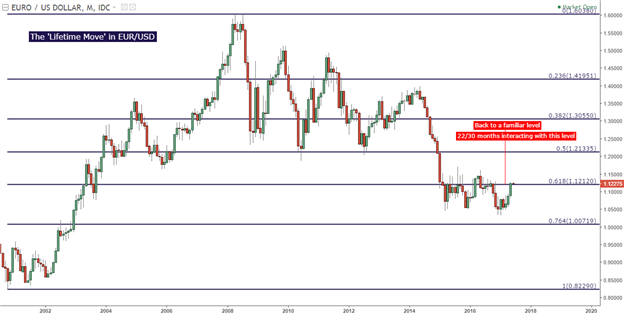 Chart prepared by James Stanley
The Driver for Tomorrow's ECB Meeting: Projections and Innuendo
Given that there is little expectation for any actual moves in rates, and also given the fact that this current round of stimulus runs until December, deductively we can say that the focus for tomorrow's rate decision will be around the updated projections from the European Central Bank. We discussed this premise in this week's fundamental forecast for the Euro, saying that the manner in which the ECB shifts those projections around inflation would likely drive Euro-markets, at least in the near-term, as investors further attempted to get in front of the ECB's future policy actions.
But in a report this morning, 'anonymous sources' within the European Central Bank have said that the ECB is set to cut inflation projections to 1.5% for the next three years; seemingly giving the bank even-more operating room to continue with QE, as they aren't expecting to hit their own 2% inflation goal until, at the very least, 2020.
This has driven weakness in the Euro, as these weaker inflation projections are likely accompanying a continued dovish stance from the ECB. EUR/USD took a hit from the prior resistance area around 1.1280, and this has brought price action down to a very familiar level of 1.1212 after which buyers showed-up to offer short-term support.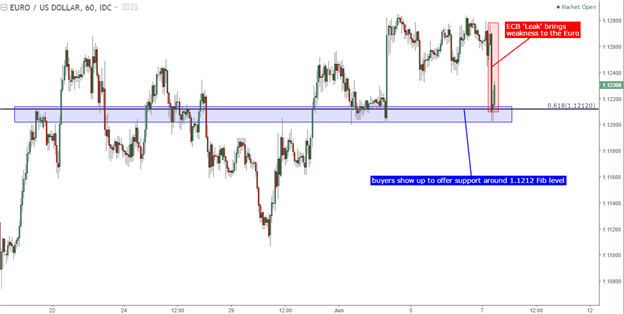 Chart prepared by James Stanley
Is this 'Sell the Rumor, Buy the News'?
If this morning's report is, in-fact, accurate and tomorrow sees the ECB cut inflation forecasts to 1.5%, this may not derail the continued up-trend in the currency. In April, we saw Mario Draghi take that dovish stance by saying that the ECB had not yet discussed exit strategies; and much like this morning's report, this brought a quick theme of weakness to a previously strong, bullish trend.
The more pertinent observation is what happened after that: Buyers showed-up at prior support. And just a couple of weeks later, Euro strength and Dollar weakness took over as EUR/USD put in a four big-figure ascension, breaking out of an already bullish trend-channel that had governed price action for much of the first few months of this year. This was a market's sentiment showing its hand: Where bad news simply becomes another buying opportunity to get long on a 'dip' in the move.
If the ECB is able to invoke a run of weakness longer than a couple of hours tomorrow, the bigger question is just how responsive buyers might be. On the chart below, we're looking at a series of longer-term support levels that can be used to gauge such a theme.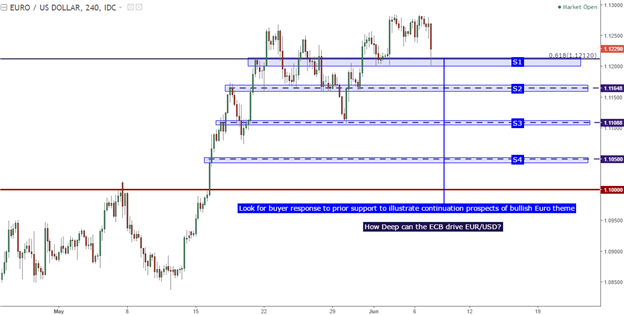 Chart prepared by James Stanley
--- Written by James Stanley, Strategist for DailyFX.com
To receive James Stanley's analysis directly via email, please SIGN UP HERE
Contact and follow James on Twitter: @JStanleyFX
DailyFX provides forex news and technical analysis on the trends that influence the global currency markets.