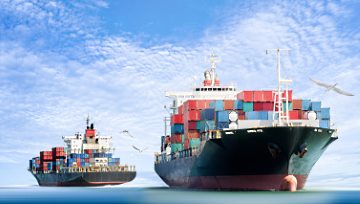 USD Slammed to New Lows as US Protectionism Gains Steam
Talking Points:
- Comments by US President Trump's Commerce and Treasury Secretaries have the US Dollar at its lowest level since December 22, 2014.
- Protectionism is generally bad for economies, and can lead to a litany of problems - domestic and foreign - beyond economics.
- Retail trader sentiment continues to point to a tough trading environment for the US Dollar.
Upcoming Webinars for Week of January 21 to 26, 2018
Thursday at 7:30 EST/12:30 GMT: Central Bank Weekly
See the full DailyFX Webinar Calendar for other upcoming strategy sessions
Yesterday we examined the early warning shots fired in what appears to be the opening stages of a shift towards US protectionism. Today, a new round of fire was exchanged, sinking the US Dollar (via the DXY Index) to its lowest level since December 22, 2014.
Two comments in particular stand out today, each made by US President Trump cabinet officials at the Davos World Economic Forum. US Treasury Secretary Treasury Steve Mnuchin said that "Obviously a weaker dollar is good for us as it relates to trade and opportunities," a rather public departure from the 'strong dollar policy' of the past twenty-plus years. The strong dollar policy implied little interference on the fiscal side of things, but it now appears that threshold is going to be crossed.
The other comment made today was by Commerce Secretary Wilbur Ross, who said "Trade wars are fought every single day... So a trade war has been in place for quite a little while, the difference is the U.S. troops are now coming to the rampart." It seems the opening salvos were just fired earlier this week with the tariffs on solar panels and washing machines, then.
Accordingly, with US protectionism starting to pick up steam, a number of USD-pairs are hitting multi-month highs or lows today on the back of the commentary: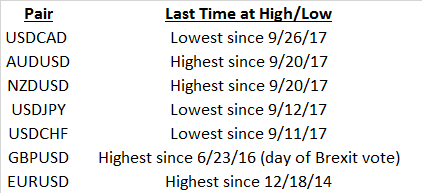 Some thoughts on protectionism broadly. Generally speaking, tariffs are "good in theory," but "terrible in practice." The theory is, "protect domestic industries," but in practice, it means "enriching a small segment at the expense of the broader economy." Adam Smith espoused this point in A Wealth of Nations just as John Meynard Keynes did in The General Theory of Unemployment.
Accordingly, there are three main takeaways for why protectionism via tariffs/limiting free trade is bad:
1) Protectionism ends up with a bias because it serves to protect "domestic producers in competition with foreign producers." This means protectionist policies like a tariff favor industries in competition with foreign manufacturers over those that are not.
2) Protectionism, by its nature, leads to political artifice. Only those in preferred industries – with their goods protected – benefit from tariffs (profit margins are kept intact or boosted), but the costs – retaliatory tariffs from foreign governments or lack of access to cheaper, substitute goods – are shared by society.
3) Protectionism leads directly to political corruption, as politicians become pressured to start protecting every industry. Corporate executives will want to protect their profit margins, after all.
See the above video for a technical overview of the DXY Index, USD/JPY, EUR/USD, GBP/USD, USD/JPY, USD/CHF, Gold, and the S&P 500.
Read more: USD & JPY Get Haven Bids as Trump Protectionism Returns
--- Written by Christopher Vecchio, CFA, Senior Currency Strategist
To contact Christopher Vecchio, e-mail cvecchio@dailyfx.com
Follow him on Twitter at @CVecchioFX
To be added to Christopher's e-mail distribution list, please fill out this form
DailyFX provides forex news and technical analysis on the trends that influence the global currency markets.