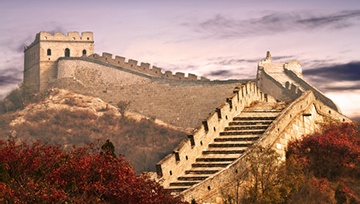 Yuan May Extend Loss on China's Q3 GDP, Eyes on PBOC for Reference
What's on this page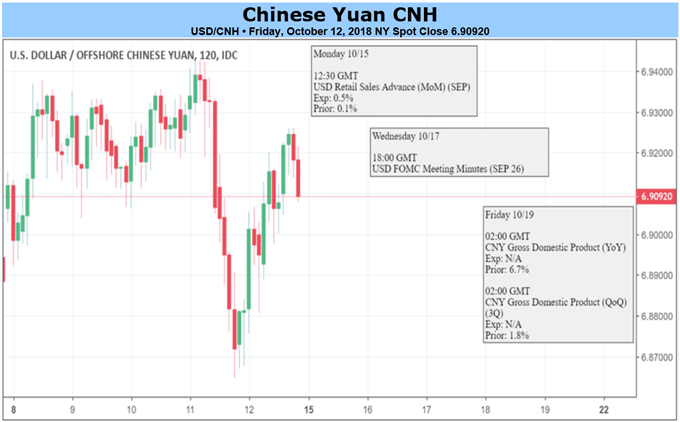 FUNDAMENTAL FORECAST FOR CNH: Bearish
Chinese Q3 GDP and September gauges could add bearish momentum to the Yuan.
PBOC and China's Finance Ministry may counter against extreme market sentiment.
China's relations with the US and Japan add uncertainties to its international trade.
How to trade news? Learn with DailyFX Free Trading Guides!
USD/CNH RESUMES BEARISH TREND
The USD/CNH closed above a key psychological level of 6.90 on Friday; the PBOC's reference rate was also set above the level, to 6.9120 on Friday. This opens room for the Yuan to head lower, with the USD/CNH climbing towards its record high of 6.9865 and the next critical psychological level, 7.0.
In the short-term, specifically next week, a few factors could determine Yuan pairs' moves. China's Gross Domestic Product (GDP) in the third quarter, PBOC's guidance through common and uncommon tools, as well as developments in China's relations with global partners.
CHINA'S Q3 GDP & SEPTEMBER RETAIL SALES
The country's economic growth is expected to slow down in the third quarter, to 6.6% from 6.7% in the previous quarter. If that is the case, it will be the slowest expansion rate since the first quarter of 2009, when the economy was hit hard by the global financial crisis. A weak growth will not help much on stopping Yuan's bearish trend.
In addition, the September gauges could reveal more concerns. Chinese Retail Sales have not seen steady improvement since it hit a 15-year low level in May; it is expected to stay unchanged at 9.0% in September. Industrial Production is forecasted to drop back to 6.0%, from a slightly improved figure of 6.1% in August. Fixed Assets Investment excluding Rural Areas is expected to continue to expand at the lowest rate in 18 years, 5.5%. The disappointing economic figures could accelerate selling in the Yuan.
CHINESE REGULATORS' GUIDANCE
The PBOC may counter against extreme market sentiment, as it stated in the Q2 Monetary Policy Implementation Report. The tools that the regulator may use include from the regular daily reference rate to the newly-introduced central bank bills in the offshore market.
Besides, China's Finance Ministry announced this week that it will issue 5 billion Yuan Chinese bonds in Hong Kong soon, with a date to be announced. This is consider to be a move that could support the Yuan, as issuing Yuan-denominated bonds will reduce the liquidity in the offshore market, and thus increase the cost of shorting the Yuan.
CHINA'S RELATIONS WITH THE US AND JAPAN
US-China relations hit a low point recently, amid the escalated trade war, cancelled high-level meetings and extended scope of disputes. It is reported that Chinese President Xi Jinping and US President Donald Trump may meet at the G20 Summit in November. China's Foreign Affairs Ministry did not give a clear answer but neither ruled out the possibility. Both sides may have become cautious as previous meetings have not led to a breakthrough.
While the outlook of US-China relations is unclear, China may make progress in the relationship with its neighbour Japan. China's Foreign Ministry announced that Chinese Premier Li Keqiang has invited Japanese Prime Minister Shinzo Abe for a visit to China, from October 25 to 27. This will be the first official visit of a Japanese Prime Minister in 7 years. It is worth to keep an eye on any trade deals reached in the meeting, as that could help China to make up for some losses in the US-China tariff battles.
YUAN TECHNICAL ANALYSIS
USD/CNH 1-Day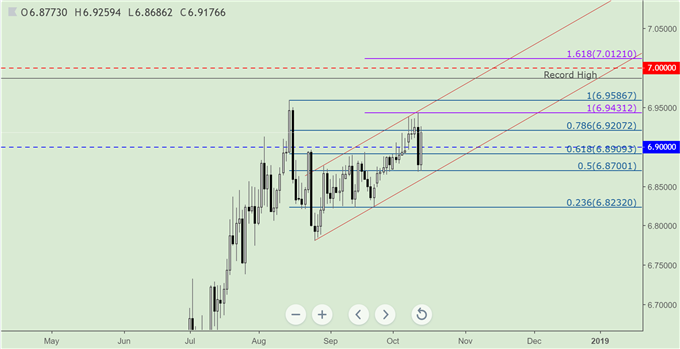 The USD/CNH is in an upward trend (downward for the Yuan) and has found support at 6.8700, 50% retracement of the August decline. The current resistance range for the pair is 6.9431-6.9587. If the USD/CNH can break above this zone, levels to watch next will be its record high level of 6.9865 and 7.0121, 161.8% extension of the September rise.
-- Written by Renee Mu, Currency Analyst with DailyFX
OTHER FUNDAMENTAL FORECAST:
New Zealand Dollar Forecast - New Zealand Dollar May Look Past CPI, Focus on Stocks, USD & Fed
Japanese Yen Forecast – Speculation for Above-Neutral Fed Rate to Curb USD/JPY Weakness
Oil Forecast – Oil Demand Forecasts Cut After Risk Rout Leads to Worst Week Since May
British Pound Forecast – Heightened Risk Doesn't Reward Position-Taking This Week
US dollar Forecast – US Dollar May Find Renewed Strength in FOMC Meeting Minutes
Gold Forecast - Gold Price Outlook Finally Impacted by Safe Haven Demand
Australian Dollar Forecast – Australian Dollar Held Up Last Week, May Not Do So Again
DailyFX provides forex news and technical analysis on the trends that influence the global currency markets.