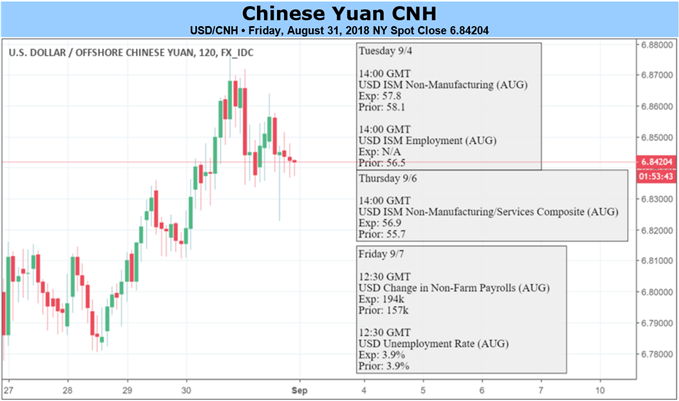 FUNDAMENTAL FORECAST FOR CNH: Neutral
Trade war tensions have resumed, adding downward pressure on the Yuan.

The USD/CNH breaking above 6.90 will need a green light from the PBOC.

MSCI's phase-two inclusion and a new trading link may ease some selling in Chinese stocks.
How to trade news??Learn with DailyFX Free Trading Guides!
The Chinese Yuan resumed losses against the U.S. Dollar this week after two consecutive gains; it also fell against most other major currencies. Despite of the losses, both the offshore USD/CNH and onshore USD/CNY have held below 6.90, a key level that the PBOC defended recently. Looking forward, resumed tensions in US-China trade war and the PBOC's guidance will be the two top drivers to the Yuan.
US-China Trade War & August Trade Report
US President Trump told that he wanted to impose tariffs on another $200 billion Chinese goods; the public-comment period for the proposal may start as soon as next week. China's Foreign Affairs Ministry responded that US threats "will not make China surrender". The trade war theme has been a key driver to the Chinese Yuan. If the Trump administration releases the detailed plan on new tariffs next week, the Yuan could bear increasing pressure once again.
On the coming Saturday, China will release the trade prints for August. This will further reveal the impact of the trade war to China and the U.S. Both may begin to feel the pain from the tariff battles. According to Bloomberg's forecasts, China's exports will slow down to 9.3% in August from 12.2% in July; imports will drop to 18.7% from 27.3% over the same span of time. Also, it seems the battles will not end soon: last week, the two sides met in Washington but failed to make any meaningful progress.
PBOC's Guidance
The Yuan will bear increasing pressure as discussed above, but whether it can break and hold above 6.90 will still be largely impacted by China's Central Bank. The regulator set the daily reference rate to be 6.8246 on Friday, after Trump's new tariff proposal was reported; there is still some room below 6.90. Since August, the PBOC has resumed the "counter-cyclical factor", which is used to counter against excessive Yuan selling driven by momentum.
Chinese Stocks & MSCI Inclusion Phase Two
The elevated trade tensions seem to have a greater impact to Chinese equities. Shanghai Composite Index extended losses on Friday and closed weaker than last week. At the same time, there is some good news for Chinese stocks as well: on the coming Monday, MSCI will add the second tranche of Chinese stocks to its emerging market index; also, the weighting of total Chinese shares in the index will be increased to 0.75% from 0.39% in June. The increased proportion is expected to bring in $11 billion capitals to China's stock market.
In addition, China's securities regulator announced a plan to introduce Shanghai-London Stock Connect this year, which will allow investors in one market to purchase stocks in the other. This will further facilitate overseas investors to participant in China's stock market and may help to increase interests in Yuan-denominated stocks.
-- Written by Renee Mu, Currency Analyst with DailyFX