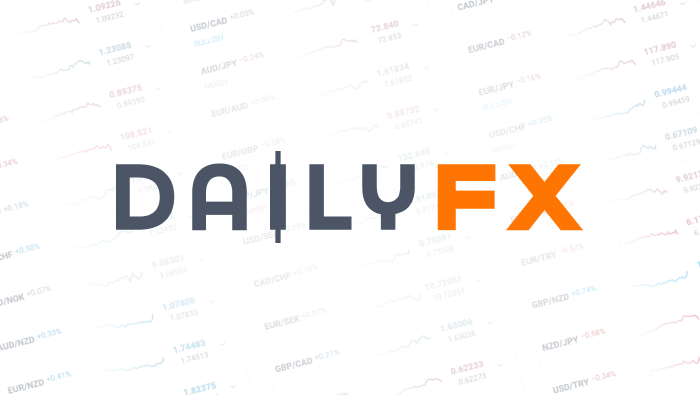 Yuan, Equities Weakness Likely to Continue in the Beginning of 2017
This daily digest focuses on Yuan rates, major Chinese economic data, market sentiment, new developments in China's foreign exchange policies, changes in financial market regulations, as well as market news typically available only in Chinese-language sources.
- The Chinese Yuan lost nearly 7% against the U.S. Dollar in both onshore and offshore markets in 2016.
- The PBOC raises requirements for reporting cross-border transactions beginning in July 2017.
- If you're looking for more trading ideas, check out our Trading Guides.
To receive reports from this analyst, sign up for Renee Mu' distribution list.
Yuan Rates
- In 2016, the Chinese Yuan lost -6.95% against the U.S. Dollar onshore and -6.94% offshore, as of 11am December 30th EST. The Yuan's reference rate set by the PBOC dropped -6.83% this year. Amid the Dollar strength driven by the U.S. recovery, the Yuan is likely to continue to bear downward pressure against the Dollar in 2017.
The offshore USD/CNH has been setting record highs during the last two months of 2016. It touched 6.9870 on December 29th, close to the key psychological level of 7.0.
USD/CNH 1-Day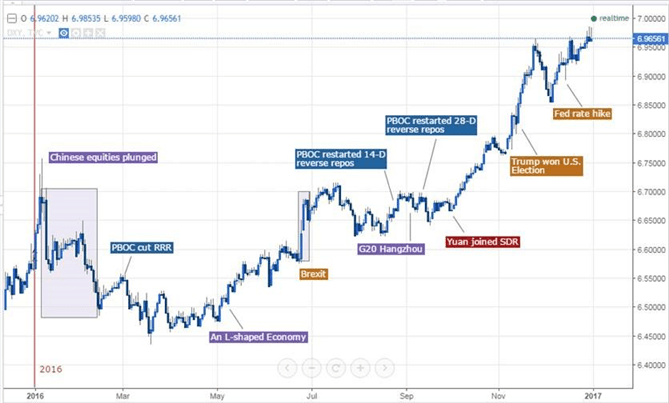 Prepared by Renee Mu.
The onshore USD/CNY has risen to the highest level in eight and a half years. On December 29th, the PBOC announced to revise the calculation of the CFETS Yuan Index beginning in 2017, including reducing the U.S. Dollar's weight. China's current exchange rate target is to maintain the Yuan basically stable against a basket of currencies, which is measured by three Yuan Index: CFETS Yuan Index (the primary indicator), BIS Yuan Index and SDR Yuan Index. Cutting Dollar's weight in Yuan's reference basket will reduce the impact of Dollar/Yuan moves, which have seen elevated volatility, to the overall Yuan stability.
USD/CNY 1-Week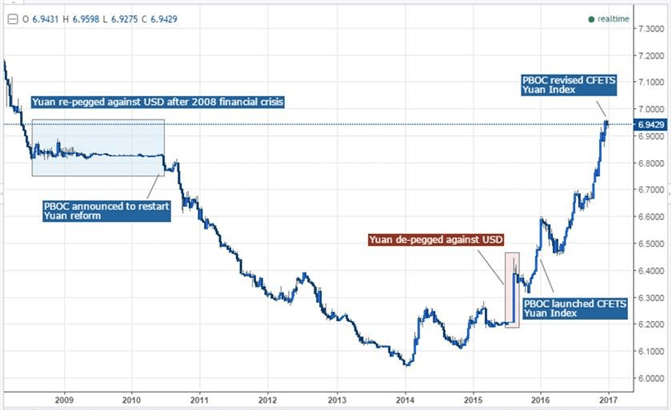 Prepared by Renee Mu.
- Chinese equities had a rough year in 2016: Shanghai Composite Index fell -12.31% following a +9.41% gain in 2015 and a +52.9% hike in 2014. The Second-board Index plunged -27.71% in 2016, even worse than the main board. In 2017, China's economic growth is expected to drop to 6.5%. At the same time, capitals outflows saw increases amid a weaker Yuan and likely continue to be case. Within such context, Chinese equities may remain lack of momentums in 2017.
Shanghai Composite Index 1-Day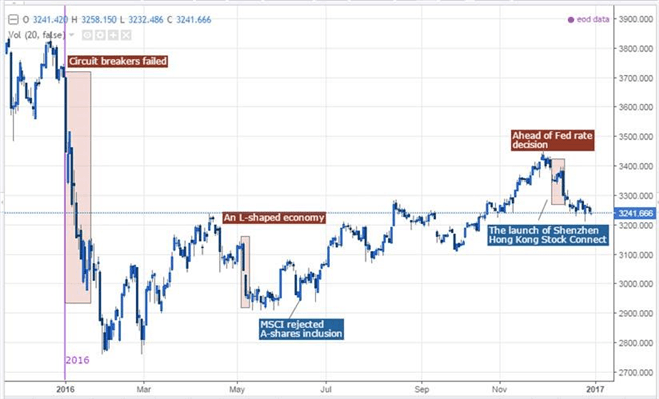 Prepared by Renee Mu.
Market News
Hexun News: Chinese leading online media of financial news.
- China's Central Bank announced officially on December 30th to strengthen oversight on cross-border transactions. From July 2017, banks and four other types of financial institutions will need to report cross-border transactions larger than 50,000 yuan, compared to the current threshold of 200,000.
To receive reports from this analyst, sign up for Renee Mu' distribution list.
DailyFX provides forex news and technical analysis on the trends that influence the global currency markets.