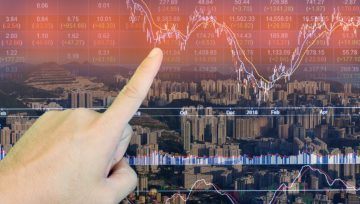 Sell in May and Go Away: Should You Sell Stocks in the Dow?
What's on this page
SELL IN MAY AND GO AWAY STOCK MARKET ANOMALY – TALKING POINTS
The Dow Jones statistically experiences lackluster returns during May and summer months
Recent stock market performance has deviated from the "sell in May and go away" anomaly, however
Looming risk factors tend to serve as catalysts that trigger widespread equity selloffs which has historically led to poor returns this time of year
The phrase "sell in May and go away" refers to the stock market anomaly coined by investors that suggests equity returns tend to falter seasonally beginning in May – and statistical evidence tends to reinforce this unusual norm. Another example of a seasonal stock market anomaly is the January effect where stocks typically climb to start the year.
SELL IN MAY AND GO AWAY – DOW JONES SEASONAL RETURNS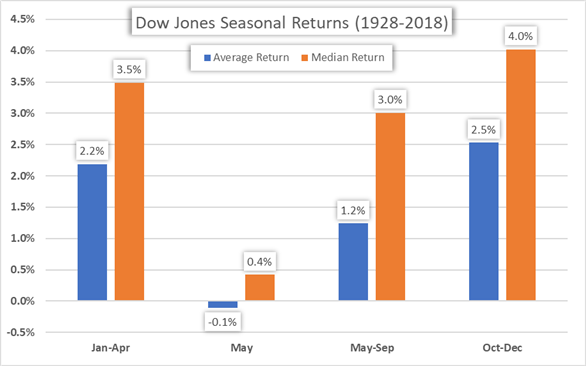 As shown in the chart above, the Dow Jones has recorded an average return of -0.1 percent during the month of May dating back to 1928. Also, the 'summer months' spanning May through September have recorded a modest gain of only 1.2 percent on average over the same time period.
This performance compares to other seasons of the year like the 'winter months' of January through April and 'fall months' of October through December – periods that have recorded an average gain of 2.2 percent and 2.5 percent respectively. Moreover, the median return for May and the summer period are both lower than the returns inked during these other seasonal periods of year.
DJIA – SEASONAL AVERAGE RETURNS BY PERIOD

Drawing on historical context, a series of negative economic events have occurred during May and subsequent summer months which helps explain the lackluster returns during this time of year. For example, Greece was on the verge of defaulting on its debt in May 2010. Summer of 2011 saw the ECB stave off the Eurozone credit blowup by implementing its bond-buying program to save Italy and Spain. China slashed its GDP growth estimates mid 2015 as it announced plans to restructure its economy for more sustainable growth. The history of financial crises details several additional events that proved bearish for equities over the years during May through September.
SELL IN MAY AND GO AWAY – CURRENT MARKET CONDITIONS
Stock market performance has begun to show a much brighter picture, however, which contradicts the "sell in May and go away" anomaly observed over longer historical studies. In fact, the Dow Jones 3-year average return for May through September is an impressive 6.5 percent while the 5-year and 10-year averages are also positive at 2.7 percent and 1.9 percent respectively.
Looking to sharpen your stock market knowledge and skills as a trader? Check out this article on How to Day Trade the Dow Jones.
One possible explanation for the recent deviation in seasonal performance could be the change in economic regimes witnessed by markets since the Global Financial Crisis. The theme that stands out most prominently over the last decade is the new era of quantitative easing (QE) and extremely low interest rates adopted by global central banks.
This new era of easy-money monetary policy has aimed at smoothing out the business cycle by providing loose financial conditions in hopes of encouraging business activity, bolstering asset prices and restoring market confidence. In turn, there have been less severe stock market drawdowns over recent times leading to higher average returns over shorter lookback periods.
As a result, a new game of chess appears to have emerged between global central bankers and the foundations of market cycle dynamics. Investors have grown accustomed to these accommodative policies and exhibit 'easy-money addiction' withdrawals following any small shift towards tightening. Around the world fiscal policies remain accommodative shown by ballooning government deficits while central banks are shifting away from normalizing monetary policy.
BREXIT, TRADE WAR AND SLOWING GLOBAL GROWTH RISKS LOOM
Meanwhile, global equities remain elevated near all-time highs which makes it difficult to overlook the possibility of investor complacency. Placing such incredible reliance on government and central bank policies to completely eliminate business cycles has the potential of proving to be a dangerous strategy – particularly if these already accommodative policies fail to instill market optimism.
Yet there are several unresolved market risks that still lurk on the horizon: unsustainable debt loads, landing a smooth Brexit, uncertainty surrounding US trade policy with partners such as China, Canada, Mexico and the EU in addition to deteriorating global fundamentals shown by an uninspiring downtrend in economic indicators (just to name a few).
That being said, statistical averages over longer time studies still supports the "sell in May and go away" stock market anomaly despite recent equity performance deviating from the DJIA's most well-known phenomenon. In addition, the wealth of fundamental risks that have arisen warrants less complacency and instead closer observation of the market's developments as 2019 wears on.
READ MORE:
- Written by Rich Dvorak, Junior Analyst for DailyFX
- Follow @RichDvorakFX on Twitter
DailyFX provides forex news and technical analysis on the trends that influence the global currency markets.