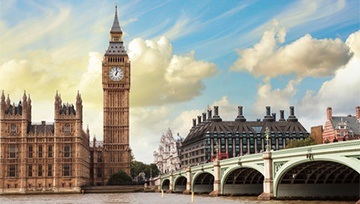 DailyFX Poll: Which Successor to PM May Would be Most Positive for GBP?
What's on this page
Poll analysis:
DailyFX has conducted a poll via Twitter to find out which of the likely successors to UK Prime Minister Theresa May would be most positive for the British Pound.
In second place, out of four, was Jeremy Corbyn – suggesting that the financial markets are not afraid of a Labour Government.
DailyFX poll results
Over a 24-hour period on February 13/14, I asked my Twitter followers to choose between four possible successors to UK Prime Minister Theresa May, asking which of them would be most positive for Sterling. There is no indication that in the near future May will resign, be replaced as leader of the ruling Conservative Party or call a General Election but many bookies are taking bets on her successor and these four were their favorites at the time:
Jeremy Corbyn, leader of the main opposition Labour Party,
Michael Gove, Environment Secretary in the current Conservative Government and formerly Co-Convenor of the Vote Leave group that led the Brexit campaign,
Boris Johnson, formerly Foreign Secretary in May's Cabinet and another prominent pro-Brexit campaigner, and
Sajid Javid, the current Home Secretary, a backer of Remain in the Brexit referendum and a former Managing Director at Deutsche Bank.
There were 268 votes in total, with most of the voters likely to be in the financial markets as they follow me or one of my DailyFX colleagues on Twitter, and top of the poll was Johnson – often portrayed as a popular but controversial politician who resigned from the government in criticism of May's approach to Brexit.
More surprisingly, in second place was Corbyn. There is a widespread assumption that the financial markets prefer the Conservatives to Labour and that Corbyn would be particularly unpopular. He has advocated reversing austerity cuts, renationalization of several privatized industries and unilateral nuclear disarmament. However, our poll suggests retail traders feel a Corbyn ascent to Prime Minister might not be as detrimental to the Pound as many analysts believe.
In third place was Gove and fourth was Javid, which is also a surprise given his financial-market background.
These were the results in full: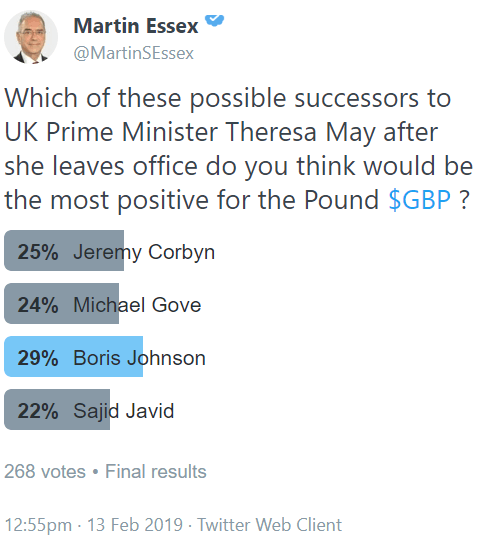 Whether the results reflect dissatisfaction with the Government's approach to Brexit is impossible to know but it is noteworthy that Johnson and Corbyn, who topped the poll, are currently outside the Government while Gove and Javid are both current ministers.
More to read:
Using News and Events to Trade Forex
What Every Trader Needs to Know About the Pound
Brexit and the Pound: Why EU Might Spurn a Last-Minute Deal With the UK
Resources to help you trade the forex markets:
Whether you are a new or an experienced trader, at DailyFX we have many resources to help you:
--- Written by Martin Essex, Analyst and Editor
Follow the @DailyFXTeam handle as well as my own @MartinSEssex to find timely updates on Brexit and future polls. Be sure to link to @DailyFXTeam and @MartinSEssex
DailyFX provides forex news and technical analysis on the trends that influence the global currency markets.