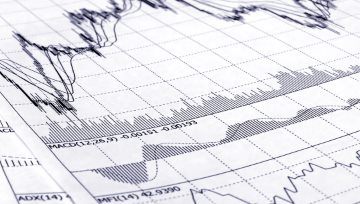 Fundamental vs Technical Analysis: Which is Better at Predicting Market Prices?
What's on this page
Fundamentals vs Technicals:
Some market forecasters use technical analysis. Others prefer to look at fundamental factors such as economics, geopolitics and sentiment. Some combine both approaches.
So which technique works better and can the other be safely ignored?
Fundamental vs Technical Analysis: Where to Start
Market analysts fall into one of three camps when attempting to forecast future price movements:
They use technical analysis, which involves reading charts and interpreting price movements.
They use fundamental analysis, looking at factors such as economic data, interest rates, political developments and sentiment, or
They combine the two.
For the beginner, technical analysis is often attractive because superficially it provides easy answers. You just look at a chart, follow some rules, and it tells you the levels at which to buy and sell. The problem is that there are many different approaches, ranging from the relatively straightforward to the very complicated.
At its simplest, all that is necessary is to draw some trendlines on a chart and wait for them to break, make a note of previous highs and lows, look out for some basic patterns and perhaps add in some moving averages and a momentum indicator such as the RSI: the relative strength index.
Where You Might End Up Using Technical Analysis
The problem is that from there on there are many different approaches. One book I studied before passing my exams to become a Member of the Society of Technical Analysts, Technical Analysis of the Financial Markets by John J. Murphy, is 576 pages long and is packed with alternative forecasting methods ranging from Dow theory via Gann and Fibonacci fan lines to Bollinger bands and Elliott Wave.
Many experienced technical analysts – including colleagues here at DailyFX – use one or more of these techniques but there is certainly no consensus about their relative value. Indeed, some analysts argue that a simple approach is the best simply because professional traders tend to use the same basic ideas that are therefore self-fulfilling (a charge that many serious technical analysts would deny vehemently).
More to Read: Using Technical Analysis to Trade the Markets
What the Fundamental Analysts Say
For economists and others who look at the fundamental factors affecting asset prices, the technical approach outlined above is akin to black magic. The only way to predict the markets, they would say, is to analyze the economic data, listen to the policymakers, follow political developments and maybe glance at flows data, sentiment gauges and positioning.
The problem they have is that this might well help to predict the direction of stock, commodity, bond and currency prices but it has little to say about timing, targets or entry and exit points. Working as senior international economist at a London-based consultancy, I became increasingly aware that market forecasting using economics is even more difficult than predicting economic data.
So Why Not Combine the Two?
This seems to me to be the most sensible approach and here is something I wrote about EURUSD combining the two approaches. Below is the chart that I used at the time:
EURUSD Price Chart, Daily Timeframe (July 16, 2018 – January 10, 2019)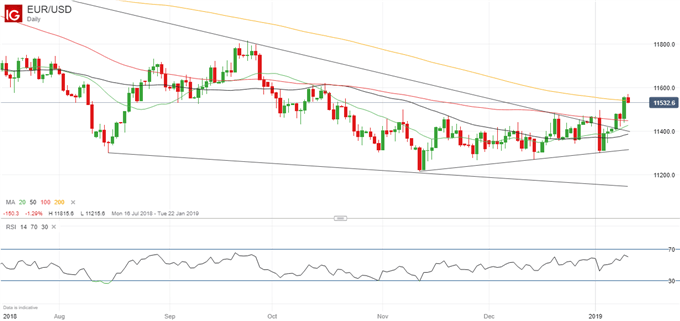 Chart by IG (You can click on it for a larger image)
However, there is a problem – the two approaches can give opposite answers. In economics, for example, there is a concept known as "reversion to mean", which argues that there is a strong tendency in the financial markets for a price to move back to some kind of "correct" value, however that is defined. When, for instance, a stock price moves strongly higher, technical analysts would probably suggest that the trend will continue and urge their customers to buy more.
This brings out the economists warning that the price has already been chased too high and of a reversion to mean, that being a measure like the CAPE, or cyclically-adjusted price-to-earnings ratio, developed by Yale economist Robert Shiller. No, reply the technical analysts: traders should expect the price to trade between the support and resistance trendlines until it breaks out beyond one of the two levels.
Fundamentals vs Technicals Conclusion
There is no right or wrong answer to this debate but it seems dubious to me for technical analysts to argue that everything you need to know is in the price. You only have to look at the very sharp movement in the Swiss Franc after the Swiss authorities broke its link to the Euro, or the drop in the Pound after the British voted unexpectedly for Brexit, to see that this is not the case.
Conversely, fundamental analysis has little to say about animal spirits, or trader psychology, which is arguably an important market driver. Looking at both is therefore the safest option – and potentially the most likely to succeed.
More to read:
When is the Best Time to Trade and Where - Trading Forex
Technical Versus Fundamental Analysis in Forex
Resources to help you trade the forex markets:
Whether you are a new or an experienced trader, at DailyFX we have many resources to help you:
--- Written by Martin Essex, Analyst and Editor
Feel free to contact me via the comments section below, via email at martin.essex@ig.com or on Twitter @MartinSEssex
DailyFX provides forex news and technical analysis on the trends that influence the global currency markets.