Equity Fundamental Forecast: Mixed
A key vote on the Irish backstop for a Brexit deal could see the FTSE come under pressure on January 15

th

Dovish FOMC minutes and commentary from Chairman Jerome Powell could create some support for the US stock market

Trade war updates will continue to have an impact on all global equity markets
Stock Markets Face Familiar Headwinds
This past week saw global equity markets enjoy a slight rebound from the pain felt in December. A combination of promising trade negotiations and dovish Fed minutes worked to improve sentiment and drive equities higher. As these fundamental developments fade to the rearview mirror, global stock markets are threatened again by the same headwinds they have faced for months.
A Brexit Vote Poses Trouble for the FTSE 100
Next Tuesday will see Theresa May attempt to pass her deal through parliament. However, after surviving a no-confidence vote in which over 100 members of parliament voted against her, the chances to pass the test seem slim. While it would not be completely unexpected, a failure could deal a blow to both the FTSE 100 and the GBP. The latter of which could soften the impact on the former.
FTSE 100 Price Chart, March 2018 – January 2019 (Chart 1)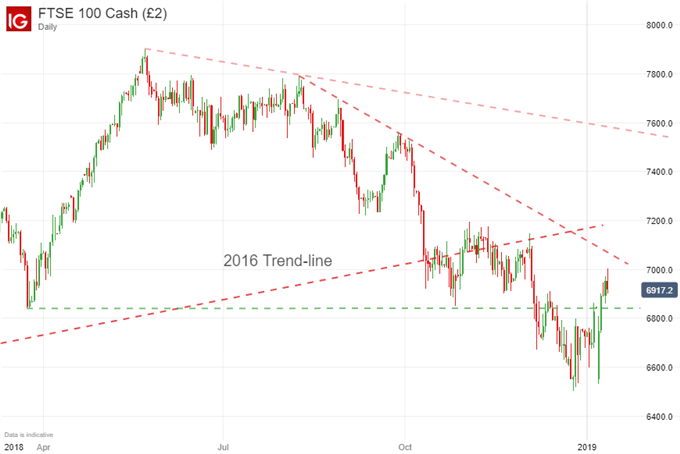 Brexit Impact on GBP: How the Pound Might Move After Parliamentary Vote
Across the pond, the S&P 500 will face the impact of trade wars and a prolonged government shutdown. Last week saw tensions fade slightly as trade officials from the United States, China, Japan and the EU met separately in Washington. Positive progress was heralded by US officials, but previous instances have been revealed as simple attempts to add stability in equity markets.
Similarly, a dovish Fed aided in the positive sentiment enjoyed last week. The commentary could remain a bullish tailwind as investors expect fewer hikes in the coming year.
See the other economic events in the week ahead with our Economic Calendar.
On the other hand, the government shutdown threatens to muddy the dovish shift. While many analysts have downplayed the impact of a shuttered government on economic production, a more worrying aspect may be the credit warning issued to the United States by Fitch Ratings.
In the week ahead, the government shutdown and the beginning of earnings season will be the most important fundamental themes to watch for the Dow and S&P 500. Earnings season kicks off with the big banks early next week. Join me for an overview of earnings season and the impact it could have on the stock market with my earnings report ride-along webinar. You can also follow me on Twitter @PeterHanksFX for live updates of beat or missed earnings from the most important US corporations.
S&P 500 Price Chart Daily, January 2018 – January 2019 (Chart 2)
Learn about the differences between the Dow, Nasdaq, and S&P 500.
A common theme amongst all equity markets will be the warnings of slowing global growth. This week the World Bank issued a dim outlook for advanced economies that echoed other warnings from the International Monetary Fund. With that said, the economic calendar is relatively light so technical levels could play a larger role.
Bearish on Equities? Learn some successful bear market trading strategies and techniques.
--Written by Peter Hanks, Junior Analyst for DailyFX.com
Contact Peter on Twitter at @PeterHanksFX
Other Weekly Fundamental Forecasts:
Australian Dollar Forecast –Australian Dollar Cannot Bank On Trade Headline Support
Oil Forecast –Fed-Induced Crude Oil Price Rise at Risk as China, US Demand Ebbs
British Pound Forecast –Brexit Vote on Tuesday Will Not End the Current Bedlam
US dollar Forecast –US Dollar May Rise as Data Flow Drives Rethink of Fed Policy Bets