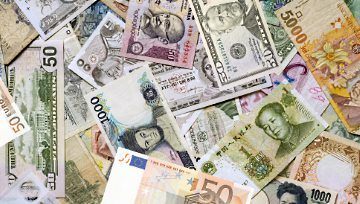 Yen, US Dollar Aim Higher as Political Swings Rattle Markets in 2019
What's on this page
TALKING POINTS – 2019 OUTLOOK, EQUITY MARKETS, POLITICAL DEVELOPMENTS
The ascent of liberal-alternative ideologies will likely continue to rattle markets

2019 will have a myriad of elections in both developed and developing countries

Equities

,

other sentiment-linked assets may suffer from political fragmentation
See our free guide to learn how to use economic news in your trading strategy !
Why does unorthodox political ideology matter?
The recent rise in liberal-alternative ideologies has rattled markets. That doesn't seem surprising: experiments in political and economic novelty are bound to breed uncertaintyas investors attempt to navigate a terrain with less-predictable outcomes. In the past year, they had to contend with rise of nationalism, populism and growing support for dictatorships.
A prime example of this has been the spread of nationalism across the European continent. The EU was built on the principle of political unity. Therefore, a fissure in that foundation will almost certainly affect financial markets which rely on the underlying political solidarity in the bloc. The unnerving and ongoing Brexit negotiations along with the Italian budget crisis are the most current pressing issues that have unnerved both domestic and international asset markets.
OBX, DAX, and SPX Equity Indices – Daily Chart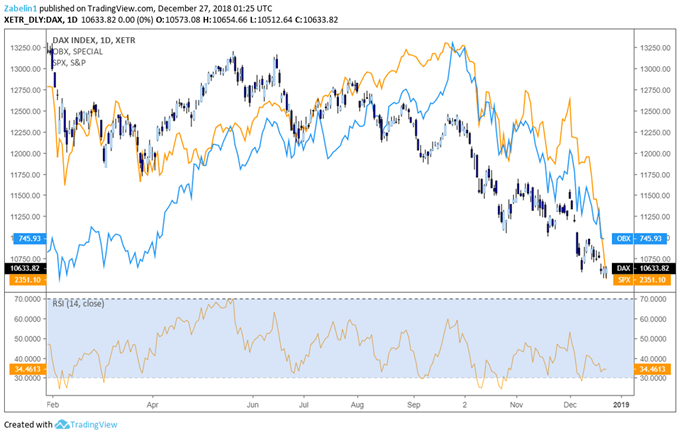 To no surprise, the decline of liberally-oriented political parties – that is, ones that favor free trade, broadly support the free movement of workers and highly-integrated markets – has caused a disturbance in market activity. This is because political fragmentation almost always entails the same fate for the economies in question, with a parallel increase in financial market volatility.
This past year, the US-led trade war against China and a broad swath of other nations – some of them traditionally staunch allies – significantly hampered the performance of equities and emerging market (EM) assets. At root, the policy actions driving these moves stem from a political ideology that supports protectionism and promotes economic nationalism.
Inconveniently, this is occurring alongside a hawkish shift in monetary policy, with several major central banks either raising rates or looking do so. The Fed is leading the charge in tightening credit conditions with four hikes in 2018 and a plan to implement two in 2019. Close to 80 percent of all global monetary transactions are done in the US Dollar, so when the Fed raises rates, it is raising the overall global cost to borrow.
Outlook for financial markets in 2019
Tightening credit conditions around the world – fueled by a hawkish Fed – have battered emerging markets where a large part of outstanding debt is USD-denominated. This comes after eight years of expansionary monetary policy following the so-called Great Recession. Loose credit conditions allowed investors to cheaply finance bets on riskier EM assets and equities while depressing yields on safer alternatives.
As this continues, several emerging markets in Asia and Africa are due to hold elections, increasing the degree of uncertainty. Continued trade wars are yet another persistent headwind. Finally, if OPEC+ countries opt to deepen crude oil output cuts following the steep drop in the fourth quarter, a rise in the cost of a critical input might come at the worst possible time.
Global growth is forecasted to slow next year, and investors are still holding their breath to see the outcome of the trade negotiations between Beijing and Washington. The two agreed to a ceasefire for 90 days, and unless an agreement is made within the deadline, the trade war will resume.
NZD/USD, AUD/USD, EMs – Daily Chart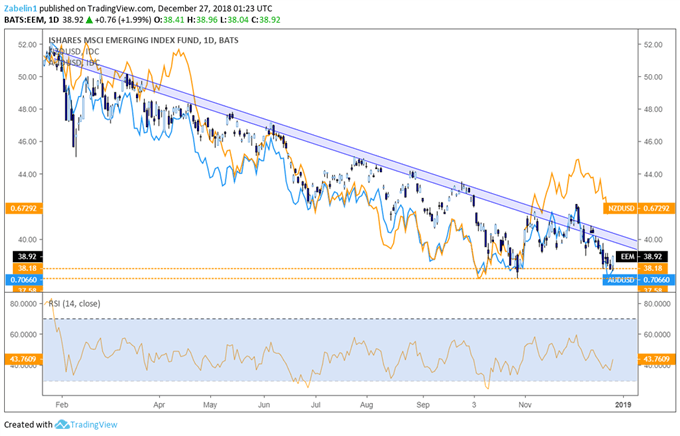 In Europe, the EU parliamentary elections will be held in the spring. The world will watch to see what Europe thinks of the EU as the bloc's advocates fight to reignite a sense of unity and stave off disintegration into political fragmentation. The way forward for Brexit has become even more uncertain as the March 29 deadline creeps closer, weighing on UK equities and the British Pound.
What assets may perform well in 2019?
In the risk-averse environment likely to emerge out of this toxic stew, the likely champions will be Treasury bonds, the US Dollar, the Japanese Yen and perhaps the Swiss Franc. Sentiment-linked assets like equities, the New Zealand and Australian Dollars as well as the Norwegian Krone are likely to suffer.
US 10-Year Bond, EUR/CHF, EUR/JPY, GBP/JPY – Daily Chart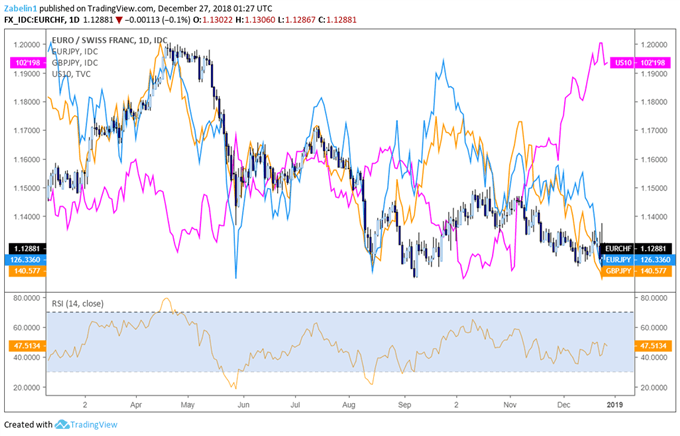 My trading strategy for 2019 will be to go short AUD/JPY, and long USD/NOK. The Euro will likely suffer courtesy of political turmoil and a firmly dovish ECB. Slower growth is projected, and the central bank has duly downgraded its 2019 inflation forecast, meaning a rate hike dis a distant prospect. Regional equities may continue their downtrend as well, both from international pressure and domestic political complications.
The erosion of political and economic liberalism is inextricably linked to turmoil in financial markets. Ideological re-alignment means reforming economic agendas, consequently leading to potential radical shifts in monetary policy. Are you prepared for what it is come?
TRADING RESOURCES
--- Written by Dimitri Zabelin, Jr Currency Analyst for DailyFX.com
To contact Dimitri, use the comments section below or @ZabelinDimitri on Twitter
DailyFX provides forex news and technical analysis on the trends that influence the global currency markets.