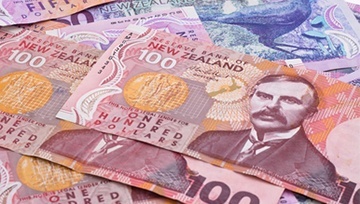 New Zealand Dollar: What Every Trader Needs to Know
What is the NEW ZEALAND Dollar?
The New Zealand Dollar (NZD) is the official currency of New Zealand and all of its territories. It is sometimes informally referred to as the "Kiwi", a reference to an indigenous bird. It replaced the New Zealand Pound in 1967, and was pegged to the US Dollar that same year. In 1985, the New Zealand Dollar became a free-floating currency.
History of the Reserve Bank of New Zealand
The Reserve Bank of New Zealand (RBNZ) was officially established in 1934 amid the turmoil of the Great Depression. As a feature of its establishment, the RBNZ was given a monopoly on the issuance of banknotes, which was previously was the privilege of the six main commercial banks at the time.
The RBNZ was initially set up as an independent institution but was brought under government control in 1936. In 1989, the implementation of the Reserve Bank of New Zealand Act granted statutory independence for it to carry out its functions. However, it is still accountable to parliament and is legally obligated to provide an annual dividend to the government.
The central bank is structured in a managerial hierarchy with the Governor at the helm. Deputy and Assistant Governors can offer advise, but ultimately all decision-making power rests with the Governor.
Build confidence in your New Zealand Dollar trading strategy with our free guide!
What moves the NEW ZEALAND Dollar?
I. RBNZ Monetary Policy
The RBNZ's mandate is to maintain price stability and to avoid instability in output, interest rates, and exchange rates. The RBNZ formalizes these goals in an inflation target range of 1 to 3 percent, with a focus on keeping average future price growth near the 2 percent midpoint.
In 2017, Labour Party leader Jacinda Ardern was elected as Prime Minister on a platform that included amending the RBNZ mandate to include employment as a companion objective in addition to price stability. Formal legislation codifying the new policy framework is still pending but an updated Policy Targets Agreement (PTA) was unveiled in March 2018 calling for the central bank to "support maximum levels of sustainable employment within the economy".
The central bank uses policy instruments such as interest rate hikes and cuts as well as open market operations to achieve its targets. It also holds press conferences where market participants can approximate the direction of interest rates based on hawkish or dovish rhetoric from policy officials. Additionally, indicators of economic activity such as GDP and CPI reports have a noteworthy effect on the New Zealand unit by way of shaping RBNZ policy expectations.
Unexpectedly positive or negative data from these various indices has a tendency to lead markets to speculate on potential hawkish or dovish shifts in policy from the RBNZ, respectively. This speculation is often echoed in Kiwi Dollar price fluctuations.
Effect of RBNZ Monetary Policy on the New Zealand Dollar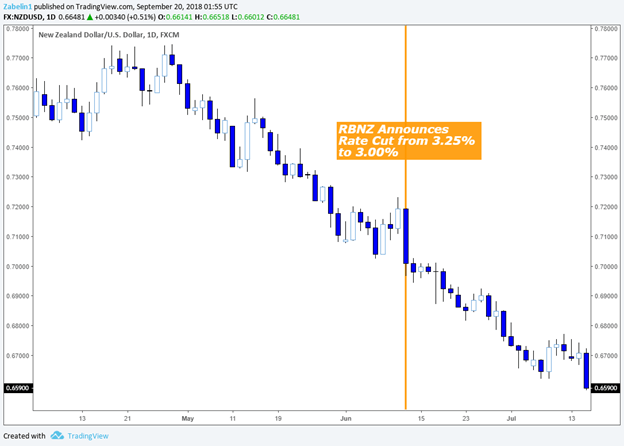 II. Market Sentiment
Swings in broad-based market sentiment are another important driver of New Zealand Dollar price action. New Zealand is a major exporter of "soft" commodities such as dairy and meat. Because the country's economy is heavily export-driven, the Kiwi's relative strength or weakness frequently reflects swings in expectations for overall global economic activity.
The Kiwi also moves closely with the Australian Dollar. This is because Australia's economy is similarly oriented toward raw material exports. Australia and New Zealand signed the Closer Economic Relations Act in 1984, which strengthened trade relations and made for more synchronized fluctuations in the two countries' business cycles.
Aussie and Kiwi Dollars Moving Together Amid Trade Wars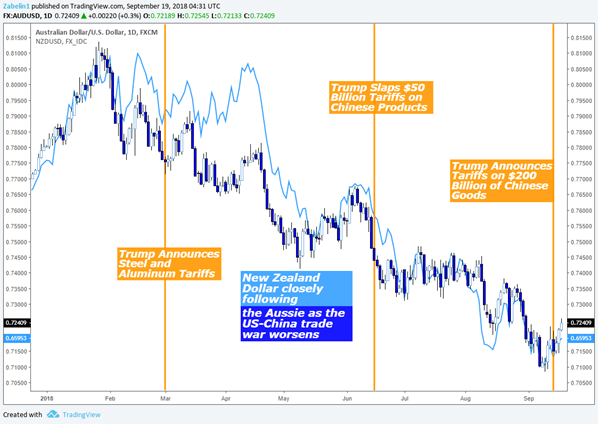 Trading the NEW ZEALAND Dollar
The New Zealand Dollar is the 10th-most traded currency in the world, and NZD/USD is its most-traded pairing. Widespread use speaks to abundant liquidity, which often implies relatively lower transaction costs and higher-quality trade execution.
New Zealand's geographical position has also made it the ideal trading partner for emerging economies in Asia. Traders can therefore use the Kiwi as a vehicle to gain exposure to economic developments in faster-growing Asian markets, such as China.
Trading the New Zealand Dollar is also a way to express a view on market sentiment. Because the Kiwi is anchored to the world's business cycle, it allows traders to bet on broad-based expectations for global growth via a relativley liquid asset.
Finally, New Zealand tends to have relatively higher interest rates compared to most developed countries. Traders can use this to their advantage and execute carry-trade strategies against currencies that carry a comparatively lower interest rate, such as the Japanese Yen.
Commonly traded NZD currency pairs:
--- Written by Dimitri Zabelin, Jr Currency Analyst for DailyFX.com
To contact Dimitri, use the comments section below or @ZabelinDimitri on Twitter
NEW ZEALAND DOLLAR TRADING RESOURCES
OTHER CURRENCY PROFILES:
DailyFX provides forex news and technical analysis on the trends that influence the global currency markets.