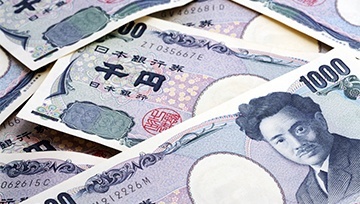 Japanese Yen: What Every Trader Needs to Know
What's on this page
What is the Japanese Yen?
The Yen (JPY), meaning "round object", is the official currency of Japan. It was established by the Meji government in 1871 as part of the state's modernization program. The idea was to shed Japan's multi-currency regime that was maintained by feudal fiefs and instead mimic their European counterparts, implementing a uniform currency throughout the entire country.
History of the Bank of Japan: Monetary Policy & Yen Deflation
The Bank of Japan (BOJ) is the country's central bank. Established in 1882, it was given a monopoly on controlling the money supply as a way to prevent other parties from minting yen. Starting in the 1990s, Japan's currency began to experience what BOJ Governor Haruhiko Kuroda described as a "chronic disease" of deflation.
The BOJ began to implement a series of policies designed to counter the deflationary spiral of the yen, and in 1999 pioneered what has been recently called "forward guidance". This was a commitment to achieving a "stably zero percent or an increase" in consumer price inflation (CPI). Despite achieving positive CPI data in 2006, the housing crisis in 2008 sent yen price growth back into negative territory, forcing the BOJ to adjust its strategy.
In 2013, the central bank and Japanese government agreed to work together to achieve a 2% inflation target. The effort was supported by Japanese Prime Minister Shinzo Abe's "three arrows" program that consisted of a growth strategy, flexible fiscal policies, and a bold monetary strategy.
Japan Elects Shinzo Abe as Prime Minister: USD/JPY Impact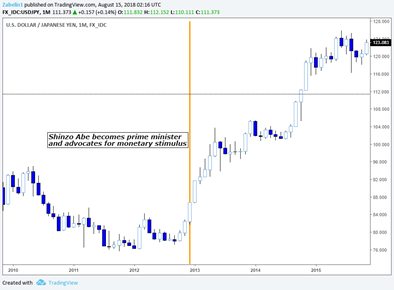 In the same year, the BOJ launched Quantitative and Qualitative Easing program (QQE). The unconventional policy program consisted of purchasing 80 trillion yen worth of Japanese government bonds (JGBs) as a way to exert downward pressure not only on short-term nominal interest rates, but also along the entire yield curve. When QQE alone was judged insufficient in 2016, the BOJ adopted a negative interest rate -0.1% on excess reserves that financial institutions placed at the bank.
When this too fell short of bringing about the desired level of inflation for the yen, the BOJ added Yield Curve Control (YCC) to the equation. This made the official title of their monetary policy strategy "Quantitative and Qualitative Easing with Negative Interest Rates and Yield Curve Control".
YCC entails keeping the 10-year government bond yield at zero while short-term interest rates remain negative. The goal of this approach is an overall steepening of the yield curve, meaning an increase in the difference between yields on short- and longer-term bonds.
Build confidence in your Japanese Yen trading strategy with our free guide!
What moves the Japanese Yen?
I. Low interest rates
Very low interest rates in Japan since the 1990s have meant that the yen is very cheap to borrow. This has encouraged the use of a strategy called the "carry trade", whereby investors use cheaply borrowed yen to purchase higher-yielding assets. This allows them to earn the interest rate differential as income.
II. Market Sentiment
When financial markets are relatively optimistic and traders prize returns over safety, rising demand for higher-yielding assets tends to produce a complimentary increase in their prices. Such market conditions are typically characterized by rising stock markets.
However, an adverse turn in market sentiment that shifts investors' emphasis to capital preservation can put this dynamic in reverse. Traders who have bought riskier assets with borrowed yen exit those positions and buy back Japanese unit to cover loans. This drives the yen price higher.
What this often produces in practice is an inverse relationship between the yen and "risky" assets. This means those with relatively higher rates of return compared to safer alternatives (a common example of the trade-off between "risky" and "safe" assets is between stocks and bonds, respectively).
III. Major Economic Indicators
Under a typical monetary policy regime – something Japan has not experienced for over 30 years – major economic indicators such as CPI and GDP often inform expectations for the direction of interest rates and thereby influence exchange rates. Japan's struggle with stubbornly low inflation in recent decades has meant that the yen is not as responsive to such catalysts however.
Trading the Japanese Yen
The yen is the third most traded currency in the world, commanding 22% of global market turnover (according to the Bank of International Settlements). This high level of liquidity - especially when paired with the US Dollar (USD/JPY) - can make for tighter spreads and smoother trade execution when compared with less widely used alternatives.
Furthermore, the mechanics underlying the "carry trade" make the yen a common way to express a view on overall market sentiment trends. Since Japan's currency frequently falls when markets are broadly upbeat, and gains at times of turmoil, it can serve as a useful vehicle for gaining exposure to broad market mood swings.
For example, the yen scored explosive gains as stocks plunged amid the global financial crisis in 2008 and fell as a recovery took root in early 2009 – as shown in the chart below.
Japanese Yen vs S&P 500 – The Great Recession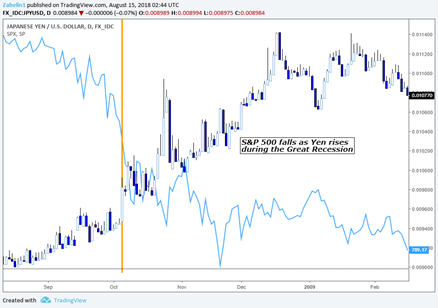 Note: The chart above shows JPY/USD. The exchange rate is usually quoted as USD/JPY
Commonly traded JPY currency pairs:
--- Written by Dimitri Zabelin, Jr Currency Analyst for DailyFX.com
To contact Dimitri, use the comments section below or @ZabelinDimitri on Twitter
Japanese Yen TRADING RESOURCES
OTHER CURRENCY PROFILES:
DailyFX provides forex news and technical analysis on the trends that influence the global currency markets.