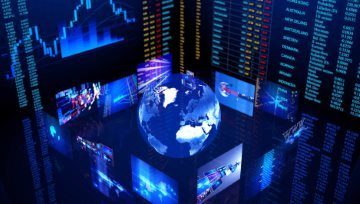 Lull in FX Market Abates Ahead of 2019
What's on this page
Lull in FX Market Abates Ahead of 2019
Participation in foreign exchange (FX) markets have recovered following a lull in July, and key themes surrounding the global economy may fuel greater interest across the major currencies as central banks continue to adjust monetary policy.
Rising U.S. interest rates have served as an overarching theme in the first-half of 2018 as the dollar strengthened against its counterparts, and the Federal Reserve's hiking-cycle may continue to influence the financial markets as Chairman Jerome Powell & Co. shows no signs of slowing down.
At the same time, fresh updates coming out of the European Central Bank (ECB) may play an increased role in driving volatility as the Governing Council winds down the asset-purchase program ahead of the December deadline, with interest in FX markets picking back up ahead of 2019.
Upward Trend Boosts FX Volume Outlook for 2019
Source: Thompson-Reuters
Fresh updates published by Thompson Reuters show FX volume recovering in August and September, with a broader look at the data set highlighting a steady upward trend since at least January 2017. The pickup is even evident during the month of July as daily volumes averaged 387B last year versus 398B in 2018.
The figures suggest market participation will continue to grow in 2019 as major central banks alter monetary policy, and the current environment may present opportunities for both retail and institutional traders as the rise in FX interest appears to be accompanied by an upswing in volatility. In response to the growing interest in foreign exchange, IG Group has taken further steps to increase its participation as the global firm is now approved by U.S. regulators to offer its services to qualified clients across the 50 states.
IG Group Approved by U.S. Regulator for Retail Foreign Exchange Dealer (RFED) License

Founded in 1974 and listed on the FTSE 250, IG Group has offices in 14 countries across five continents and is now a step closer in returning to the U.S. market.
After applying for membership back in 2017, IG Group was granted regulatory approval on October 15, 2018 by the National Futures Association (NFA) as a registered Retail Foreign Exchange Dealer (RFED).
IG Group is also authorized and regulated by the Financial Conduct Authority (FCA), serving over 195,000 clients worldwide, and has been recognized time and time again for both its services and technology. As an industry leader, IG Group has undertaken the FX Global Code of Conduct and has been on the forefront in delivering world-class client support through innovation.
Sign up for more updates and to be the first to trade with IG Group
DailyFX provides forex news and technical analysis on the trends that influence the global currency markets.