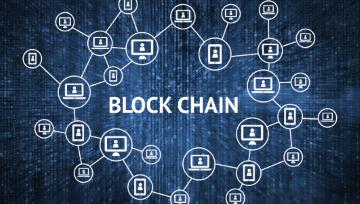 New Cryptocurrencies to Watch in 2019: NEO, EOS & Stellar
What's on this page
New Cryptocurrencies to Watch in 2019: NEO, EOS & Stellar
Up and coming cryptocurrencies NEO, EOS and Stellar may be the new kids on the block, but they are already causing a stir in the market. In this article we look at all three in more depth to understand just how much of a threat they pose to leading cryptos, Bitcoin (BTC), Ethereum (ETH) and Ripple (XRP) and why they should be on your list of cryptocurrencies to watch.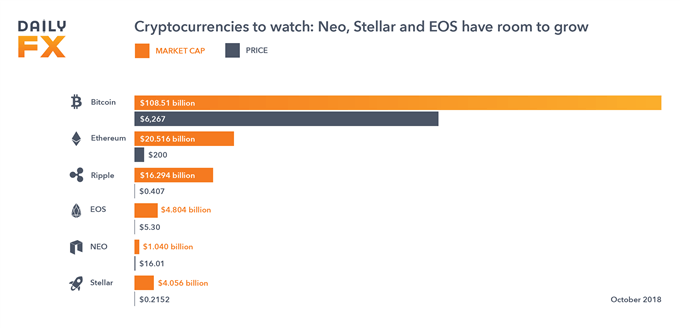 NEO (NEO)
NEO was initially released as AntShares in February 2014.
Current circulating supply – 65 million out of a maximum of 100 million.
Price - $16.01
Market Capitalization - $1.040 billion (October 11, 2018).
What is NEO cryptocurrency?
NEO is a non-profit, community-based blockchain designed to encourage the building of a scalable network of decentralized applications (dapps). The NEO ecosystem allows the rapid development of smart contracts using a wide range of programming languages. NEO cryptocurrency uses a delegated Byzantine Fault Tolerance consensus and can support up to 10,000 transactions per second. NEO has a large, and powerful, following including the Chinese government and Chinese e-commerce titan Alibaba.
NEO Coin One-Year Price Performance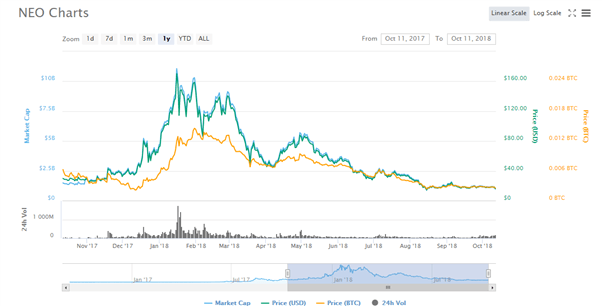 Why is NEO a cryptocurrency to watch?
NEO is regarded by many in the market as the 'Chinese Ethereum' due to its adoption and use in China. This gives the token heft and credibility, especially as NEO the company is in open dialogue with the Chinese government over regulatory oversight. China is one of the largest Fin Tech markets in the world and NEO's ease of use and programmer-friendly language support make it attractive for developers and users alike. NEO may suffer if China cracks down on cryptocurrencies – they have already banned ICOs – and its evolution, and value, will depend on whether it can become a serious competitor to market-leader Ethereum.
Stellar (XLM)
Stellar was released in 2014.
Current circulating supply – 18.89 billion out of a maximum 104.36 billion.
Price $0.2152
Market Capitalization - $4.056 billion (October 11, 2018).
What is Stellar cryptocurrency?
Stellar is an open-source, decentralized protocol for fiat currency to digital currency transfers – comparable to Ripple (XRP) - which allows fast, reliable cross-border payments to be made. Stellar's currency, Lumen (XLM), is used as the go-between for fiat currency transactions. It also acts a decentralized exchange and can host ICOs on its platform. Stellar uses the Stellar Consensus Protocol algorithm. Technology giant IBM recently announced that it will use the Stellar blockchain network to clear and settle cross-border payments in real-time.
Stellar Cryptocurrency One-Year Performance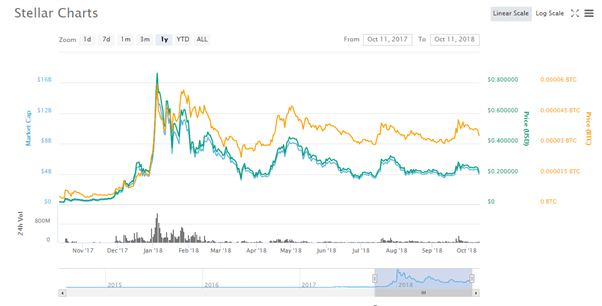 Why is Stellar a cryptocurrency to watch?
Stellar's cross-border payments partnership with IBM is worth watching closely and gives the token credibility and market heft, an advantage over peer Ripple which is still under the eye of the SEC over XRP's status. IBM choose Stellar due to its scalability, ownership transparency and low transaction cost, attributes that will draw other companies looking to use digital assets for payment solutions into its ecosphere.
EOS (EOS)
EOS was released in July 2017
Current circulating supply – 906 million out of a maximum 1.006 billion.
Price $5.30
Market Capitalization - $4.804 billion (October 11, 2018).
What is EOS cryptocurrency?
EOSIO is a software - powered by EOS tokens - that enables quick and easy decentralized application development, as well as cloud storage, authentication, hosting and a wide range of other applications. According to the company, this blockchain architecture has the potential to scale to millions of transactions per second and virtually eliminate user fees.
EOS Cryptocurrency One-Year Price Performance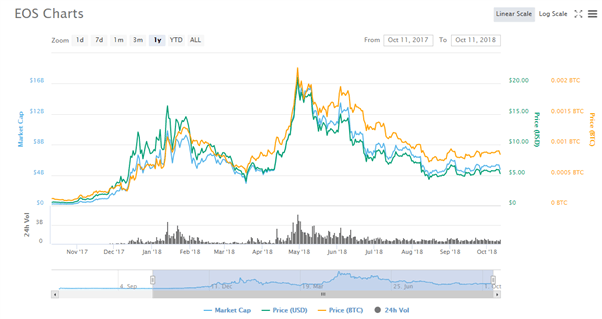 Why is EOS a cryptocurrency to watch?
This ease of use, speed and cost effectiveness marks out EOS cryptocurrency as a potentially serious rival to Ethereum. In addition for developers to use the EOS blockchain they need to own EOS tokens. This incentivises developers to use EOS as increased use should drive more interest in the EOS tokens, pushing their price higher. In addition, Block.one, the start-up company that created EOS, controls 10% of the EOS tokens and uses them to fund people and companies working on the EOS blockchain.
Trading NEO, EOS and Stellar
When trading cryptocurrencies, you should follow a set of basic rules and NEO, EOS and Stellar are no different. The cryptocurrency market remains sentiment and rumour driven, with traders needing to know what 'noise' to listen to and what to ignore.
If you're looking to trade NEO, EOS and/or Stellar, here's some quick tips to takeaway:
If you are looking to trade cryptocurrencies we have produced an in-depth guide to help you in your journey– Introduction to Bitcoin Trading.
Charts via CoinMarketCap
DailyFX provides forex news and technical analysis on the trends that influence the global currency markets.