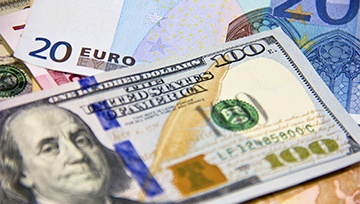 Fowl Play: Lessons from the US, EU 'Chicken' Trade War
What's on this page
TALKING POINTS – Trump, Trade Wars, Tariffs, Chicken War
Trump tariffs

pose

a

serious

risk

to

global

growth

and stability

Chicken War of 1960's is a lesson about the danger of trade wars

Risk-friendly assets, global markets vulnerable to volatile swings
Protectionist policies adopted by the administration of US President Donald Trump have created a trade war with China and caused significant volatility in the market. The outlook for future growth and multilateral trade relations appear bleak. Historically, protectionism and tariffs have produced political and economic instability and reduced global wealth by a substantial margin.
From 1961-1964, the EU and US engaged in a trading conflict that later came to be known – albeit comically – as the Chicken War. The retaliatory nature of the conflict is mirrored in the recent trade wars the White House has ignited. The economic conflict back then triggered market volatility and ended up implementing an auto tariff in the US that remains to this day.
THE CHICKEN WAR
In both Europe and the US, chicken was largely considered a delicacy. However, after the Second World War, the US switched to factory farming chickens and flooded the market with cheap poultry. North-American chicken consumption in West Germany alone increased by 23%.
This caused a depression in chicken prices, ruffling Europe's feathers. In 1961, France, West Germany and several European states imposed tariffs and price controls on US-imported chicken. US poultry exporters' sales fell 25%, amounting to losses of around $210 million (in 2014 dollars).
Chicken Trade Wars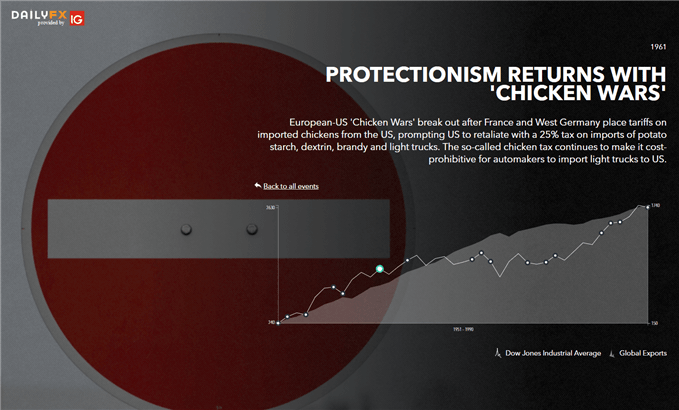 See our full interactive history of trade wars here.
The US and Europe were cooped up in negotiations squawking at each other for the next 18 months, with growing animosity between spilling over into other aspects of relations. At one point during a NATO debate on nuclear disarmament, Senator William Fullbright brought up the chicken trade war and the talks became so heated that he even threatened to withdraw US support from NATO allies.
After diplomacy failed in 1963, US President Lyndon B. Johnson imposed a 25% tariff on dextrin, potato starch, brandy and light trucks. The latter two duties were specifically intended to hit France and Germany, respectively.
All tariffs were ultimately lifted in 1964, except the 25% tax on light trucks. The US auto industry began to heavily lobby Congress to keep the tax in place as a way to insulate them from foreign competition. Consumers ever since have – quite literally – paid the price.
EFFECT OF TRADE WARS ON MARKETS
As history shows, trade wars have the potential to strain economic relations and political alliances. Policies placating industries seeking to gain advantage can also make for long-term losses in overall welfare. It is therefore not radical to suggest that trade wars pose a serious threat to global growth and stability.
On June 1st, President Donald Trump introduced a 25% tariff on all imported steel and 10% on aluminum. Mexico and Canada responded with their own tariffs. The EU retaliated with tariffs against key US exports such as orange juice, whiskey and motorcycles.
The retaliatory tariffs during the Chicken War and the most recent economic conflict between the EU and US have caused significant volatility in global capital markets. Pro-risk assets and currencies – like the New Zealand and Australian Dollars – have declined in 2018.
Australian and New Zealand Dollar Suffer Amid Trade War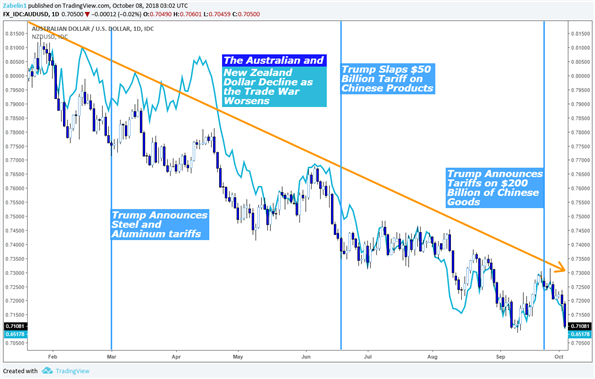 The Euro also took a hit amid the trade dispute as the regional and global economic outlook became more uncertain. Growth is likely to be slower if the US and other economic powerhouses continue to egg each other on. Risk-off assets such as the Swiss Franc and Japanese Yen are likely to outperform against this backdrop.
Swiss Franc Outperforming Amid Trade Wars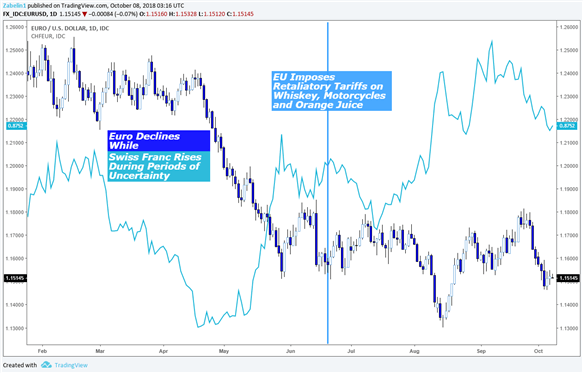 The Chicken War is one out of many economic conflicts the US and EU have engaged in. The Pasta War in 1985 saw tariffs go up on European pasta, followed by retaliations against US imports of walnuts and citrus; the Banana Trade War of the 1990's – which was unresolved until 2009 – saw a similar tit-for-tat dynamic.
On balance, trade wars are neither short nor easy to win. They are long, arduous and cost-incurring processes that leave everyone worse off than before. If the US continues to impose protectionist policies, global equity markets will remain vulnerable to violent volatility and global economic performance is likely to suffer.
Trading Resources
--- Written by Dimitri Zabelin, Jr Currency Analyst
To contact Dimitri, use the comments section below or @ZabelinDimitri on Twitter
DailyFX provides forex news and technical analysis on the trends that influence the global currency markets.