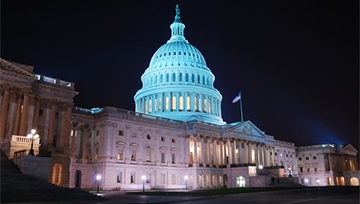 US Trade Wars Put Global Economic Growth, Market Stability at Risk
What's on this page
TALKING POINTS – US DOLLAR, TRADE WARS, GLOBAL GROWTH
American

e

conomic nationalism poses

a threat to global markets

Trade wars

can

spread

uncertainty, dampening

economic activity

Protectionism is antagonism toward growth and stability

at large
WHAT IS ECONOMIC NATIONALISM?
Economic nationalism is an ideology that is often characterized by a general skepticism toward globalization and people outside of the nation. Parties or movements adhering to this kind of philosophy often instate protectionist trade policies and stricter controls on cross-border immigration.
The rhetoric and policies that are espoused by parties representing economic nationalists are often rooted in growing concerns about the nation's identity and economic wellbeing. Perceived setbacks on these fronts are frequently attributed to immigrants.
The policies that follow this sentiment-based political agenda are focused on the nation and often go against the social, political, and economic trajectory of globalization. The resulting friction stokes uncertainty that troubles investors and may trigger market-wide volatility and an aversion to risk-taking.
ECONOMIC NATIONALISM IN THE UNITED STATES
Leading up to the 2016 US presidential election, Donald Trump campaigned on an economically nationalist platform with populist underpinnings. When he was inaugurated, his rhetoric turned into policy. His measures are supported by the idea that the decline of the American worker is caused by poorly negotiated trade deals and increased migration from Mexico.
The future president's platform acted as a magnet for those frustrated voters that considered themselves "losers" at the hands of globalization. His agenda appealed to disillusioned workers who were looking for an explanation for their circumstances.
Trump's calls to build a wall along the US-Mexico border as a means of limiting illegal immigration and to impose tariffs were central to his platform. These policies also happen to represent key tenets of economic nationalism.
The first round of Trump's protectionist policies was the implementation of aluminum and steel tariffs that triggered fears of a potential global trade war. Markets responded with higher volatility as risk aversion spread amid fears that a follow-on disruption of cross-border supply chains will slow global growth.
In response, the EU imposed retaliatory tariffs on US goods such tobacco and whiskey. The US then threatened to enforce import duties against key European exports such as automobiles. With worries about a looming trade war increasingfollowing this exchange, the Euro fell. Assets that perform well in a risk-on environment – such as stocks and higher-yielding currencies – also took a hit.
Impact of trade war risk on the Euro and emerging markets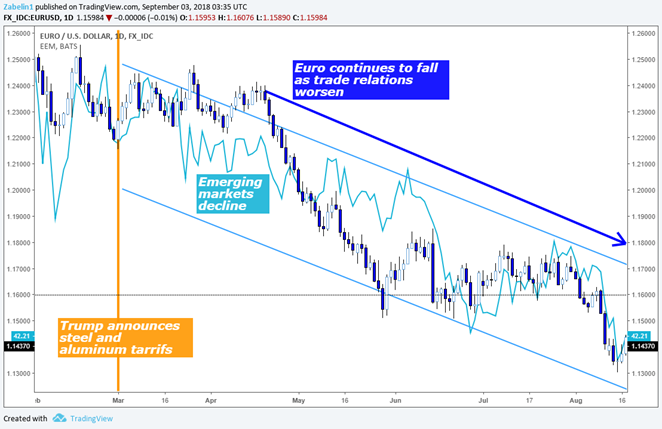 The US and EU are the two largest economies in the world. If they were to enter into a full-scale trade war, the economic impact would be almost certainly disastrous. Global markets would likely panic as they did during the first wave of tariffs and market volatility would be significantly higher.
If China were also to become embroiled in a trade war with the US – a seemingly growing possibility as Washington and Beijing exchange retaliatory tariffs of their own – the probability of violent market-wide risk aversion is likely to increaseexponentially.
Why does economic nationalism matter for the global economy?
Currencies that are tied to the global business cycle such as the Australian and New Zealand Dollars are likely to fall if prevailing market sentiment turns sour. In the wake of a trade war with China, the Australian unit in particular is likely to suffer. China is Australia's biggest trading partner, and any disruption in its economy will likely be reflected as weakness in the local Dollar. Similarly pro-risk stocks and emerging market assets are also likely to suffer amid the unrest.
Impact of US tariffs on Chinese goods on pro-risk assets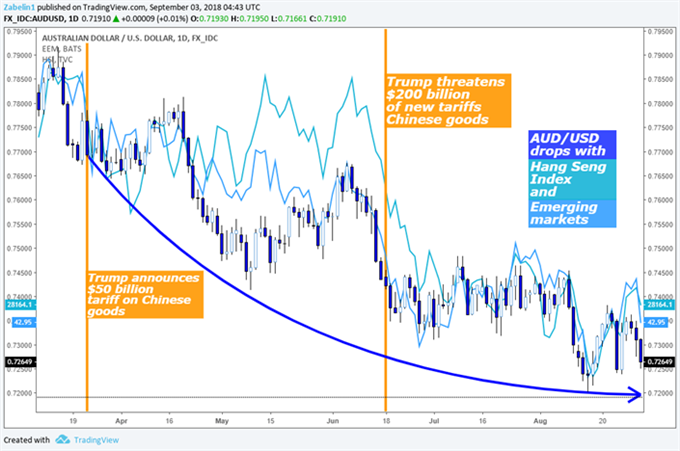 Meanwhile, anti-risk alternatives like the Swiss Franc, Japanese Yen and US Dollar may appreciate against such a backdrop. Bonds issued by low-risk lenders such as the United States government may also see a rise in price as investors turn toward capital preservation.
Rise of anti-risk assets as market sentiment sours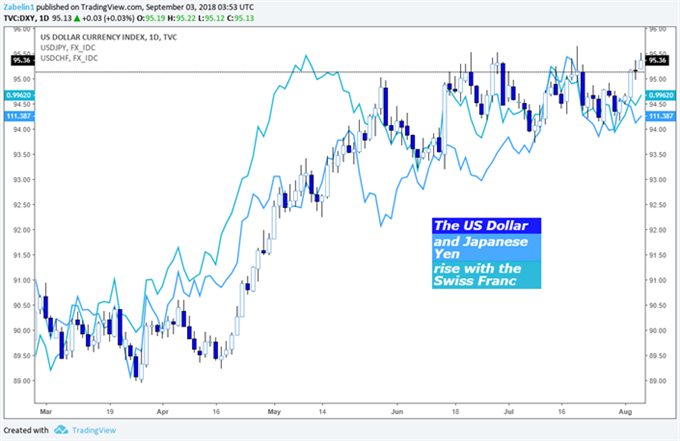 TRADING RESOURCES
--- Written by Dimitri Zabelin, Jr Currency Analyst
To contact Dimitri, use the comments section below or @ZabelinDimitri on Twitter
DailyFX provides forex news and technical analysis on the trends that influence the global currency markets.