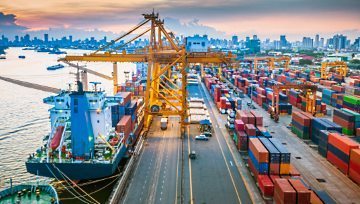 'Til Trade Wars Do Us Part: EU, US, and the Iran Nuclear Deal
What's on this page
Talking Points – EU, US, Iran, Japanese Yen, Swiss Franc, EUR/USD
US sanctions on Iran may reignite EU-US trade war, decrease Iranian

oil

exports

Global trade war could hurt

growth

, cause widespread dovish

monetary policy

shift
BACKGROUND - A Brief History of Trade Wars, 1900-Present
The US stated on August 6th that it was re-imposing sanctions against Iran. This is after US President Donald Trump announced in May that he was going to pull out of 2015 nuclear disarmament deal with Iran, officially titled the Joint Comprehensive Plan of Action (JCPOA). The President seeks to strike a new "tougher" deal with Iran that will ensure they will never be able to build a nuclear weapon.
This is all occurring despite evidence indicating Iran has been cooperating with international inspectors from the International Atomic Energy Agency (IAEA). The first wave of sanctions include a ban on any transactions involving the US Dollar, gold, precious metals, aluminum, steel, commercial passenger aircraft, and coal. The US has also banned the imports of Iranian carpets and foodstuffs.
Another wave of sanctions is set to hit Iran in November, specifically targeting the oil and gas industries. Analysts and policy makers are worried that re-imposed sanctions will push Iran to engage in nuclear activity beyond the legal parameters.
However, the President's view on the matter indicated that the arrangement made in 2015 undermined global security, flagging yet another Obama-era initiative as one of the "worst deals in history". Below is the official tweet from the president on August 7th:
"The Iran sanctions have officially been cast. These are the most biting sanctions ever imposed, and in November they ratchet up to yet another level. Anyone doing business with Iran will NOT be doing business with the United States. I am asking for WORLD PEACE, nothing less!"
The fire and fury behind the President's message has already burned the iris of European business community that had its eyes set on the Iranian market. Trump warned that any violators of the economic sanctions would face "severe consequences". On August 7th, the EU pledged to protect European firms by activating a blocking statute.
Established in 1996, the policy was created as a way for European businesses to operate in countries that were under U.S. sanctions without incurring any penalties. The foreign ministers of Germany, Britain, France, and the EU in a joint statement said they are committed to protecting legitimate business operations in Iran,"…in accordance with EU law and with UN Security Council resolution 2231".
A number of senior European officials have castigated Trump, saying the sanctions are "illegal", and have vowed to increase efforts to curb the measure. The misalignment on Iranian foreign policy between Brussels and Washington may re-ignite trade war threats as tensions build.
What does this mean for forex markets?
If Trump's tariff bark is followed by a policy bite, the EU is determined to retaliate. Assuming then a trade war between the two largest global economic powers were to take effect, negative financial ramifications could quickly ensue as trade wars are often accompanied by economic issues. Global growth would likely take a hit and central banks all over the world may be forced to re-evaluate their posture.
In this environment, a collapse in market-wide risk appetite and a broad-based dovish shift in global monetary policy is likely to benefit lower-yielding and haven currencies. That is likely to bode well for the Japanese Yen, Swiss Franc and the US Dollar. Meanwhile, sentiment-linked currencies such as the Australian and New Zealand Dollars are likely to suffer alongside stocks, cycle-sensitive commodities and other "risk-on" assets.
Furthermore, the growing threat of an EU-US trade war could see EUR/USD extend recent losses. Since April 2018, the Euro has, for the most part, weakened against the greenback. Recently, the Euro's descent has been accelerated by fears of financial contagion from banks' exposure to the Turkish Lira, in addition to political instability in Italy and seemingly struggling Brexit negotiations.
EUR/USD Daily Chart (Jan 2018-Aug 2018)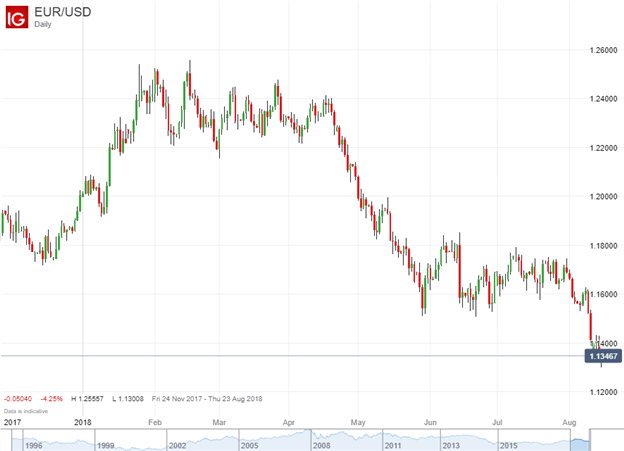 Meanwhile, sanctions on Iran could further hurt consumers and businesses by way of rising oil prices. Crude could spike after US sanctions on the Iranian energy sector are implemented on November 4th. Although members of OPEC have agreed to increase production to compensate for lost Iranian barrels, OPEC's spare capacity is currently at its lowest point in history and Saudi Arabia recently announced that it had cut its production.
Forex Trading Resources
--- Written by Dimitri Zabelin, Junior Analyst, and Megha Torpunuri, DailyFX Research Team
DailyFX provides forex news and technical analysis on the trends that influence the global currency markets.