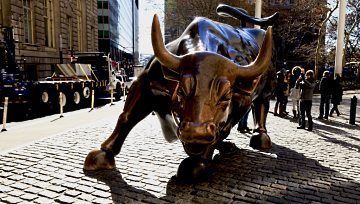 What is the NASDAQ FANG Group and Why Does it Matter?
What's on this page
View our NASDAQ 100 page for analysis and news for tech stocks, FANG, and more.
What is FANG?
FANG is the acronym for a basket of four large-cap stocks in the technology sector listed on the NASDAQ exchange comprised of Facebook, Amazon, Netflix, and Google. Mad Money's Jim Cramer originally coined the term in February 2013, grouping them at the time because of their positive outlook, strong growth, and powerful presence in the technology industry.
Since then, the group has become nearly synonymous with the performance of US equities, as each is a highly weighted member of the S&P 500. Due to their large size and popularity in the public, speculators and investors have come to view FANG stocks as a useful tool to gauge market sentiment and risk trends. Particularly during earnings season, the collective performance of FANG companies can have a substantial impact on the direction of US equities as a whole, dragging an index down with a poor performance or pushing it higher on the back of a beat.
Further, considering their collective contribution to US output FANG stocks can also serve as a key barometer for US economic activity. If a string of poor corporate results from the group occurred, it could be an early signal that a broader economic slowdown is on the horizon. Similarly, if the corporations were to highlight risks like concern over trade or decreased demand because of falling disposable income, investors could interpret these matters as threatening for the entire market.
What about FAANG?
Popular expansion of the original four, the acronym FAANG includes the additional member Apple. Apple is afforded the honorary inclusion because of the similarities it shares with the base – and in some ways is more significant in those metrics. As the world's largest publicly traded company, Apple can exert significant influence on US equities by itself. FAANG+ is a further extension of the group, containing a larger basket of the technology sector but commands less reference from financial media.
Although further augmentations of FANG exist, the core members offer the most concentrated reflection of broader risk trends in the equity market. This concentrated reflection of market performance can further signal an early assessment of confidence in global financial markets, and even the economy itself. In turn, sentiment for global markets can be substantially influenced by US indices. Therefore, this group can have a larger impact on market sentiment than most US stocks or even larger indices of stocks.
FANG stocks
Facebook (FB)
Facebook is the first member of FANG and possess the third largest market cap, $561.78 billion at the start of Q2 2018. Privacy issues and regulatory hurdles have in recent years plagued the advertising company, a troubling backdrop for arguably one of the most influential companies in the world. These issues have historically contributed volatility to earnings performances. Still, Facebook has a large reach globally and continues to expand through acquisition.
Amazon (AMZN)
Amazon, often considered the ultimate disruptor, has been characterized by expansive growth and razor thin margins. That does not alter the fact that Amazon's market cap has exploded to $827.80 billion by Q2 of 2018. The online retailer continues to enter new industries and radically alter the way business is conducted and consumers shop.
Apple (APPL)
Boasting the largest market cap in the extended FAANG group – which surpassed a $1 trillion market cap as of August 2nd 2018 - Apple is one of the few companies in the world that can individually influence an entire market. The Seattle-based mobile phone manufacturer and software company was not included when Jim Cramer coined "FANG" but is often included by investors because of its size, growth, and involvement in the tech industry.
Netflix (NFLX)
The smallest group member by market capitalization, Netflix deals in media production and generates revenue from subscriber payments. As a relatively young company, Netflix has contributed considerable growth to the group, often outpacing the other members. Despite its age, Netflix reached a market capitalization of $170.45 billion at the start of 2018's second quarter.
Google(GOOG)
An industry leader in advertising services, web services and artificial intelligence, Google (under parent company Alphabet) contributes strong and consistent growth to the index. The tech-giant has significant dealings with other tech and industry leaders, further increasing its influence. As a pioneer on many fronts, Google is subject to intense regulatory scrutiny, both abroad and domestically. The hurdles have done little to deter Google, which boasted a market capitalization of $785.86 billion at the beginning of Q2 2018.
FAANG+
The broader FAANG index contains the aforementioned core and adds additional high growth companies in the technology sector.to other high-growth members in the technology sector. The added components are Alibaba (BABA), Baidu (BIDU), Nvidia (NVDA), Tesla (TSLA), and Twitter (TWTR). The unique FAANG+ Index members span broader sectors, but are not considered as vital sentiment indicators as its core counterparts.
View our Nasdaq 100 page for more information, the latest news, and analysis on tech stocks including FANG.
DailyFX provides forex news and technical analysis on the trends that influence the global currency markets.