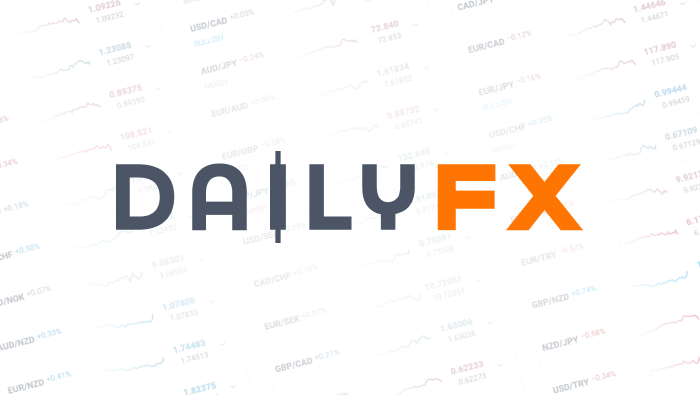 Yuan, Stocks May Retrace on Modest GDP, China's Response in Trade War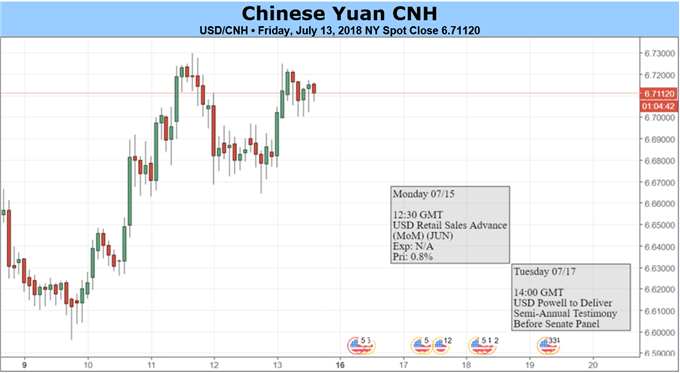 Fundamental Forecast for CNH: Neutral
China will release the 2Q GDP and it is widely expected to slow down to 6.7% from 6.8%.
China seeks to cope with US move via non-tariff measures and collaboration with other partners.
China's securities regulators expressed confidence in equites, and may further calm markets.
How to trade news? Learn with DailyFX Free Trading Guides!
The Chinese Yuan continued to lose against the U.S. Dollar this week, largely driven by United States' announcement of imposing tariffs on additional $200 billion Chinese goods. Yet, it was less weak than in last week, compared to all G10 currencies. Chinese equities saw improvement as well; Shanghai Composite Index finally had a weekly advance after fell for seven consecutive weeks.
Looking forward, China's second-quarter Gross Domestic Product (2Q GDP), the development of US-China trade war and measures from Chinese regulators will be top drivers to the Yuan and equities.
China will release the 2Q GDP print on Monday. The gauge will help to reveal the economy's overall condition, coupled with challenges from external trade war to internal leverage cut. A widely-predicted growth rate in the second quarter is 6.7%, falling from 6.8% in the first quarter, according to Bloomberg and multiple Chinese institutions. Besides this top measure, China's Investments in Fixed Assets (excluding rural households) to be released at the same time, is worth to keep an eye on. This leading indicator could reveal the outlook of China's growth momentum in the coming periods; the May read has dropped to a record low (in 19 years).
Regarding the on-going US-China trade war, the US has made its move of additional tariffs this week; the focus next will be on China. A simple response of tariffs on $200 American goods is not possible, as that has exceeded the total value of Chinese imports from the US: It was $130 billion in 2017, according to US Census Bureau. Thus, China is looking for other ways to hit back and this is what to closely watch next week.
On the U.S end, there were a few positive developments amid the on-going trade disputes: The US Commerce Department has lifted a ban against ZTE, a major Chinese smartphone maker. Also, the US Senate passed a nonbinding motion in regard to tariffs on Wednesday. Although this does not have any real power to curb the President's power, it has shown US lawmakers' disagreement over Trump's current trade policy. As discussed previously, a turning point of this trade war could be determined by the pressure from US farmers and producers who are or about to suffer from the battles. One channel of their voice to be heard is through lawmakers.
On China's end, it has been strengthening ties with other major trading partners. This indicates that China is preparing for a long-lasting war. China's Premier Li Keqiang met German Chancellor Angela Merkel in Berlin early this week. The two parties signed business deals in relate to agriculture, automobile, tele-communication, education and others; the total are worth nearly $30 billion. A lot of industries covered in these deals are currently in the center of US-China tariff attacks.
Internally, the country seems to have no plan to shift from promoting innovations especially in high-technologies. China's President Xi Jinping hosted a highest-level economic conference this week. He emphasized that core technologies are crucial for China's future and national security; the country must improve innovations and own the core technologies. In the trade war, technology is the area that the US and China had the most conflicts. Within such context, negotiations are less likely to happen in the imminent future.
Last but not least, Chinese regulators have been calming the FX and equity markets which both tumbled earlier. Following PBOC officials' comments on market last week, China's securities regulators stood up this week to further boost the markets. Chairman Liu Shiyu and Vice Chair Yan Qingmin hosted forums with representatives from listed companies, learning thoughts on stabilizing the market. Shanghai Stock Exchange published a statement, expressing confidence in A-shares. In the coming week, Chinese regulators may continue seeking to calm the Yuan and equities.
-- Written by Renee Mu, Currency Analyst with DailyFX
DailyFX provides forex news and technical analysis on the trends that influence the global currency markets.