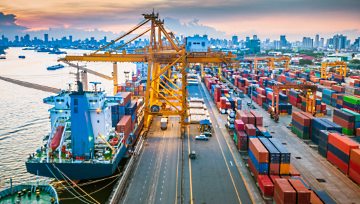 US China Trade War & a Brief History of Trade Wars – 1900 until Present
What's on this page
Global trade has been increasingly vilified over the past five years from the global leaders to the distant emerging markets. This criticism comes with many unflattering labels: from isolationism to protectionism to nationalism. All are either direct result or inevitable consequence of the same preoccupying belief that trade is in some way undermining the health of an individual economy to benefit the many.
Yet, history does not bear out this scourge. While there are certainly periods of adjustment and bouts of economic underperformance depending on the cycles and political circumstance, the long-term trend marches tenaciously towards collective growth.
Trade War & Events 1900 – Present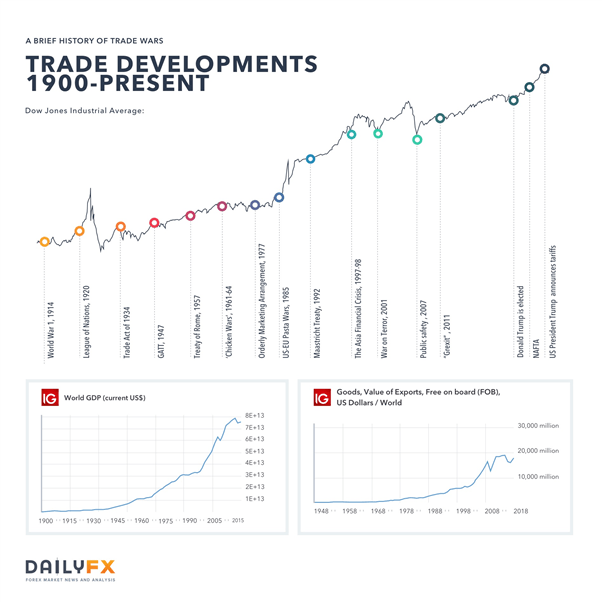 In this report, we look at some of the key events that have promoted and stymying global trade from 1900 to the latest US China Trade War. From World Wars to multi-national trade deals to financial crises, the world winds its way towards an inevitable, shared expansion. The favorable winds can be measured in the amount of total exports recorded, the strength of global growth and the value of its combined financial assets (the main chart above and in the breakdowns below references the Dow Jones Industrial Average).
Below, we break this wide range of history into four unique periods. The more recent the period the shorter the spans covered as the ultimate influence of the events in this period are still uncertain. We split this total period into periods of 1900 to 1950; 1951 to 1900; 1991 to 2007; and 2008 to present (2018).
Trade War & Events 1900 – 1950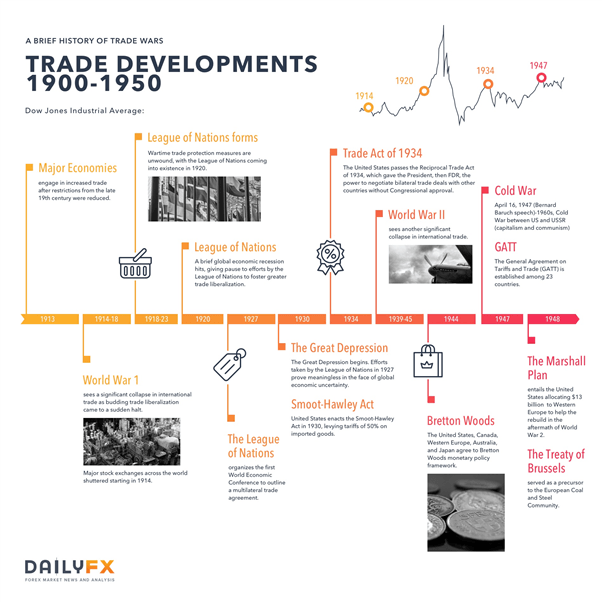 History 1900 to 1950: The first half of the 20th century was one of destruction and rebirth. Two world wars were waged with a 'Great Depression' in between. After the economic blight, however, efforts to forge trade pacts in order to avoid future global wars helped catalyze trade to levels previously unexperienced.
Trade War & Events 1951 – 1990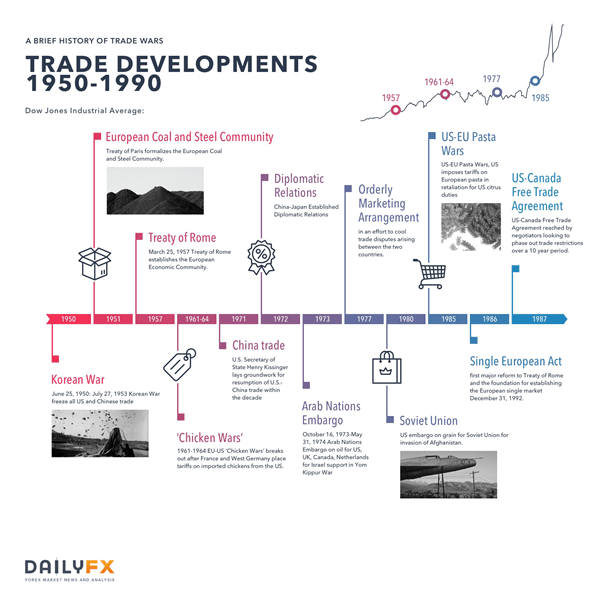 History 1951 to 1990: Following a period of exceptional growth in recovery, an enormous rift was opened in political creeds translating into an exceptional burden on growth. The Cold War pit communism versus a capitalist democracy. Through this long standoff, a number of trade disputes arose by those directly participating in the 'cold' engagement and those attempting to remain neutral. Yet, through this same period, critical relationships started to emerge include the seeding for the European Single Market, the US-Canada Free Trade Agreement and a return of Chinese-Japanese diplomatic relations.
Trade War & Events 1991 – 2007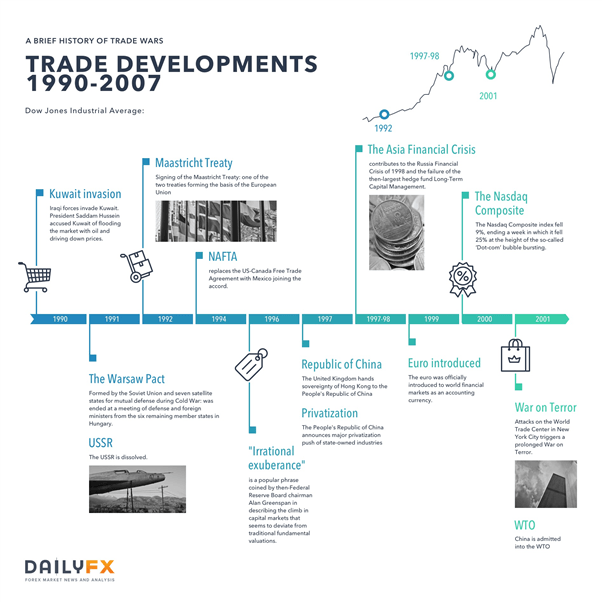 History 1991 to 2007: Through the 1990's and the bulk of the 2000's, growth accelerated sharply. In the aftermath of the Cold War, relationships improved rapidly. The foundations of the European Union solidified, a number of colonial territories were returned to their previous ownership and discrete economic and financial booms arose (like the Dot-com and Housing events leading up to 2000 and 2006 peaks). That rapid growth would also generate volatility and acute financial problems with Asian, Dot-com and Great Financial crises unfolding.
Trade War & Events 2008 – US China Trade War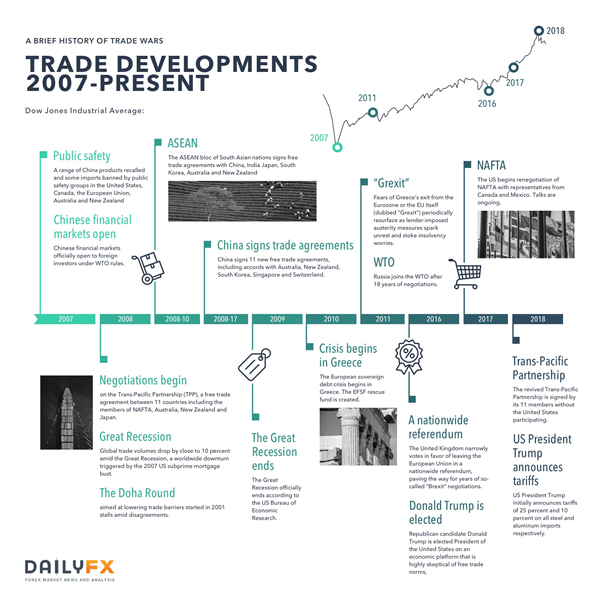 History 2008 to Present (2018): Starting off this period with the most painful and wide spread financial and economic crisis since the Great Depression, ruptures would form in relationships but so too would global central banks collaborate in order to fend off an unchecked destruction of the world's foundations. It is through this most recent period interestingly enough that we find a phase of impressive growth prompt explicit periods of protectionism as economies fight to accelerate their moderate but respectable growth at the expense of trade relationships.
Conclusions
For the better part of the last century, efforts have been made globally to liberalize trade in favor of strong economic growth. While progress has come in uneven fits and spurts, growth has indeed come. But the cost of said economic progress may be beginning to show, with several of the globe's major trade relationships (NAFTA, TPP, and even the European Union itself) coming under direct fire and questions about their longevity.
The latest bout, the US China trade war, may ultimately prove to be another stepping stone on the path to deeper global trade integration that's been the driving force for developed and developing economies alike since World War II. But a period of discomfort may be in the immediate future; even history shows that the path to trade liberalization hasn't been a straight line.
--- Compiled by John Kicklighter, Chief Strategist, Renee Mu, Currency Analyst, Ilya Spivak, Senior Currency Strategist, and Christopher Vecchio, CFA, Senior Currency Strategist
DailyFX provides forex news and technical analysis on the trends that influence the global currency markets.