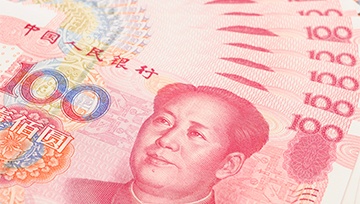 Yuan Torn Between US-China Political Alliance and Trade Disputes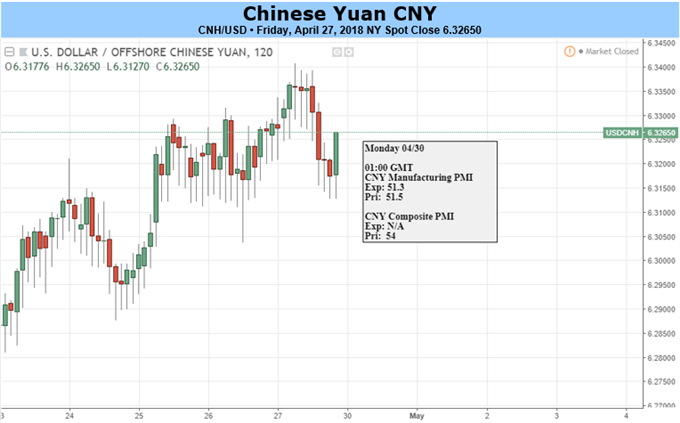 Fundamental Forecast for CNH: Neutral
The U.S. and China may find more common ground on the North Korea issue.
In terms of trade, major discrepancies remained ahead of high-level bilateral talks.
China's financial policies and the economic outlook add uncertainties from home.
How to trade news? Learn with DailyFX Free Trading Guides!
The Chinese Yuan (CNH) lost against the U.S. Dollar this week and dropped to a one-month low level, largely driven by the Dollar strength; on the other hand, the Yuan gained against the rest of G10 currencies. Looking forward, developments around US-China relationship and China's domestic policies will be key drivers to Yuan rates. Caixin and official manufacturing PMI prints for April could add event risks as well. Also, the Yuan trading on Monday and Tuesday will lack the guidance from the PBOC due to a Chinese holiday.
The US-China relationship has mixed developments around two top issues: North Korea and trade. Regarding the first issue, a milestone was achieved on Friday – leaders from North Korea and South Korea met in person and agreed to purse a peace agreement. Trump welcomed this major progress and gave some credit to China. The U.S. has been asking China to pressure North Korea to shut down its nuclear weapons programme. A month ago, North Korea leader Kim Jong-un travelled to Beijing and met Chinese President Xi Jinping, the first time Kim has set foot outside his country since he took power. With North Korea moving towards its desired direction, the US may continue ally China on this matter and prepare for a U.S. - North Korea summit.
US-China trade disputes, another issue in spotlight, remain complicated. There were talks between the two parties: China's Premier Li Keqiang met US Secretary of Transportation ZhaoElaine Chao Thursday in Beijing. Li said China is open to negotiate with the U.S. over trade. At the same time, the second round of "battle" over the legitimacy of US Section 301 investigation kicked off Friday at WTO's Dispute Settlement Body meeting. In the coming week, Trump will send a team to Beijing for trade negotiations, including Treasury Secretary Steven Mnuchin, US Trade Representative Robert Lighthizer, National Economic Council Director Larry Kudlow and White House trade adviser Peter Navarros. However, how effective more talks will be is still a question, as this is not the first high-level meeting for trade since tensions elevated.
Besides uncertainties around international relationships, there are risks from home – China's financial policies and the economic outlook. The PBOC cut the reserve requirement ratio for targeted banks on Wednesday, indicating a slightly looser monetary policy than last year. Yet, the effect could be reduced by the new and tightened rule on asset management products, which was launched by the PBOC and other financial regulators two days later. The Yuan reference rate next week after the Chinese holiday may provide some clues on how the regulator sees the exchange rate after it implemented the above new measures.
In terms of China's economic outlook, the manufacturing sector is still facing internal and external challenges. Domestically, fixed investment remained around record-low levels, signalling producers' low interest in expanding their business. The trade dispute may have worsened the situation: producers who export goods would bear costs from increased tariffs; manufactures who import materials or upstream products may have to bear costs of looking for new sources and signing new deals. According to Bloomberg, both China's official and Caixin manufacturing PMI to be released next week are expected to drop in April.
DailyFX provides forex news and technical analysis on the trends that influence the global currency markets.