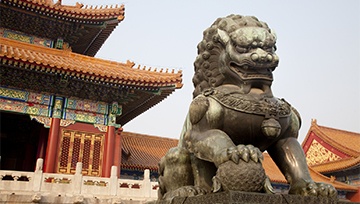 China's Trade Stance, Possible Moves against US, and Impact to USD/CNH
Talking Points:
- China left time to negotiate with the US before significant harm is caused by tariffs and investigations.
- The US-China trade war could initially lead to three outcomes, impacting the US Dollar and the Chinese Yuan in different ways.
- A review of China's stance on trade and top controversial issues will help to evaluate these scenarios.
This article was originally published on April 1, 2018, updated on April 10.
Looking for more trade ideas? Watch DailyFX webinars.
Read the overview article on China-US trade tensions.
CHINA'S CURRENT MOVES AND IMPLICATIONS
Chinese President Xi Jinping at Boao Forum on April 10
China will reduce tariffs, automobiles in particular, and expand exports. The country will significantly broaden market access, including the acceleration of the opening-up of financial industry and reduction in limits on foreign investment in automobiles. It will also strengthen intellectual property rights protection.
China's Tariffs' Moves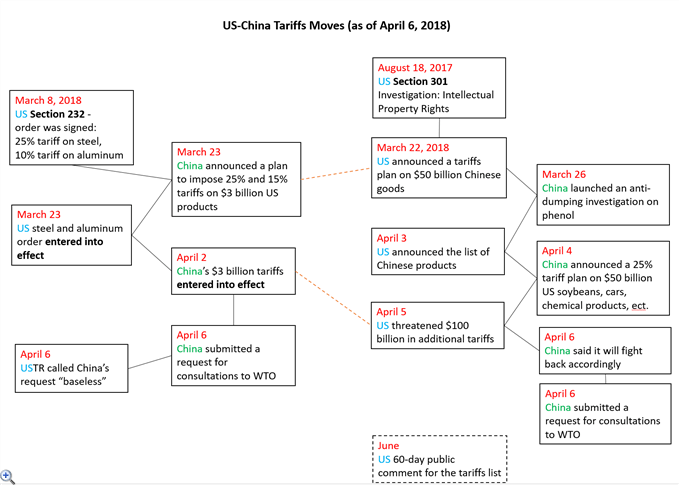 A Tariffs Plan on $3 Billion US Products
US products in this list are those that need China as an important market, but not vital; this includes fruits, dried fruit, nuts and nuts products, wine, modified ethanol, American ginseng, and seamless steel pipes. This is the immediate reaction China took in response to Trump's announcement of a plan to impose tariffs on $60 billion Chinese goods. China's responsive plan will allow the US feel pain in reciprocation but not cause catastrophic damage (e.g. a tariff on soybeans).
Anti-dumping Investigation on Phenol
China launched an investigation into phenol imports from the US, EU, South Korea, Japan and Thailand, so this is a move not only targeted at the US. Additionally, this investigation is expected to last for a year; the period can be expanded to one and a half year as needed. Thus, it leaves time for the two parties to sit down and have dialogues before more significant damages take effect.
Read the Impact of Tariffs and Trade Wars on the US Economy
CHINA'S NEXT POSSIBLE MOVES AND IMPACT TO DOLLAR, YUAN:
China's newly-elected Vice Premier Liu He, who oversees the country's economic and financial sectors, has led the bilateral dialogues on China's side. He paid a trip to Washington in early March for trade issues. On March 24, he exchanged ideas with the US Treasury Secretary Steven Mnuchin over phone; both committed to continue the dialogue.
There are three possible scenarios over the following periods:
1. A 'win-win' scenario: the two parties can find a mutually agreeable way to reduce trade disputes; the impact to both economies could be limited.
USD/CNH has depreciated amid the on-going trade disputes and has broken a range that it held for more than a month. As the US is the one that wants to gain more access to its partner's market, trade disputes could hurt the US more than China; this could have been a major contributor to Yuan's recent gains, in addition to the launch of Yuan-denominated oil futures.
If the cloud of uncertainty surrounding trade is lifted, the Yuan's advance may slow, as it is already at a relatively high level. Under China's current managed-floating exchange rate regime, it needs further validation from the PBOC.
2. A 'lose-lose more' scenario: disputes stay within trade, but two parties cannot reach a deal to avoid major tariffs.
This could trigger a series of tariffs attacks between the two parties. It is especially bad news for the US as it deviates from its eventual goal :push China to reform from a state-led economy to a market-oriented economy and for US exporters to gain more access to this market. Tariffs are tools, not the end goal. Then, reflecting on the exchange rate, the US Dollar could lose more than the Chinese Yuan.
3. A 'lose more-lose more' scenario: political issues get involved in trade disputes and the scope of the disputes expand.
This case is a possible consequence after scenario 2 happens. In the long run, both parties will get hurt more when they fall into a vicious circle.
Price Chart 1: USD/CNH Weekly Timeframe (January 2014 to March 2018)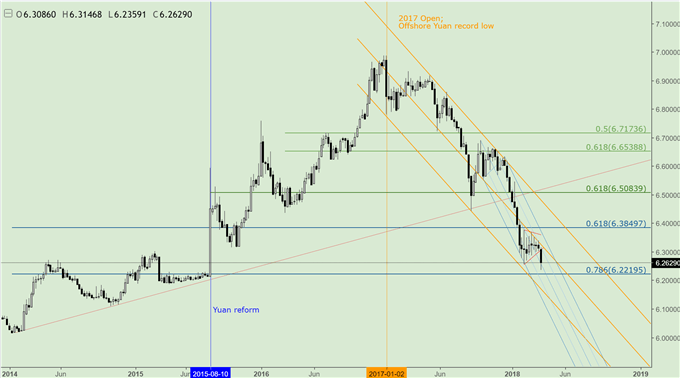 CHINA'S TRADE STANCE AND RESPONSES TO TOP CONTROVERSIAL ISSUES
China's President Xi Jinping
China's Overall Stance on Trade: China called for efforts to promote free trade and to build open global economy. President Xi made the above remark during a phone call with French President Macron on March 22. China's President, who also serves as the head of Party and the Commander-in-Chief in military, is considered to be the top leader of China; he nominated the premier as well.
China's Premier Li Keqiang
China's Stance on Trade with the US: A trade war cannot solve problems; it also violates the basic principle of trade. Solving some long-lasting issues will take time. China would like to cooperate through dialogues.Premier Li made these comments when he met with US Senator Steve Daines on March 27. China's Premier is top executive leader of the government. He is the head of State Council and assumes the overall responsibilities. He nominated ministries who then became members of the Council.
Technology Transfer: China has committed to strengthen the enforcement of intellectual property (IP) rights in this year's government work plan. Forcing foreign companies to transfer technology is prohibited. IP and technology transfer is one of the most controversial issue in the US-China trade and is the main issue covered in US's Section 301 investigation. Premier Li made the remark in the meeting with foreign companies' executives on March 26.
'Made in China 2025' Plan: China welcomes foreign companies to participate in this plan, especially in artificial intelligence area. Domestic companies and foreign companies participating in this plan will be treated equally. This plan, introduced in 2015, is designated to transform China manufacturing industry from labor-intensive to high-technology-driven and innovation-driven. This raises US's concerns that China will replace foreign technology products with Chinese technology products.
China's Commerce Ministry
The cause of the "trade war": China refuted the allegation that China is the cause, as well as the claim that China's open-up is slower than expected and failed to meet its commitment of lowering tariffs.
US's Section 301 investigation: this is a violation of WTO obligations. The US must stop the wrong behaviour.
US's $60-billion tariffs: China has the confidence to counter against any protectionism.The spokesman made the statements at the press conference on March 29. China's Commerce Ministry covers detailed trade matters and is the major entity that conducts dialogues and negotiations with trade partners.
China's Foreign Ministry:
Possibility of China imposing tariffs on soybeans: when trade becomes a trade war, the joining party will only act based on its own interests. China wants to avoid a trade war, but if forced to join, it will protect its rights. The spokesman from the Foreign Ministry did not exclude the possibilitythat China will impose such a tariff at the press conference on March 30. The Foreign Ministry covers not only trade issues but also other sensitive matters with the US.
Taiwan issue: China warned the US not to use Taiwan as a leverage; this is the fundamental and core issue of US-China relationship.The spokeswoman made the comment on March 22 regarding recent US officials' visits to Taiwan.
US concern on national security: it is not a good reason for imposing tariffs on Chinese steel and aluminum. Chinese steel imports only took up less than 3% in the US market.
--- Written by Renee Mu, Currency Analyst
DailyFX provides forex news and technical analysis on the trends that influence the global currency markets.