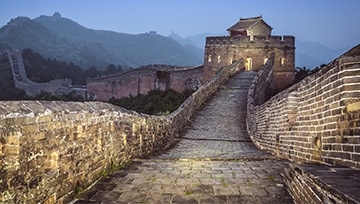 Yuan Likely Continues to Consolidate amid NPC; China Still Looks to Avoid a Trade War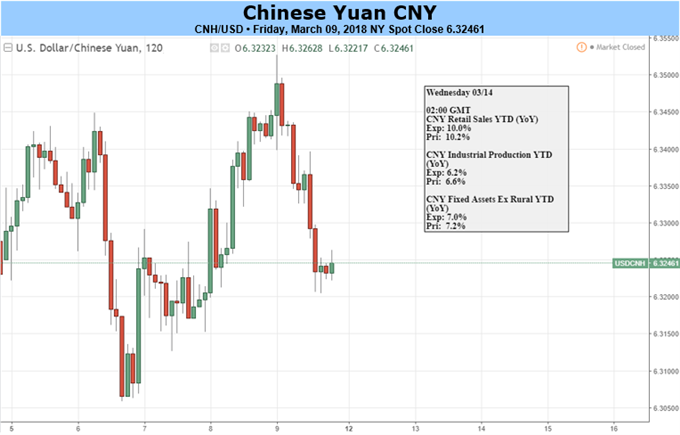 Fundamental Forecast for CNH: Neutral
China's NPC released detailed agenda for the top monetary and fiscal policymakers.

China's low share in U.S. steel imports helps to reduce impact from Trump's new tariffs.

Sending high-level delegates and maintaining conversations hint China wants to avoid a "trade war".
How to trade the news? Learn it with Free Trading Guides!
The offshore Yuan against the U.S. Dollar continued to consolidate this week, marking the sixth week in a row after it hit the 2.5-year high level in early February. In the coming week, two themes will continue to dominate the Chinese news wire: the elevated tensions in trade with the U.S. after Trump administration launched the sweeping tariffs on steel and aluminium. And the on-going National People's Congress (NPC) meetings – a full agenda has been released with events from president election to PBOC governor appointment.
Trump's newly-introduced 25% steel tariff and 10% aluminium tariff will inevitably bring negative impact to China, but there are two important questions to ask: How much will China get hurt? And is there going to be a trade war?
Regarding the first question, China is the largest steel exporter and produced 49.2% of the world's steel in 2017, according to World Steel Association. However, the U.S. was not one of China's top exporting countries for steel; the top ten countries were all Asian countries including South Korea, Vietnam and Philippines. For the U.S., China was neither its largest steel source. Canada, European Union (EU), Brazil and South Korea sold most steel to the U.S. and China only accounted for about 2%. As Canada is exempted from the new tariffs, EU will be the one to get the largest hit.
For China, overcapacity is not a new topic. Since 2015, the country has already set supply-side reformsas a top target, including cuts in raw material productions. At the same time, the nation is also developing new strategies to export excessive products to where they are in need. For instance, One-Belt, One-Road Initiative is designated to strengthen China's connection with its neighbouring countries through infrastructure investments in those countries. This will help China to export steel, cement and aluminium. As China is already working on alternative solutions for overcapacity and China's share in U.S steel imports is small, the impact of Trump's new tariffs is expected to be limited to China.
While Trump's administration takes on the "American First" policy, imposing tariffs could only be a start. Then, is there going to be a trade war between the U.S. and China? Remember a war needs two parties. In February, China sent two delegates to Washington D.C., in the effort to ease trade tensions: Yang Jiechi, a top diplomat and former Foreign Minister, and Liu He, a top economic advisor and the front-runner of PBOC governor. After Trump signed the tariff proclamations, China's Commerce Ministry criticized it publicly. Yet, Trump also had a call with Chinese President Xi Jinping on North Korea issues the next day. For China, it will address its stands; at the same time, a more rational choice will be continue to ease conflicts rather than creating more, as the country is already busy dealing with a large amount of domestic issues.
In terms of the NPC meetings, China has released moderate economic targets for 2018. The top sessions to watch over the following days are the decisions on new Chinese government leaders. It is not uncommon to see drops in Yuan's volatility around key events such as NPC meetings. However, once the top policymakers are determined, their measures could largely impact the Yuan rate and thus getting to know them is crucial.
Upcoming Top Sessions on NPC's Agenda (GMT +8)
March 11th, Sunday
3pm Vote for the amendment of the Constitution
Why it is important: two-year term limitation for president is to be removed.
March 17th, Saturday
9am Election of President and Vice President
Why it is important: top executive leaders will be decided.
Election of the Chairman of the Standing Committee of the NPC
Why it is important: top legislative leaders will be decided.
3pm Nomination for the Premier
March 18th, Sunday
9am Appointment of the Premier
Why it is important: top executive leaders will be decided.
Election of the President of the Supreme People's Court and the President of the Supreme People's Procuratorate
Why it is important: top judicial leaders will be decided.
March 19th, Monday
9am Appointment of ministers, minister-level heads, including PBOC Governor
Why it is important: China's Central Bank determines the country's monetary policy. Ministry of Finance and State Administration of Taxation decide the fiscal policy.
March 20th, Tuesday
9am Vote for the government work report
New President's speech
Why it is important: The new president will deliver his first speech. Despite that major economic targets have already been released in the government work report. The president's speech could cover international relations and trade topics.
DailyFX provides forex news and technical analysis on the trends that influence the global currency markets.