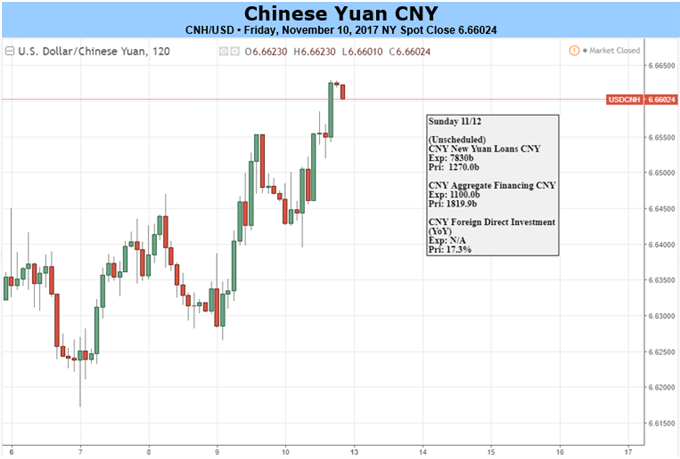 Yuan Torn between Milestone Opening up, Private Investment Concern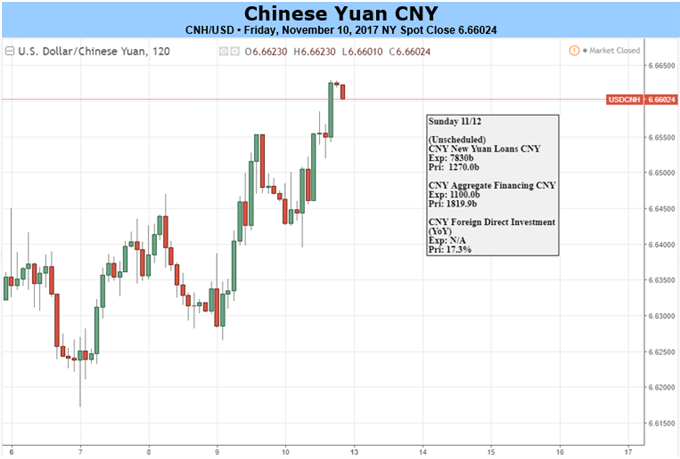 Fundamental Forecast for CNH: Neutral
The overcast of major trade conflicts is removed after Trump-Xi meeting, economic outlook improved.

China announced milestone opening up in financial markets: limits on foreign firms are loosened.

Private investment in fixed assets, which impacts the recovery pace, could drop further in October.
When market volatility elevates, how to manage risks? Find out now!
The Chinese Yuan (CNH) lost against all G10 currencies on a weekly basis, the least to the USD and the most to the GBP. This week, U.S. President Donald Trump paid his first official visit to Beijing and met the Chinese President Xi Jinping. The foreign exchange rate was not expected to be a major topic; moderate guidance rates set by the PBOC and stable offshore borrowing rates (HIBOR) helped the topic to stay away from the spotlight. Market reactions to Trump-Xi meetings were unremarkable. Yet, there are a couple of important decisions made at the meetings that could impact the outlook of the economy and its financial markets.
One immediate outcome from Trump-Xi meetings is that tensions in trade between the two largest economies have largely reduced. The two parties reached a series of business deals, worth US $253.5 billion in total. These include China to import natural gas, ethane and other energy resources from the U.S; Chinese firms to purchase American aircrafts and parts, as well as agriculture products. For the U.S., these deals will not only increase its exports to China but also are expected to create domestic jobs; for China, importing high-tech products could help the country accelerate its industrial upgrading. With these progress, the risk of a 'trade war' has been curbed, which meets one of China's priorities.
A longer-term impact: China took a major step to open its financial market after the meeting. The country announced to loosen ownership rules on foreign-invested enterprises. Details revealed on Friday, including that overseas firms will be allowed to own up to 51% of shares in Chinese securities, fund management companies and futures; the limit will be removed completely after three years. Amid foreign companies to increase their shares in Chinese firms, the process of China making it financial markets more market-oriented could be escalated. Also, overseas increasing their presence in China could bring in more capitals and further ease the pressure on foreign reserves.
In terms of event risks in the coming week, China's fixed assets investment and private investment in fixed assets are worth to keep an eye on. Private investment has taken up over 60% of total investment, according to the Vice Chair of National Development and Reform Commission; jobs created by private business accounted for roughly 80% of all; the private sector contributed to about 60% of the total GDP. As a result, the expansion rate in private investment in fixed assets could determine the pace of the economic recovery. Since the end of the second quarter, the growth rate of private investment has been declining; it dropped to 6% in September, the lowest in 2017. The October print will be released on November 14th Beijing time.
DailyFX provides forex news and technical analysis on the trends that influence the global currency markets.