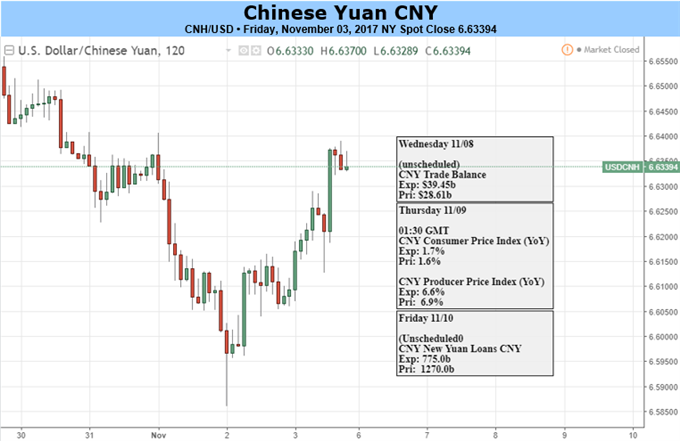 Yuan Looks to Trump-Xi Meeting, New Yuan Loans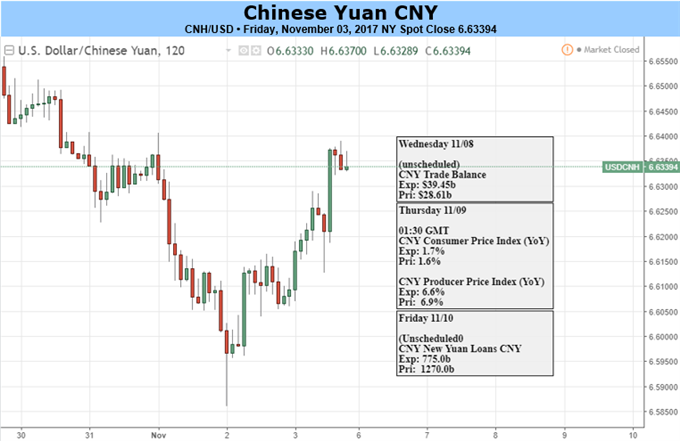 Fundamental Forecast for CNH: Neutral
Bilateral trade practices and North Korea nuclear issue will be top two topics in the Trump-Xi meeting.

President Xi will attend APEC meeting and visit Asian countries after revealed China's 30-year plan.

New Yuan loans, Consumer Price Index and trade indicators are top gauges to watch for event risks.
When market volatility elevates, how to manage risks? Find out now!
The Chinese Yuan in both onshore (CNY) and offshore (CNH) outperformed eight G10 currencies this week, only losing to the New Zealand Dollar and Canadian Dollar. China's October PMI prints indicate that the manufacturing sector has maintained stable expansion during the month. Looking forward, market focus is turning to world's top leaders: U.S. President Trump will visit China for three days; the Chinese President Xi Jinping will meet him and then attend the APEC summit. In addition, China's economic calendar is dotted with key events, including exports and imports, Consumer Price Index (CPI) and New Yuan loans.
Discussions on trade practices between China and the U.S. have already heated up ahead of Trump's trip. As we discussed early, increased trade disputes could hurt China more than the U.S. and then drag down the Yuan rate. On Wednesday, Trump called US's trade deficit with China "embarrassing" in a press conference. In terms of trade issues, China has showed a more positive attitude. The spokeswoman of China Foreign Ministry Wang Chunying responded to Trump's remarks and reiterated that China targeted at a win-win status with trade partners and would like to solve disagreements through talks and negotiations.
This is not the only disagreement between the two countries. A week ago, the U.S. Department of Commerce announced it would maintain China's status as a non-market economy. In response, China's Commerce Department claimed that "the conclusion was a distortion of the real situation". The two countries also have different opinions on U.S. import tax on some China's products. Next week, China will release the October prints for exports and imports. Besides the significance of the gauges themselves, they could become evidence used in trade talks between the two parties.
Another expected topic is North Korea, as stated by the White House. Tensions have raised after the U.S. sent two bombers to fly a mission near the region. Trump will visit Japan and South Korea and discuss this issue before proceed to China. In terms of this matter, China's Foreign Ministry told that China will continue to push forward a solution reached through dialogues. Reaching a consensus on all the above mentioned issues is not likely just because of one trip. What matters is the direction of the two parties moving on the scale bar: more agreement or less.
China's President Xi Jinping, who is just re-elected as the Party leader, will meet Trump. China having a smooth relationship with its largest trade partner serves its long-term goals. Here is the blueprint for China in the next 30 years released last week. After the summit with Trump, President Xi will attend the APEC meeting from November 10 to 11 and then visit Vietnam and Laos for the next three days. Strengthening connections with Asian countries through "One-Belt, One-Road" initiative has been set as a top priority, in the effort to generate new growth momentums.
Next week, there are key economic gauges to watch as well. The New Yuan Loans figure and the proportion of home loans could reveal the development of the price bubble risk in China's financial market. Before this concern is eased, the PBOC is not likely to cut the benchmark interest rate to stimulus the economy. In terms of the CPI, the October print is expected to increase to 1.7% from 1.6% in the month prior. If that turns out to be the case, it is unlikely to impact China's monetary policy, as it is still distant from the target 3%.
DailyFX provides forex news and technical analysis on the trends that influence the global currency markets.