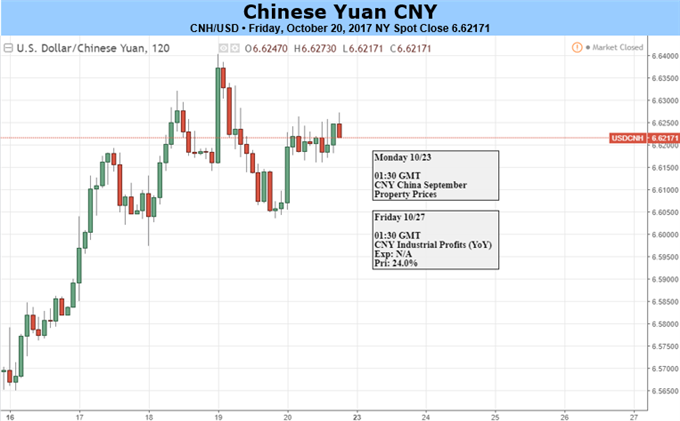 Fundamental Forecast for CNH: Bullish
The PBOC's Governor Zhou Xiaochuan clarified what will be floating and what will be managed in the Yuan.

Policymakers will disclose further reform plans at Party Congress, which may add bullish momentum to the Yuan.

A re-election of top party leaders will help to maintain stable administration and thus could support the Yuan.
The Chinese Yuan finished in the middle this week compared to major currencies: it gained against the JPY, CAD, NZD, and CHF while lost against the USD, EUR and GBP. China's economic gauges released this week including the Q3 GDP as well as September fixed income reads sent out mixed signals about the economy. Next week, the Chinese calendar is light. To get more clues, investors will want to continue to watch the on-going 19th Party Congress meetings and press conferences scheduled over this weekend and early next week.
China is using a managed-floating exchange rate mechanism, unlike many Western countries. This week, the PBOC's Governor Zhou Xiaochuan gave a latest update at the Party Congress on what to expect if you want to trade the Chinese currency. A) What matters to the regulator is – "The Yuan floating rate should be determined more by market supply and demand", according to Zhou. This hints that the Chinese regulator will less likely go against a major trend, for instance, a Dollar strength driven by Fed rate hikes. To counter against a strong trend will need to heavily burn China's foreign reserves, an unfavourable choice to the regulator.
In fact, Chinese regulators told multiple times that they have been closely watching USD prices. What's the Dollar trend to year-end? See our Q4 forecasts.
B)What does not that matter to the regulator is – "Expanding Yuan's trading band is not a priority", told by Zhou. Currently, the onshore Yuan (CNY) is allowed to float within 2% above or below the PBOC's reference rate. This means the regulator manually places a "stop" for onshore trades, in the effort to curb the risk of extreme volatility, and it has no intention to loosen it in the near future. The offshore (CNH) Yuan is not under such a restriction but because CNY and CNH are highly correlated, this trading band setup will limit offshore Yuan moves as well.
C) What the regulator wants to avoid is – "Preventing sudden and extreme moves is our primary focus on financial markets". This is a general target for all Chinese financial markets but is also applied to the FX market. The PBOC introduced a counter-cyclical component in May in the daily reference rate formula, aiming to reduce the risk of overshooting, especially overselling in the Yuan. The USD/CNH has remained the bearish trend since then (bullish for the Yuan). Before the US Dollar gains enough momentum and forms a clear new trend, traders will want to be cautious about false breakouts in the USD/CNH, as Chinese regulators may step in until they see what we discussed in A).
There are more to expect from the 19th Party Congress. At 3am EST on Saturday, Chairman and Vice Chairmen from China's National Development and Reform Commission will host a press conference and take questions. What to keep an eye on is how will the top policymakers promote reform and encourage domestic investment. China's Q3 GDP came in at 6.8% as expected; the Yuan strengthened against the US. Dollar in the first three minutes of the release but then reversed and soon erased all gains. This is likely because of the disappointing September print of investment in fixed assets announced at the same time, which is 7.5% verse 7.7% expected and 7.8% prior.
Last but not least, new Party leaders will be announced after the Congress meetings ended on October 24th. It is expected that most current leaders will be re-elected for another 5-year term. A stable and sustainable administration is considered to benefit China more, as the country is already busy dealing with both internal and external unstableness. Thus, a re-election could be positive news to the Yuan. Also, from a technical perspective, the USD/CNH has retraced to the upper band of the downward channel, a pullback is more likely than a breakout.