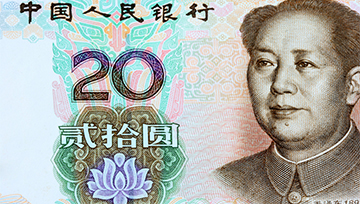 Yuan Outlook Mixed on PBOC's Guidance, Chinese PMI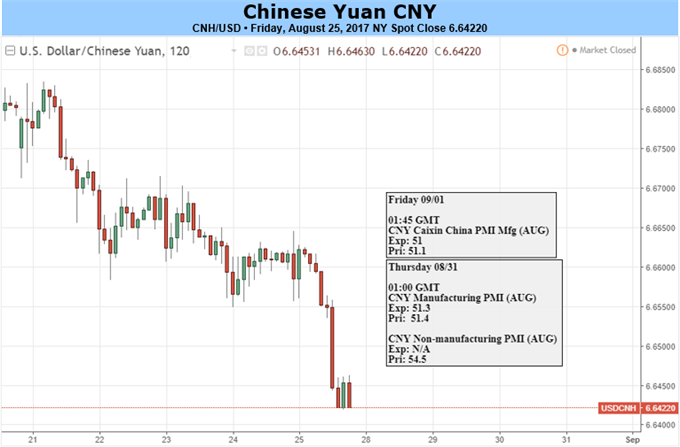 Fundamental Forecast for CNH: Neutral
The USD/CNH dipped 6.6419, the strongest level for the Yuan since September 15, 2016, following Fed Chair Yellen's speech at the annual Jackson Hole meetings. The omission on Fed's monetary policy in her speech disappointed markets and sent the Dollar tumbling. In addition to the Dollar weakness, China's Central Bank has been guiding the Yuan higher: On Thursday, the PBOC strengthened the Yuan fix to 6.6525, an 11-month high level. Looking forward, PBOC's guidance, Yuan's funding costs as well as China's PMI gauges will be top drivers for Yuan rates.
The Yuan fix (USD/CNY) set by the Chinese regulator has broken below 6.70 and 6.60 over the past two weeks. With the recently introduced "counter-cyclical factor" in the reference rate formula, the PBOC gains greater power to impact the flexibility of Yuan rates and make the guidance rate less predictable. At the same time, the Dollar weakness reduced the external pressure on the Dollar/Yuan rate; internal factors could play a bigger role in determining the Yuan rate. Within such context, the regulator's guidance will continue to be a primary driver worth to keep an eye on.
The onshore Yuan liquidity remained tight this week, with interbank borrowing rates edging higher. The PBOC has chosen to manage liquidity through open market operations and medium-term lending facilities, rather than adjusting benchmark interest rates or the reserve requirement ratio. This week, the regulator removed a net of 330 billion Yuan from the money market through reverse repos. The tight liquidity in the onshore market does not necessarily lead to a rise in the offshore Yuan rate; yet, a stronger onshore Yuan rate (USD/CNY) could impact the expectation on the Yuan rate and then affect the offshore rate (USD/CNH).
Also, Yuan's funding costs in Hong Kong, the largest Yuan offshore market, saw picking up on Friday. From overnight to 1-year term, HIBOR all rose. In specific, HIBOR O/N increased to 2.3895%, a 1-month high level; HIBOR 1-year rose to 4.9188%, a 1.5-month high level. Yuan's funding costs in the offshore market could impact the USD/CNH directly: A larger borrowing rate will increase the cost of investors shorting the Chinese currency, and in return, drive the Yuan higher.
Despite of the rising funding rates, there are factors that may add bearish momentum to the Yuan. China will release both the official and Caixin manufacturing PMI prints for August; in this month, both gauges are expected to continue the whipsaw moves which started from January this year. If that is the case, it will indicate that China's manufacturing sector has not seen solid recovery. As one of the major component of the economy, producers' unstable development could drag down the overall growth rate, bad news for the Yuan.
DailyFX provides forex news and technical analysis on the trends that influence the global currency markets.