What Has Driven Bitcoin to Its Record-Breaking Rally?
Talking Points:
In the month of May alone,

Bitcoin

doubled versus the Dollar at its highs

Motivation for the market can range from new clearing method to capital route to risk asset

While motivation may be unclear, the market's extreme volatility is indisputable
Amid otherwise 'dead' markets at the confluence of seasonal lull and systemic complacency, Bitcoin is standing out as an exceptionally active outlet for restless traders. Normally, this would be the space only for the most risk-tolerant, technologically-inclined or needs-based users. Yet, given the conditions in the surrounding market, it seems participants in many markets struggling for even a modicum of return are willing to venture into these vaguely charted financial waters.
A Surge in Activity, A Surge in Interest
It isn't difficult to see why there is so much attention being paid to Bitcoin. Rather than its innovation or its unique ability to avoid the ravages of manipulative monetary policy, the focus has been turned on the cryptocurrency for its extreme volatility. Just in the month of May, the increasingly popular pseudo currency posted a run that doubled its value from the close of April. While a significant portion of those gains have ebbed, the stamp of volatility remains.
Looking at a more digestible time frame, we find that the 20-day (equivalent to one trading month) average true range (ATR) has surged to its highest level since November 2015. As exceptional as this is, it is worth noting that this is only the fourth strongest swell in activity for the otherwise young alternative-to-currency instrument.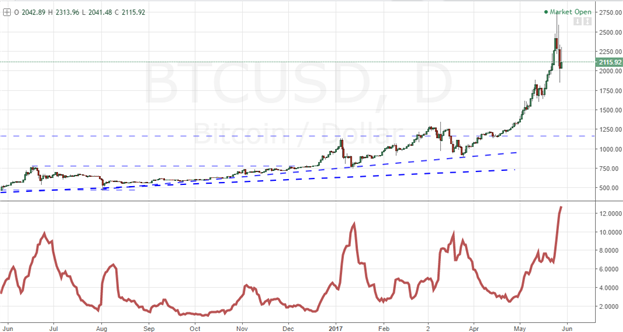 What Keeps the Market's Attention and Momentum
For those that have jumped onto this fast-moving train or those pumping their arms to do so, it is crucial to understand what has motivated this incredible advance in appetite. In reality, it is likely a combination of factors, but there is no doubt a concentration of appetite that has contributed to the acceleration we have seen. In determining what the most prominent motivation for the market's bid has been, we can better assess how active the market will be and how sustainable its trend.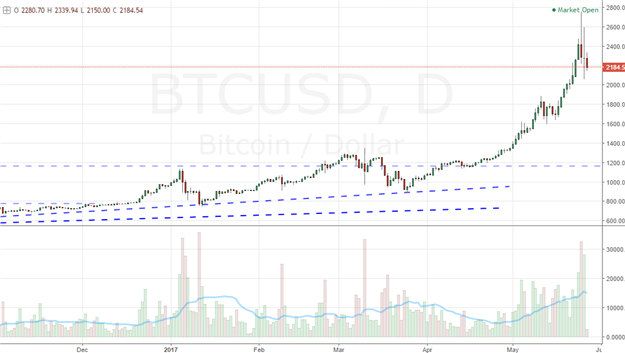 Capital Control Circumvention
Originally, cryptocurrencies were utilized for transactions that could not be tracked. The reasons to avoid governments, regulators and other authorities are not all nefarious; but many were. Online black markets like Silk Road needed a currency that could clear transactions without banks recording what accounts were utilized to facilitate these hidden purchases and sales. As time went on and the market became both more familiar and stable, others saw the value in financial routes like Bitcoin. Where countries had closed their financial borders for legitimate or dubious reasons, its citizens sought out a means for financial freedom. During its taste of Europe's financial crisis, Cyprus shut its financial borders and the many foreign entities that were used its banks as an offshore tax shelter sudden sought an exit. This produced the first true surge in Bitcoin in 2013. More recently, we have seen its use in China jump as the country's pace of financial liberalization has slowed amid economic pressure.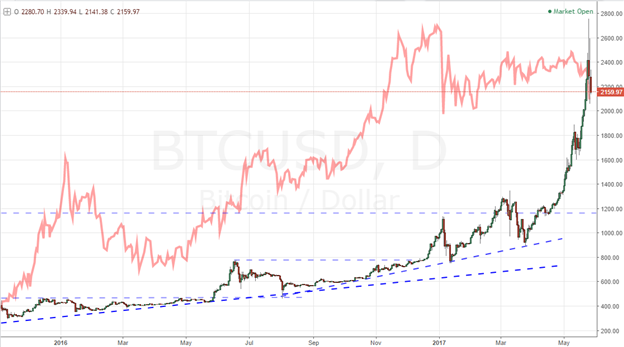 True Financial Adoption
The 'virtuous' general motivation among cryptocurrency bulls is investment into the future. The financial belief and adoption of the currency as the direction transactions are heading shows true appeal and attention. In its most 'pure' form, this 'currency' can be a peer-to-peer financial instrument far less prone to manipulation by a less-than-honorable government, central bank or regulator. Furthermore, it can be better utilized to avoid theft in a digital world – though recently, there have been a number of hackings of exchanges that have led to substantial losses for those invested.
In the past months, we have seen greater uptake in the legitimate use of Bitcoin targeting more systemic and 'legitimate' uses of the digital currency. This past week, Fidelity's chief executive Abigail Johnson reported her financial service firm would soon allow its customers to use hold balances with the company if they also had an account with Coinbase. On a national basis, Japan took the considerable step to accepting Bitcoin as an official form of payment.
Underlying most digital currencies is a transaction technology called blockchain which is decentralized and secure by design. Major financial institutions and individuals had noticed the potential for this remarkable financial structure some time ago investing money, time and other resources to push its adoption over time. Long-tem, using this technology to expand and secure the financial system is a self-promotional means for mass adoption and exceptional value. That said, this is a long-term process and this deep value will not expressly value Bitcoin or any other particular cryptocurrency.
Speculative Appetite – The Here and Now
The third major appeal for Bitcoin is the most likely, wholesale driver in its current climb: speculative appetite. Investors are motivated by opportunistic returns – either high regular returns from income/dividends/carry or capital gains. The market backdrop has shown an extreme reach for yield even as premium has all but collapsed. The emphasis has shifted to prize volatility and the rare trend in underlying prices as standard returns have collapsed in a world of historically low benchmark rates. On this playing field, Bitcoin truly stands out even among its more liquid and longer-running counterparts. Below, we see the rate of return for the cryptocurrency compared to the S&P 500, emerging market and high yield ETF. The comparison isn't event close.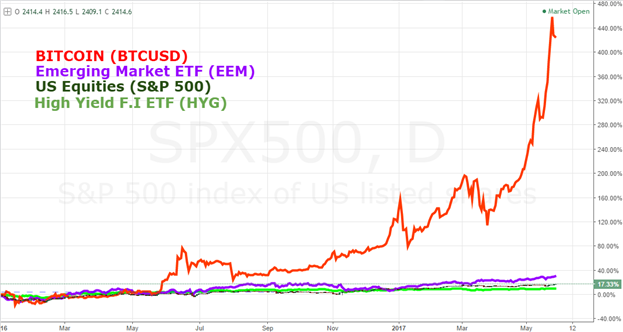 Volatility begets more volatility. Like a bright light drawing in moths to a flame, the backdrop for the broader market has further amplified the performance of the instrument. This is also likely one of the primary motivations for the application by the Winklevoss twins (of Facebook fame) for a Bitcoin ETF. While the first review by the SEC ended with a rejection, the group opened to feedback on a second evaluation through May 15th. The decision has yet to be announced.
The issue with speculative appetite versus the other two motivations is the volatile and flippant nature it imparts upon the market. In the pursuit of blockchain, there is a systemic adoption that could promote what is essentially a new age currency comparable to some of the majors. In the meantime, there is not enough liquidity or direct opportunity to trace the course of its future. In capital control circumvention, there is a constant effort to curb the market's development – and liquidity – by regulators. But, from a speculative motivation, there can be a remarkable surge in appetite. However, the drive behind this only lasts as long as global sentiment is on the rise and this particular asset is in vogue.
DailyFX provides forex news and technical analysis on the trends that influence the global currency markets.