Brexit No-Deal Is Increasingly Likely After Another Rejection Hits GBP
What's on this page
Brexit and UK Market Key Takeaways:
Prime Minister Theresa May's meeting with the EU next week may give a clearer signal as to whether or not a Brexit deal will be made.
No-deal Brexit may have a greater negative consequence for both EU and UK than anticipated.
GBPUSD 3-month implied volatility has been falling steadily in 2019 and may pick up depending on next week's vote.
Another delay in Brexit has continued to create uncertainty in the UK market. The consistent rejection of May's proposal may lead to a no-deal Brexit, which can create largeconsequences for both the UK and EU.
Prime Minister May's Extension Rejected
U.K Prime Minister, Theresa May, had her extension rejected by the EU parliament to have article 50 extended until June 30. Instead, the EU council agreed to extend Brexit to May 22. Prime Minister May now has a week to come up with a plan to get the MPs to support her deal where the parliament will then vote on whether or not a deal would be made.
If the EU council were to vote against Prime Minister May's proposal, then article 50 would once again be extended until April 12th where at this point they would discuss whether to proceed with a no-deal Brexit or to provide another extension for an alternative plan. If an extension were to be requested, this would mean that the UK would participate in the EU parliamentary elections, which Prime Minister May has expressed would be wrong given that the people of the UK have voted and made their decision three years ago to leave the EU.
If an agreement cannot be reached and the UK proceeds with no-deal Brexit, then both the EU countries and the UK may be negatively affected based on the trade dependence that both parties have on eachother as the chart below shows.
Consequences of No-Deal Brexit
EU Accounts for a Large Percentage of UK Export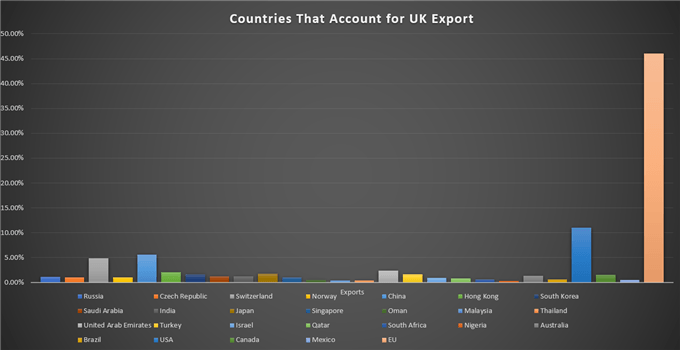 Source: Numbers provided by OEC
Large Imports from EU Make UK More Vulnerable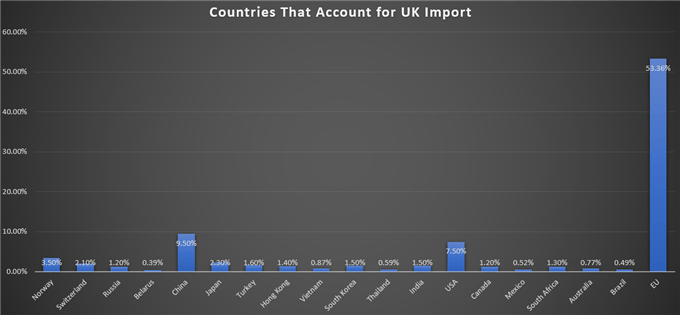 Source: Numbers provided by OEC
When looking at the chart above, we see that the EU countries are the UK's number one trading partners. The EU countries combined account for roughly 46% of UK export and 53% of their import.
Currently, the UK is part of the EU. Therefore, no tariffs are applied to imported products. However, if the UK were to leave the EU, they may no longer be able to be exempted from tariffs.
According to the WTO, in 2018, EU tariff products were as high as 35.9% for products such as dairy. The UK may be subject to the same tariff rules as other countries and if this were the case, this would mean that a large portion of what they currently import will be more expensive. This may cause UK to look into other markets.
The increase in prices as a result of a potential no-deal Brexit may create panic amongst the UK people, which can result in a higher GBPUSD volatility and a depreciated GBP.
Implied Volatility May Signal a Weaker GBP
3-Month Implied Volatility Can Be Worse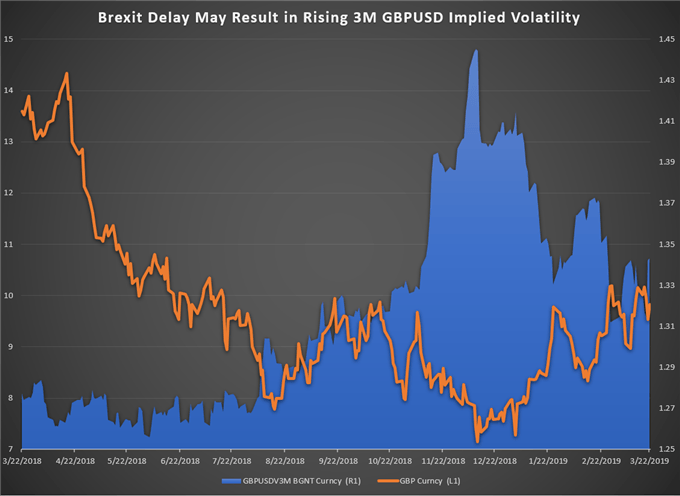 Source: Bloomberg
When looking at the short-term volatility in the article "Brexit Uncertainty Leaves GBPUSD Implied Volatility At 32-Month Highs", it is evident that recent announcements have pushed GBPUSD volatility to its highest since 2016.
However, when looking at the three-month implied volatility, we noticed that the volatility over a three-month period has fallen steadily in 2019. The last highest peak was in December 2018, which assumed that March 29 was the Brexit date, and the GBP was at its weakest since 2016.
It seems that the uncertainty and the date being consistently extended has reduced the three-month implied volatility and appreciated the GBP since the last bottom in 2018.
Historically, it looks like GBPUSD volatility was in some way correlated with the value of GBP and after the third meaningful vote next week, it may be clearer as to whether the UK will be headed for a no-deal Brexit. If this were to happen, we might see the three-month volatility pick up back to its December 2018 level and the GBP may depreciate against the USD.
--- Written by Nancy Pakbaz, CFA, DailyFX Research
Follow Nancy on Twitter @NancyPakbazFX
DailyFX provides forex news and technical analysis on the trends that influence the global currency markets.