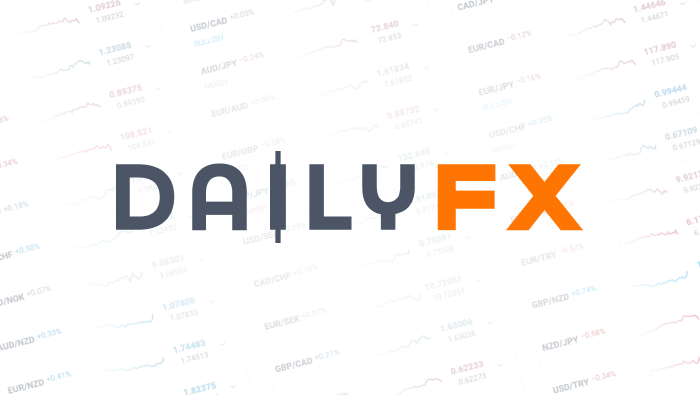 Market Risks Abound As Yields Tell of Chilling Risk Sentiment As EM Turmoil Remains
What's on this page
Trading Global Markets Decoded Key Takeaways:
British Pound and UK Gilts hitting levels showing concern remains for economic growth
RBI governor leaves in a shock move
Yields flashing more warning signs through both sovereigns and high yield
This article is a breakdown of the key talking points on the analysis show of the Trading Global Markets Decoded Podcast by DailyFX.
GBP 3mo Implied Volatility Reaches Highest Levels Since 2016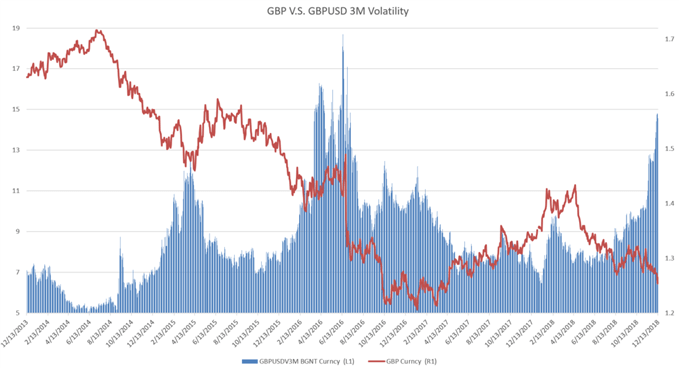 Data source: Bloomberg
What's going on?
Tension arose as there was another delay in the no-confidence vote for whether Theresa May would continue to be the leader of the Conservative Party. The uncertain future of England contributed to their volatile market. Hence the 3-month implied volatility is at its highest since 2016.
What does this mean?
Implied volatility indicates market sentiment. An increase in IV means there is an increase in market uncertainty and this in return has a negative effect on the currency. In the last 3-months, the GBPUSD has had the highest IV since Brexit in 2016. Therefore, this may signal that the GBP may take a further hit.
Why is this important?
Implied Volatility is one of many elements that investors take into consideration before trading. It is used to determine whether there will be large swings in price. However, it does not give a clear indication of which direction the price will go.
What is Implied Volatility?
Unlike historical volatility, which is calculated using the standard deviation and is based on historical prices, implied volatility uses current prices. Although it has its benefits, IV is more complex as it uses the Black-Scholes- Model and assumes that prices are priced correctly.
Yield Spread of High Yield and Treasuries At 2Yr Highs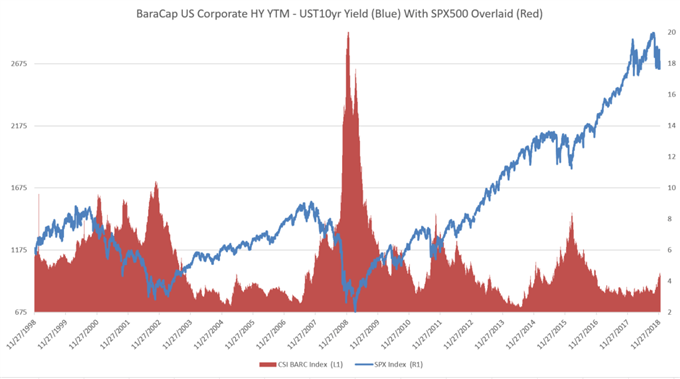 Data source: Bloomberg
What's going on?
The Barclay's Capital US Corporate High Yield and the US 10-year yield spread continue to increase. As the graph above illustrates, the last time the spread was this high was in 2008.
What does this mean?
The high yield spread increase is a result of the increase in risk of holding HY bonds. Investors have been more concerned with potential defaults making the investment less desirable.
Why is this important?
Investors are more concerned about potential defaults due to the drop-in credit quality and as a result, has led investors to move towards the equity market. This sudden shift can further decrease the price of debt.
Second Reserve Bank of India Governor Leaves Post Since 2016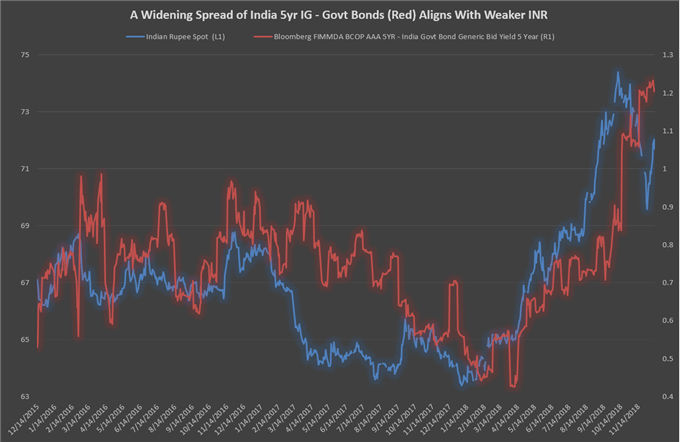 Data source: Bloomberg
What's going on?
On Monday, Urjit Patel announced that he was stepping down as Chief of the Reserve Bank of India weeks after the meeting with Prime Minister Narendra Modi regarding the central bank's autonomy.
What does this mean?
Ever since the announcement, the MSCI India ETF dropped by 4%, and the Rupee fell another 2% against USD when it was already at its all-time low.
Why is this important?
The pressure from PM Modi for political involvement in the RBI can temporarily overstimulate the economy to a point where it won't be sustainable. This can be extremely destructive to the economy resulting in a further drop in the MSCI India ETF and the Rupee.
Want More?
Sr. Analyst, Tyler Yell, CMT covers this indicator and more in the DailyFX podcast; Trading Global Markets Decoded that you can access here.
---
Written by Tyler Yell, CMT, Nancy Pakbaz, CFA
DailyFX provides forex news and technical analysis on the trends that influence the global currency markets.