Technical Analyzer Trading Tactics
Talking Points:
DailyFX tools can assist you in your technical trading
The Technical Analyzer covers CFD's and currency pairs
Follow the preferences of the Analyzer or use them with your own strategy.
DailyFX has a wide variety of charting resources available to assist traders with their technical analysis. The Technical Analyzer is a tool, which displays everything from trading ideas to key pricing levels for your favorite CFD's and Forex pairs. Today we will review exactly what the Technical Analyzer offers, and how it can apply to any active trading plan.
Analysis for Key Markets
The Technical analyzer is a great tool for getting updates across key markets. As pictured below, you can see this charting tool provides analysis for currency pairs including the majors and cross pairs. As well, the analyzer also looks at commodities and indices. This way regardless if you are trading the US30 (Dow) or the EURUSD, you can find analysis updates at your convenience.
You will also notice that the Technical Analyzer gives a short term and mid-term market outlook. Short term denotes duration of 1-2 weeks, while midterm analysis looks to forecast price out to a month. The analysis itself is fairly straight forward. A green arrow indicates a bullish bias, and a red arrow indicates negative expectations.

The Technical Story
Next, as the Technical Analyzers name implies, it provides a complete technical story for today's market movements. First off the analyzer provides a key update regarding today's price. This is included under the summary tab as shown below. Next based off of this information, is a trading preference. Here you can find potential trade ideas and targets based off of the Analyzers summary. This story also includes an alternative scenario to consider as well. In the even the market begins moving in the opposing direction, key pricing levels are given for trading opportunities in the opposing direction.
Lastly, the technical story includes key pricing levels. These values of support and resistance are marked as points of interest for the trading day. These values can be worked into your own trading strategy or simply use them as pricing targets for the Technical Analyzers positions. Regardless of how you trade, you can use this information to create an educated opinion about the market. Now let's look at the charting data behind the Analyzers trading opinions.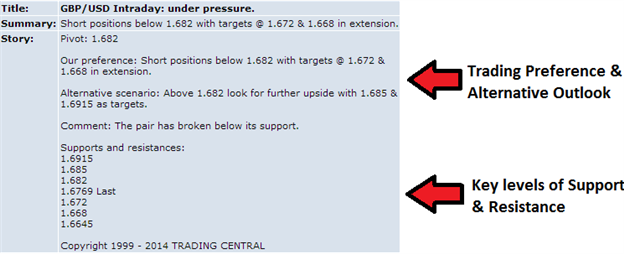 The Charts
One of the great benefits of the Technical Analyzer is that you can see the above analysis for yourself on a provided chart. Below we can see a 30 minute GBPUSD chart updated for the values provided by the Analyzer. First, traders will notice the lines of support and resistance. The central pivot from where the trading bias is created is denoted with a blue horizontal line. Resistance lines are colored in green while key levels of support are labeled in red. These levels once identified, can then be used in completing a trading plan in conjuncture with other indicators.
Analysis through the Technical Anlayzer includes the use of indicators. Often you will see the use of a series of MVA's (Simple Moving Averages). Depicted below, you can see both a 20 and 50 period MVA working in tandem to identify market momentum. As well, you will notice the inclusion of RSI (Relative Strength Index). This indicator is helpful in determining both overbought and oversold levels which are beneficial to traders. If you don't know what any of these indicators mean, don't worry! The Technical Analyzer will include key updates to indicators in the stories mentioned above and explain any updates.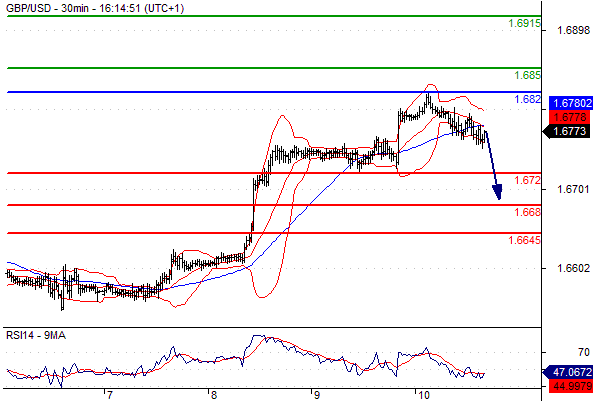 Getting Started with the Analyzer
The Technical Analyzer is a great tool for novice as well as experts alike. This tool is available to FXCM account holders as well as DailYFX plus subscribers. If you are interested in learning more about the Technical Analyzer as well as other DailyFX resources. Click the link below.
DailyFX provides forex news and technical analysis on the trends that influence the global currency markets.