Disciplined FX Trading - Touching Lines
What's on this page
Sticking to your forex trading plan talking points:
FX trading is similar to training for competition

Wait for the signal to generate, then enter/exit the trade

Keep a forex trading journal

or test any variable changes prior to implementing them those changes
When growing up, I spent my younger years playing sports including team sports such as basketball and baseball. As we would practice, one element of training which was quite challenging was the suicide sprint. To help get the team in shape, they would place us at one end of the field, and then we would sprint to another line, turnaround and sprint back to the original line, turnaround and sprint out to a line farther away, turnaround and sprint back.
The exercise was grueling because you are stopping and starting multiple times rather than catching a groove in a straight out sprint. This exercise would be run several times in practice to get the team in shape.
As you can imagine, the coach was not able to be everywhere all of the time. Therefore, some members of the team would cut corners by pivoting, or turning before the designed line. Perhaps these members would rationalize the shortcoming by thinking nobody will notice or that extra yard simply wasn't important.
Aside from the physical endurance you incrementally pick up by going the extra yard to 'touch the line', I believe there are additional mental benefits. For example, even if you were the last one to finish the exercise, you alone know whether you touched the line. Therefore, you feel good in knowing that you did it right as it prepares you for the longer term objective of getting into shape.
Painful, yes. You remember the pain and overcome.
Forex trading and sticking to your plan
I think there are similarities with trading financial markets and being a 'line toucher'.
Too often, I see traders get emotionally charged in their open trades or the potential trading opportunity to the point they throw their trading plan out the window.
Forex Education: Waiting for a Touch on the Line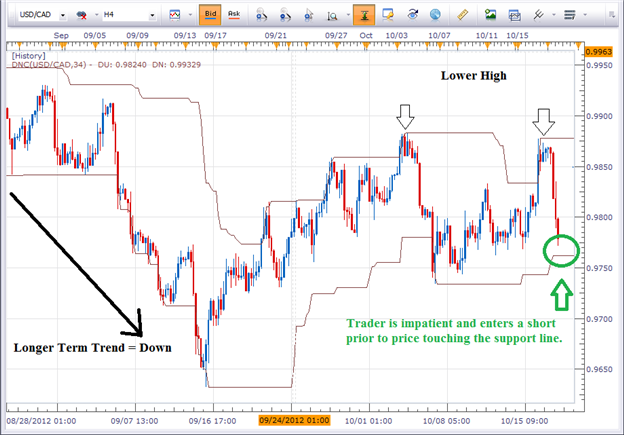 Their trading plan might be to open a short position when the price reaches the support line when the trend is down. The chart above illustrates a situation where prices approached support and appeared poised to break lower. After all, the technician is seeing a longer term down trend and the pair just putting in lower highs.
However, poised doesn't mean that the pairwill turn lower. Therefore, we need to wait for the actual signal of the price breaking below the support line before entering the trade.
Is entering the trade ahead of the actual signal better or worse for your account? After all, the price appears poised to turn lower and by entering early, your catching a better entry price and tighter stop loss…those are good things right?
Well, presumably, you've tested the plan prior to trading it. Based on your testing, you've decided to wait for a break. So instead of breaking the support line, you are now breaking your trading plan. What do you think has the longer term negative implications?
Consistently breaking your trading plan creates inconsistent trading results.
If you wish to go back to the drawing board and re-test your strategy by changing a variable or two that would be wise. You can also manage changes if you keep a forex trading journal. But changing your strategy because prices appear poised to go in a certain direction opens your emotions to the trade and you are no longer trading methodically.
Be patient and wait for the signal just like a sail boat waits for the wind.
Stay true to your trading plan and be a 'line toucher.'
(This piece was part 3 of a 4 part series on becoming a more disciplined trader.)
Part 1 – Trading is Methodical – Markets are Emotional
Part 2 – Take What the Market Gives You
Part 4 - The First of 10 Trades
---Written by Jeremy Wagner, CEWA-M, Head Trading Instructor, DailyFX Education
Follow me on Twitter at @JWagnerFXTrader.
See Jeremy's recent articles at his DailyFX Forex Educators Bio Page.
Every good trading plan needs to include sound risk management principles. Many traders suggest sound money management is just as important as a great entry signal and we agree. That is why we are sharing traits we researched in the successful traders.
DailyFX provides forex news and technical analysis on the trends that influence the global currency markets.