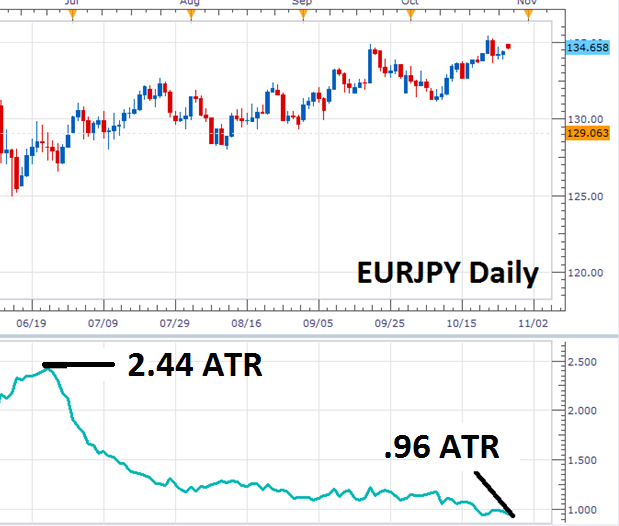 How to Use ATR in a Forex Strategy
Average True Range Talking Points:
Forex traders can use ATR to gauge market volatility.

Traders should use larger stops and profit targets as ATR increases.
ATR (Average True Range) is an easy to read technical indicator designed to read market volatility. When a Forex trader knows how to read ATR, they can use current volatility to gauge the placement of stop and limit orders on existing positions. Today we will take a look at ATR and how to apply it to our trading.
Learn Forex –EURJPY Trend with ATR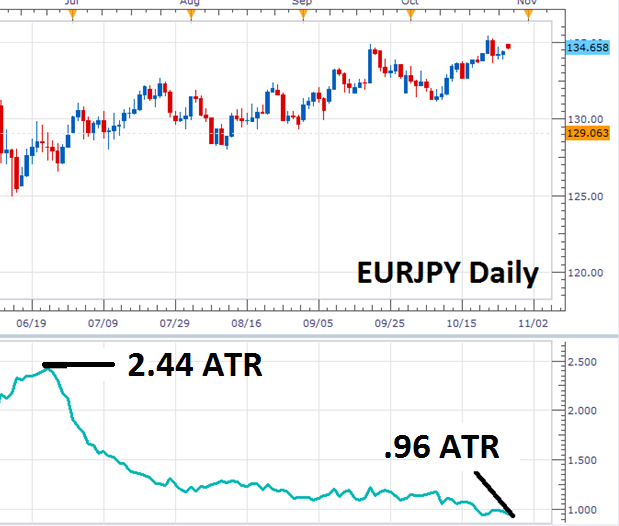 ATR is considered a volatility indicator as it measure the distance between a series of previous highs and lows, for a specific number or periods. ATR is displayed with a decimal to indicate the number of pips between the period highs and lows. This is important to a trader, as volatility increases so will a charts ATR value. As volatility declines, and the difference between the selected periods highs and lows decrease, so will ATR.
Traders can use ATR to actively manage their position in accordance to volatility. The greater the ATR reading is on a specific pair the wider the stop that should be used. This makes sense as a tight stop on a particularly volatile currency pair is more prone to be executed. As well a wide stop on a less volatile pair may make stops unnecessarily large. This can also hold true with limit orders. If ATR is a higher value, traders may seek more pips on a specific trade. Conversely, if ATR is indicating volatility is low, traders may temper their trading expectations with smaller limit orders.
Using average true range can improve any traders exit strategy. However, an exit strategy is only one part of a successful trading plan. We studied over 43 million real trades and share the Traits of Successful Traders in our free guide. On page 5, we discuss how a trader's natural tendency can negatively affect their account.
DailyFX provides forex news and technical analysis on the trends that influence the global currency markets.