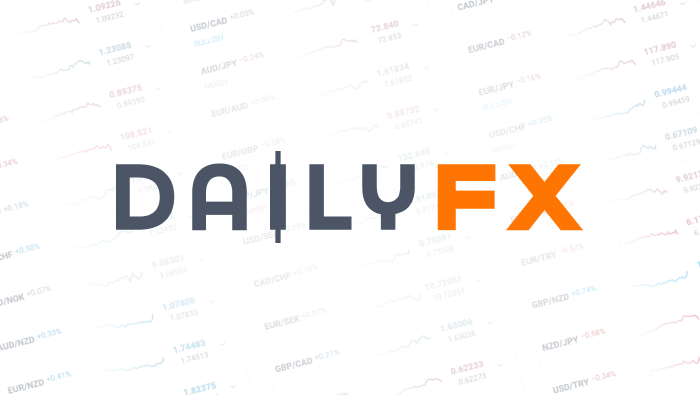 2 Benefits of Trend Trading
Article Summary: Trend trading is a simple forex strategy used by many traders of all experience levels.Trend trading is widely followed because of its simplicity to identify and trade and many times, strong trends can bail you out of an imperfect set of buy and sell rules.
A popular trading express is "the trend is your friend." This expression has stood the test of time because many traders find it as a critical building block of a trading plan. We will identify 2 benefits a simple trend following strategy offers plus an easy way to identify the direction of the trend using forex technical analysis.
Before we get started, it is important to first explain why trend trading is a popular strategy used by many new and experienced traders.
Strong Trends and an Imperfect Strategy
Do you have the perfect forex trading strategy? I have not found it. To me, a perfect strategy wins all of the time and has minimal trade drawdowns. I hate to burst your bubble but a 100% win ratio strategy does not exist.
Therefore, learning how to trade in an imperfect world is very important. Trend trading is a simple way to cover up some strategy imperfections by identifying the strongest trends in the market.
For example, if the market is moving up in a strong trend, it isn't as important what the strategy is used to time entries, you simply need to be buying. When you trade in the direction of the trend, the rest of your trading approach can fall right into place. This doesn't mean that all your trades will be winners. It does mean that you don't have to be exact in your entries and exits once you find a strong trend to trade.
Learn Forex: Timing Entries with CCI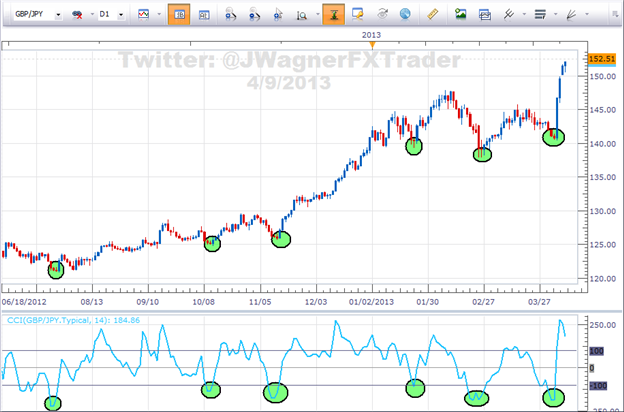 When you see a strong trend in the market, trade it in the direction of the trend. For example, we've seen strong up trends recently in the Japanese Yen pairs (USDJPY, GBPJPY, EURJPY, AUDJPY, and NZDJPY).
Let's assume you use the Commodity Channel Index (CCI) as a tool to time entries. Notice how each time CCI dipped below -100, prices responded with a rally. Not all trades will work out this way, but because we were following a strong trend, each dip caused more buyers to come into the market to push prices higher.
Therefore, experienced traders seek out more strong trends to repeatedly take advantage of them.
Which Pond to Fish In
If you were going fishing and had a choice of ponds to fish in, which pond would you choose? How about the pond with more fish!
Identifying strong trends allows us to see which pond is offering more potential fish to catch (pips). Assume for a moment, you are the perfect trader that can catch the exact top and bottom of each wave.
Learn Forex: More Pips Available in the Direction of the Trend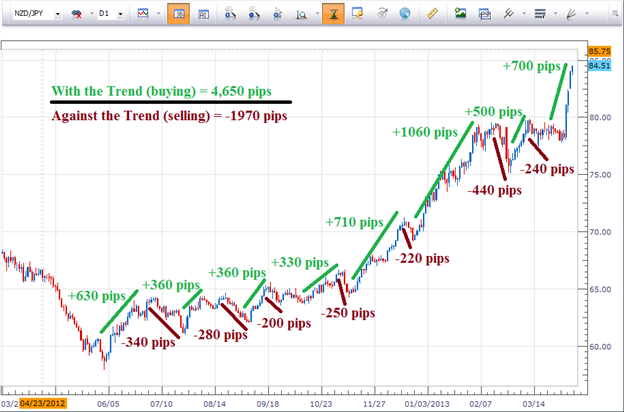 Now, divide your trades into those with the trend and those against the trend and your chart may look similar to the above.
Notice how more pips are available on the long trades relative to the short trades.This is because this is a strong trend to the upside. By aligning with the direction of the trend, you align your strategy to the momentum of the market and expose yourself to more opportunities at pips.
Determining the Trend
To determine the trend, pull a price chart on a currency pair of your choice with between 100-200 candles. Then answer the question of which direction prices are generally moving?
If the trend is up, then confirm the direction by looking for a series of higher highs and higher lows on the chart. A valid up trend would look similar to the above chart.
Learn Forex: Higher Highs and Higher Lows in an Uptrend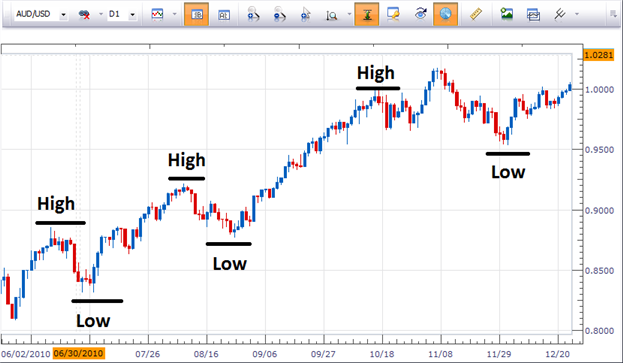 Eventually, all trends will end. So this uptrend changes to a downtrend when a series of lower highs and lower lows are established as noted below.

If the trend is down, confirm the downtrend by looking for a series of lower highs and lower lows on the chart. Below is a chart of a valid downtrend.
Learn Forex: Lower Highs and Lower Lows in a Down Trend
This downtrend changes to an uptrend when a series of higher highs and higher lows begin to form as noted below.

It is important to note that there are no specific rules for identifying high and lows to use for trend analysis. The idea is to pick the most obvious examples of an uptrend or a downtrend to trade.
Summary
There are several advantages to trading strong trends such as allowing the trend to bail you out of an imperfect strategy and aligning yourself in the direction the pips are available. This explains why many experienced and well known traders follow that strategy.
Look for the most obvious trending moves. There are over 30 different currency pairs to choose and look for the strongest trend of those pairs.
Filter your trading signals in the direction of the trend. Take only entry signals in the trend direction and ignore those entry signals that are counter trend.
This is why we talk about trend trading in our DailyFX EDU courses quite often. Now, that you have found strong trends to trade, follow the "3 Ways to Trade a Strong Forex Trend".
---Written by Jeremy Wagner, Head Trading Instructor, DailyFX Education
Follow me on Twitter at @JWagnerFXTrader.To be added to Jeremy's e-mail distribution list, click HERE and enter in your email information. See Jeremy's recent articles at his DailyFX Forex Educators Bio Page.
DailyFX provides forex news and technical analysis on the trends that influence the global currency markets.