Building an edge in this market has more to do with a consistent method you are comfortable with than a perfect system that grabs 100% of the pips out of a move.
Imagine if someone came up to Tiger Woods when he was in high school and told him he could make more money as a football player and he should leave behind his plan of developing his natural talent and love for golf. Isn't is safe to say that regardless of his talent, he was better off sticking to his original plan and developing the skills he was comfortable with?
Many traders start their careers trying to find the perfect strategy that rains pips day in and day out regardless of the trader using it. There have been too many automated trading systems that have cornered this emotional market. We've often seen from our side that the trader neither understand nor accepts the risk of these systems and ends up dumping it all together unsatisfied.
The good news here is that I want you to stop looking for the 'Holy Grail'. This will save you time, money, and sanity. Instead find the right system for you because YOU are the secret sauce that will make your trading system work. YOU are the most important ingredient through discipline, patience and practice to identify the highest probability setups consistently. A perfect system is not what we're after. A system that we can follow consistently and refine over time is now our goal.
Here is an investing expression that applies to your psychology when trading:
"Good enough is good enough" - Rebecca Wells
In fact, I'll go further and say from my experience, trying for good enough is better than trying to be the greatest.
Why?
You will focus on consistency and confidence in your trading system over perfection. Your system should be comprised with indicators you're comfortable reading and a money management system that will allow you to act calm under uncertain market conditions.
Many traders we work with rely on indicators to give them entry and exit signals. This is because indicators can provide clear and easy to understand signals of price action. Your ability to read and act on the indicators in line with your money management system will become the strengths that no one can duplicate but you. This is will become your niche and how your edge will develop over time.
Let's assume you share this strength and I'll show you how 2 different traders implement an imperfect strategy.
In a real market example, let's look at how these emotions would apply to two separate traders, an amateur and a professional looking at the same chart.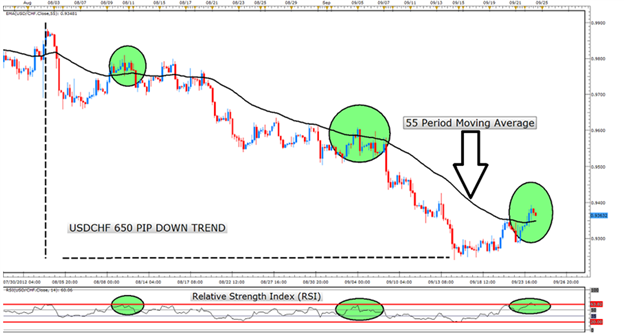 Let's take a simple down trend on the USD/CHF that began in early August to today for over 650 pips.
Using this recent downtrend, the amateur's system will be seen as a failure unless in some way he squeezed all 650 pips out of the market. It won't happen consistently and a repeatable system that promises full trend capture doesn't exist. Getting every pip out of a trend is likened to a hole-in-one for golf, rare and not to be expected. Because amateurs are going for perfection, they often hold on to losing trades too long trying for the market to swing back in their favor until their hand is forced to exit the trade. This common tendency is an account equity disaster.
Your system would be much better off with a strong risk: reward ratio when entering a trade and less worried about grabbing 100% of the move. This is the professional's mindset. The risk: reward ratio and the high probability sets ups are there bread and butter that allows them to focus on consistency over individual trade performance.
That is why good enough is good enough.
Of course, it's natural to want to get every pip the market presents just as it's natural to want to hit a hole-in-one. However, Tiger Woods and most golfers know that par will win you a lot of money on the tour. Similarly, professional traders know that it's not about the perfect trade but a number of good trades that will allow them to take a proper amount of what the market is offering.
In conclusion, professional traders focus only on taking trades that meet their pre-trade checklist based on strong money management rules and indicators they are comfortable reading. Amateurs hold on to every trade without the mental fortitude to accept a loss. I would suggest trading in smaller sizes so you can practice the strategy of the professional. This is, making each trade by itself insignificant and using the collection of trades in your strategy as your edge.
---Written by Tyler Yell, Trading Instructor