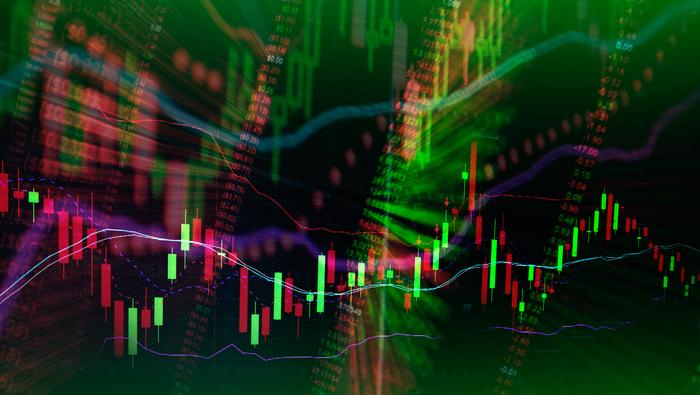 How to Trade Fake Pin Bars
One of the more compelling entry triggers via price action is the Pin Bar.
Pin Bar, which is short for 'Pinocchio Bar,' is a single candlestick setup that clues price action traders into potential reversals in the market. A pin bar is an elongated wick that 'sticks out' from price action. Traders will usually look for one-sided wicks that are two times the size of the candlesticks body.
When traders see elongated wicks sticking out from price action, they can look for the momentum that created the long wick to continue by looking for a reversal.
So if a trader sees a long wick sticking out below price action; they can look to go long. If a trader sees a long wick sticking out above price action, they may want to look to go short.
Much like Pinocchio's nose – the elongated wick of a pin bar can tell us that a lie is being told.
But not all long wicks are created equal. As a matter of fact, many of these long wicks will not be Pin Bars at all; but that does not mean that they can't be used by Price Action traders. This article will walk through how to trade 'fake' Pin Bars, or long wicks that do not stick out from price action.
What separates a Pin Bar from a Fake Pin Bar?
The difference between a Pin Bar and a Fake Pin Bar is determined by recent price action.
If the long wick sticks out from recent prices, that is a Pin Bar. This is the 'lie' that the market may be telling us: That a movement to a previously untested level has brought a new group of buyers (or sellers in the case of a bearish Pin Bar).
If the long wick does not stick out from previous price action; they are not a genuine Pin Bar, but rather 'Fake Pin Bars.' The picture below will illustrate with further detail: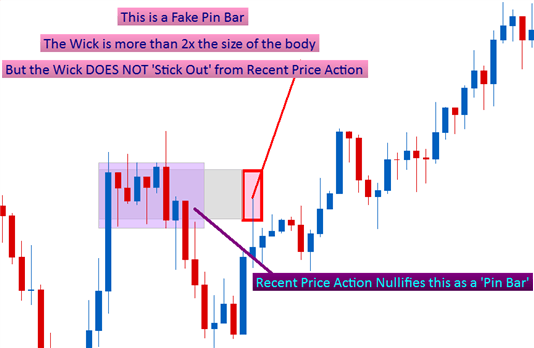 As you can see above picture, the fake pin bar doesn't quite stick out from previous and recent price action.
With a genuine pin bar leaving a long wick above the candle, traders could look to open a short position to take part in the momentum that created the long wick in the first place.
However, as you can see from the above setup – that would not have worked out too well.
Trading Fake Pin Bars requires additional analysis, as the signal of a short-term reversal in prices may not be as consistent as that of a genuine pin bar.
How to Trade Fake Pin Bars
The first thing we want to get comfortable with when looking for Pin Bars, or Fake Pin Bars, is what it is that we are looking to take part in by trading that setup. Let's take a closer look at a legitimate Pin Bar below: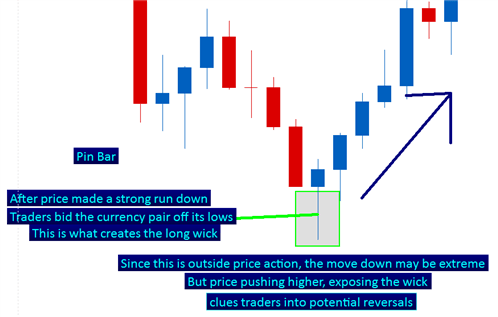 From the above graphic, we can see what makes the pin bar attractive is the fact that price has reversed enough to leave a long wick exposed underneath price action (all taking place during the pin bar candle).
But what if a long wick isn't sitting outside of recent price action?
This might mean that the potential for a reversal on fake pin bars could be smaller than that of genuine pin bars. But that doesn't mean that price action traders can't use this information to our advantage – we merely have to qualify which fake pin bars might be favorable and which are not.
We can do this by looking at the trend of the currency pair, and attempting to enter ONLY in the direction of the longer term trend. Traders can even use price action analysis to qualify and analyze trends, much like we looked at in our Introduction to Price Action.
To do this, we would want to scroll out on our charts and analyze more previous prices than if we are trading a genuine pin bar; and the reason for this is so that we can get a better assessment of the long-term trend and look to only trade in that direction. The picture below will illustrate an up-trend with a bullish fake pin bar.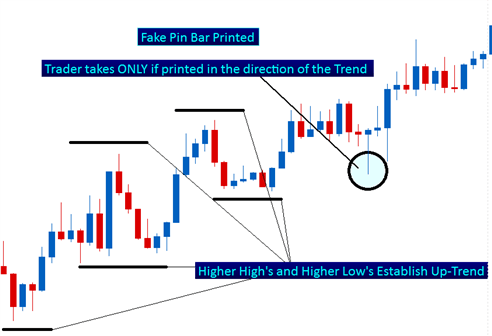 From the above graphic, we can see that after price had established an up-trend by creating a series of higher highs, and higher lows a fast price movement to the downside was corrected before the candle had completed (leaving the long wick circled above).
Traders can look to trade this fake pin bar by going long after this candle has formed, placing a stop slightly below the low of the fake pin bar wick. That way, if price happens to reverse against us (and move down while we are in a long position), we can exit the position if a lower price is printed below the bottom of the fake pin bar wick (picture illustrating further is below):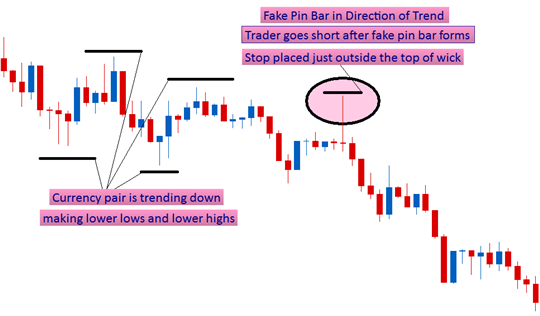 Next: Price Action Swings (35 of 47)
Previous: Price Action Pin Bars
--- Written by James B. Stanley
You can follow James on Twitter @JStanleyFX.
Trading Double-Spikes (Price Action)
Trading Price Action - Triangles
How to Analyze and Trade Ranges with Price Action
How to Identify Positive Risk-Reward Ratios with Price Action
Trading Trends by Trailing Stops with Price Swings
DailyFX provides forex news and technical analysis on the trends that influence the global currency markets.