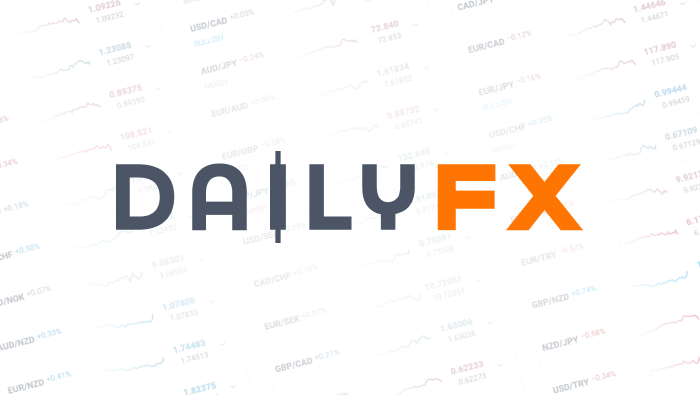 Gaining a Trading Edge by Fading the Crowd | Podcast
What's on this page
Key Points discussed
What is IG client sentiment?
The traders behind the data
Sentiment data helps keep your emotions in check
How to interpret the numbers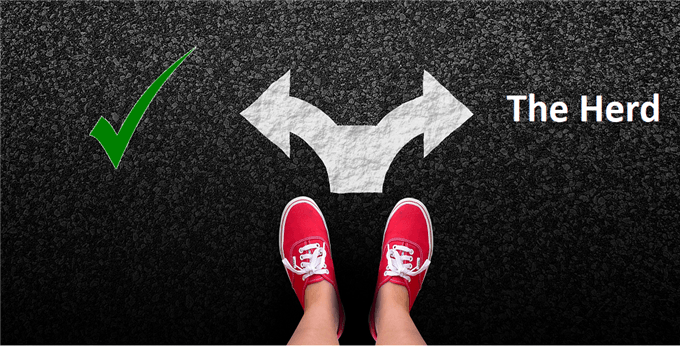 Client sentient has been regarded as one of the most underutilised sets of data available to retail traders. In the accompanying podcast, Senior Analyst, Tyler Yell introduces and explains the sentiment tool known as IG Client Sentiment (IGCS). IG's Client Sentiment data helps fill the gap between fundamental and technical analysis. Traders can access the data in real-time on DailyFX.com and via IG's client-exclusive site, DailyFX PLUS.
What is IG Client Sentiment?
IG client sentiment shows the direction and strength of aggregated retail trades. It is a contrarian indicator that utilizes insight from a population of traders that tend to fight trends. The psychology can get quite tricky but is worth exploring who these traders are and what they are thinking.
The Traders Behind the Data
The majority of retail traders (the population of the IGCS data) are underfunded, over-leveraged, trend fighters. Unfortunately, this appears to be human nature more than logic as this pattern continues to play out. These traders try to get as much as they can out of the market, with as little commitment as possible, while using more leverage than is recommended. At DailyFX we recommend using 10-1 leverage or less. For this and other risk management techniques be sure to check out The ABCs of Risk Management.
The indicator shows traders where the majority are positioned in key markets and provides a clear contrarian tool, as can be seen in the Oil – US Crude chart below: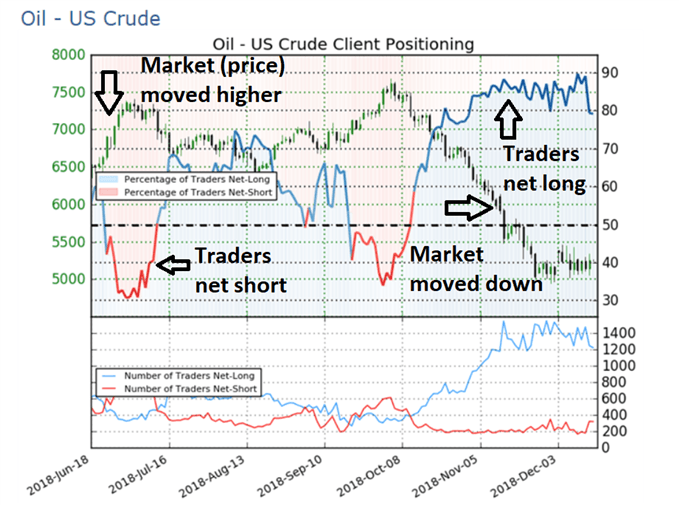 The chart presents price in the green and black candles alongside client sentiment, showing majority net short positions (red line) and majority net long positions (blue line). Starting on the left of the chart, the market moved higher and traders increased their net short positions. There was a period of consolidation which eventually broke down initially to the upside before entering a strong downtrend. At this stage client sentiment was extremely net long and continued as price began to fall rapidly.
Fortunately, this is a relatively simple indicator to read and it does not require intense technical or fundamental analysis – although this can certainly be used to complement the IG client sentiment data.
Sentiment Data Can Help Keep your Emotions in Check
The indicator keeps you honest by keeping your emotions in check. This reason may be the most powerful of all as the indicator gains its insight from the emotions of other traders.
Typically, when a market drops that has been rising, traders often think of the bounce and discount the chance that the price is falling for a reason. Additionally, these very traders discount the possibility that the market may continue to fall even further.
If you see a market like crude oil that begins to fall through chart support and retail traders start buying aggressively, this can be seen as an indication that trend continuation isgaining momentum (more downward movement).
The table below provides a simplified analysis of sentiment data and the signal that it tends to provide:
| Trend | IG client sentiment | Signal |
| --- | --- | --- |
| Up | Net short | Long |
| Down | Net long | Short |
How to Interpret the Numbers
IG client sentiment provides traders with valuable changes in key numbers. Below is an extract of what you can expect:
"Retail trader data shows 86.4% of traders are net-long with the ratio of traders long to short at 6.35 to 1. In fact, traders have remained net-long since Oct 11 when Oil - US Crude traded near 7541.7; the price has moved 37.1% lower since then. The number of traders net-long is 13.8% higher than yesterday and 4.6% higher from last week."
Lastly, it is helpful to narrow down the opportunities with IGCS. DailyFX provides sentiment readings on six markets in real-time and 30 markets twice a day. However, typically a small handful of markets at any given time will have a signal. Essentially, traders should be on the lookout for a breakout higher of price, or a breakdown with sentiment moving the other way. Look for a ratio of 2:1 short to long in an uptrend or a 2:1 or better long to short in a downtrend.
Understanding the Ratios:
If IGCS is -5.67, there are 5.67 sellers for every 1 buyer.
If IGCS is +3.02, there are 3.02 buyers for every 1 seller.
To Recap:
The ICCS is presented as a ratio of buyers and sellers for major markets.
IGCS is a contrarian index, meaning we look to take trades opposite the crowd.
IGCS can complement other forms of analysis such as trend lines or

trend following analysis

.
So, is sentiment a secret weapon? It's difficult to say, but Tyler certainly considers it to be one of the most useful tools DailyFX provides to its traders.
Hopefully, this is no surprise to you, but most retail traders lose money. So, if you take the opposite side of the majority's trades, you should have an edge.
Helpful Resources
If you found this article useful, you should follow our weekly podcasts. Whether you are looking for market analysis, trading education or interviews with well-known industry professionals, we have you covered.
Follow our podcasts on a platform that suits you:
iTunes: https://itunes.apple.com/us/podcast/trading-global-markets-decoded/id1440995971
Stitcher: https://www.stitcher.com/podcast/trading-global-markets-decoded-with-dailyfx
Soundcloud: https://soundcloud.com/user-943631370
Google Play: https://play.google.com/music/listen?u=0
DailyFX provides forex news and technical analysis on the trends that influence the global currency markets.