Strategy Series, Part 6: Trend Trading with ADX
Talking Points:
ADX can pinpoint strong currency trends
RSI can be used to enter with market momentum
Risk Management can use previous market highs and lows
Trading trends is always a popular market approach, with traders looking to take advantage of directional markets. However it can be difficult to not only find but also time entries into those trends. To help with this process, we will continue our conversation on strategies, by reviewing the "ADX 50" trend trading strategy. Let's get started!
Not a position trader? In our previous strategy session, we reviewed day trading intradaymarket reversals with the "DT Pivot" strategy. Learn more using the link below.
Learn More about Daily Breakouts HERE
Learn Forex – EURUSD 4Hour with ADX
ADX and the Trend
Finding a strong directional move is the first priority of any trend trader. However, when having to select a currency pair to trade, it can be difficult to identify the best trends. For the "ADX 50"strategy we will be using the ADX (Average Directional Index) indicator for this process. First, add a 14 period ADX to the 4Hour chart, using Daily periods. This can be accomplished through the data source options found in the properties menu. Ultimately, this will show us a Daily ADX reading on the 4Hour graph as depicted above.
Remember, ADX is not identifying the direction of the trend, only its intensity. If a currency pair's trend is weak or if the pair is consolidating, ADX will read significantly lower than a strong directional market. For the "ADX 50" strategy, we will only be looking for currency pairs with an ADX value of over 50! If Daily ADX reads over 50, you can then begin to move to the execution phase of the strategy.
Learn Forex – EURUSD with ADX and RSI for Entries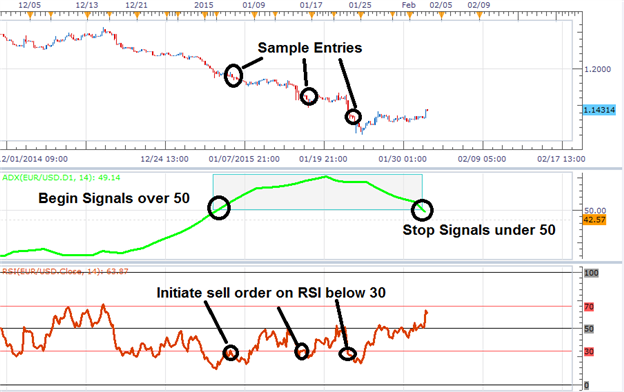 Trending Entries with RSI
Once a strong trend is found, it is time to plan an entry into the market. The "ADX 50" trend trading strategy uses an RSI (Relative Strength Index) indicator signal for this task. For today's entry signal we will be using an RSI with a 14 period setting on a 4Hour chart. In a downtrend, new sell positions should be entered only when ADX reads over 50 and RSI closes below 30 (oversold). Conversely buy positions will be initiates when ADX reads over 50 and RSI closes above 70.
Below we see a sample EURUSD chart, which has been filtered for ADX. As ADX rises above50, traders can begin executing sell signals as RSI closes below 30. So far, during the highlighted period, RSI has signaled 3 sample entries for the graph. As ADX is now below 50, no new trading signals should be considered.
Stop and Limit Placement
Traders should always have a plan for managing their position. Eventually trends will come to an end and any existing trades should be exited. When initiating a buy order, stop orders should be placed at a 14 period low on the 4Hour chart. That way if a new low is created, all existing buy trades will be closed. Conversely if a trader is selling in a downtrend, stops can be placed at a 14 period high again using the 4Hour chart.
When it comes to profit targets, the "ADX 50" trend trading strategy will use a standard 1-2 Risk:Reward ratio. This means that your limit placement should look for twice the amount of pips relative to your stop. For example, if a sample trade has a 100 pip stop loss, a minimum 200 pip profit target is suggested.
Learn More
The "ADX 50" trend trading strategy is just one installment of an ongoing article series on market strategies. If you missed one of the previously mentioned strategies, don't worry! You can catch up on all of the action with the previous articles linked below.
Strategy 1: Trading Inside Bars with OCO Orders
Strategy 4: The HI-Low Breakout
Strategy 5: Day Trading Market Reversals
Strategy 6: Trend Trading with ADX
Interested in learning more about Forex trading and strategy development? Signup for a series of free "Advanced Trading" guides, to help you get up to speed on a variety of trading topics.
Register here to continue your Forex learning now!
DailyFX provides forex news and technical analysis on the trends that influence the global currency markets.