3 Strategies for Trading News (NFP)
Talking Points:
Trading news is dangerous as wild and erratic price movements can extend against the trader

Traders need to be vigilant with risk management, looking to capitalize when on the right side of the move

We share three different types of strategies for trading during news
The big day is here, and the Non-Farm Payrolls report that much of the world has been waiting for will finally be unveiled tomorrow morning at 8:30AM in New York.
News announcements of this nature can take on a life of their own with the amount of interest they receive. But it's important to note the danger and risks of trading on such events. Nobody in the world has any idea the way that NFP will print… and even if they did, there is no way of knowing exactly the way that the market will price that data.
What follows are three ways that traders can look to trade around high-importance news announcements like NFP.
But, before we get into the strategies, I'd like to stress the danger of trading in such environments. Many professionals choose to avoid trading during high-impact news announcements just because of how dangerous or erratic they can be.
If you've never traded during one of these events, or if you don't feel comfortable taking on the extraneous risk that is inevitable with such a high-impact announcement, trade on the demo account or sit on the sidelines. There is absolutely no shame in having fear of a market; this is what helps keep traders alive. Bravado or machismo is absolutely worthless if you drain all of your equity.
The 'Slingshot' Strategy
This strategy looks to capitalize on the mayhem that may ensue during an especially strong print. In this strategy, the trader wants to look to go into NFP with their full position(s), so that if the volatility created around the announcement may be able to push their trade deeply into profitable territory, they can look to take advantage of that.
The slingshot looks to scale out of winning positionsas the trade moves in the trader's favor, and a variety of entries or entry strategies can be used to trigger the initial position.
Support and resistance identification is a necessity before opening any positions. Traders can also take this a step further by looking to the hourly or four-hour charts to determine any trends that may exist leading into the announcement. This way, if the biases going into NFP take place after the data is released, the trader can be on the right side of the move.
Support and Resistance is so important because that's the 'cut point' with which the trader can close off the position if prices are going to move too far against them. Stops for long positions can go below support, and stops for short positions can go above resistance so that if either of these levels are broken, the loss can be minimized.
The Slingshot Looks to Capitalize from Extended Moves in the Trader's Direction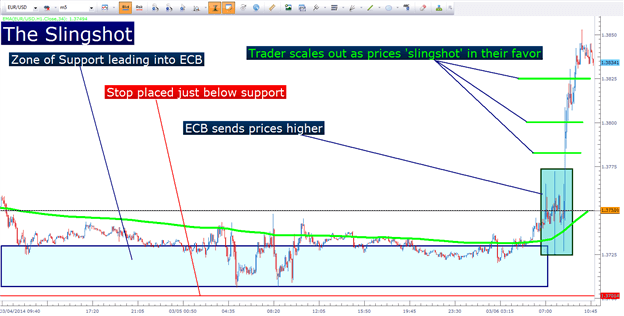 Prepared by James Stanley
Traders can even incorporate a technical-trigger into the trade with an indicator like MACD like we had explained in the article, MACD as an Entry Trigger.
A key note here: Traders are advised to investigate stop distance on their positions ahead of a data announcement as heavy as NFP. Spreads can widen very quickly as market makers don't want to take a loss on the print just as much as retail traders. When spreads widen, stops can be triggered before prices begin trending and this can be disastrous for the trader.
Imagine the scenario in which you went into NFP with a long EURUSD position carrying a 20 pip stop… If spreads widen out to 40 pips, that would trigger your stop and execute the stop order 'at best.' This could entail additional slippage beyond your 20 pip stop.
But, if prices then trend up 150 pips on the EURUSD you have no position remaining even though you were right in the long position.
Unfortunately, it's impossible to know how widely spreads might spike during any given news release, NFP especially. Traders generally want to investigate a minimum stop distance of 40 pips or more, and even then quick volatility may make the position vulnerable.
This is but another reason that trading in news environments is so dangerous; but the potential rewards could be huge if the trader can find themselves on the right side of the position, and that's what the slingshot is all about.
If the trader is able to navigate this terrain without getting a stop hit, that's where the slingshot comes in as traders can scale out of profitable positions as prices may surge in their favor.
The News Reversal
Trading reversals are inherently dangerous in a normal environment; but when adding in the additional risk around news announcements, it can make this type of strategy very dangerous.
Strong money and risk management are a requirement for success in these environments, because you'll never be sure of which reversals may follow-through.
Like the Slingshot strategy, traders want to go into the release with support and resistance levels identified. Then, they wait for the news.
In the immediate period following the news announcement, the trader can watch prices to see if those longer-term support or resistance levels come into play. And if they do, the trader watches to try to get an idea as to whether or not those levels are going to hold.
The News Reversal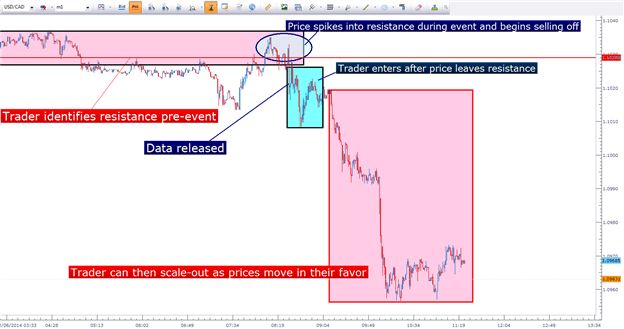 Prepared by James Stanley
Price action can be of huge help here. Traders want to see support coming in to the market at these longer-term levels before triggering a long position with a stop below support. The key here is fitting in tightly so that if the reversal doesn't play out, the position is taken out quickly. But if that support level does hold, the trader can begin scaling out once the position starts moving in their favor in an effort to capture as much upside as possible.
The 'Use the News' Long-Term Strategy
Non-Farm Payrolls can be a game changer. A big beat or miss can stop a trend dead in its tracks and create massive reversals.
But this doesn't happen every month. In many cases, enormous volatility is created around the announcement with perhaps some slight follow-through thereafter; only to see trends resuming their previous trajectory.
This can potentially be a huge opportunity for longer-term traders to pick up or add positions at a much more favorable price than they would have otherwise been able to. Let's look at an example for more clarity.
Let's say that Joe is bearish on the EURUSD for whatever reason. Perhaps he's just a really big USD bull, or maybe he's a non-believer in the European Recovery. Whatever the reason, Joe knows he wants to get short EURUSD.
But after spending a month confined to a meager range near long-term support, Joe hasn't had a compelling entry opportunity in the pair.
Joe can go into NFP looking to do some bargain-hunting. He can look at his longer-term chart to establish some resistance levels in which he'd like to sell if prices can make their way up there.
The next step in the process is to wait for the news to come out to see if prices can move up into this resistance zone so that Joe can enact an order.
The 'Use the News' Long-Term Approach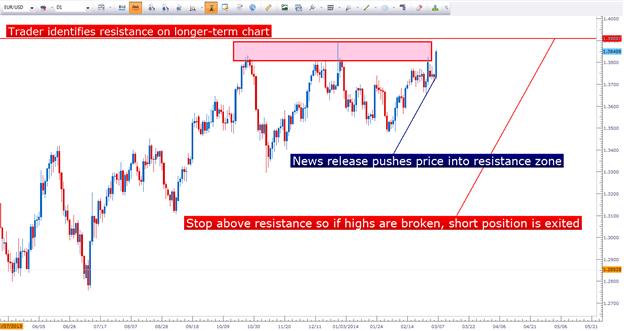 Prepared by James Stanley
Once price moves into resistance, Joe can begin looking to sell with a stop above the resistance zone. Traders can look at a shorter-term chart to look for price action indications of bullish or bearish reversal patterns to increase the potential effectiveness of the strategy.
--- Written by James Stanley
James is available on Twitter @JStanleyFX
Interested in learning more about trading the news? Read our Introduction to Forex News Trading Guide to gain additional insight!
DailyFX provides forex news and technical analysis on the trends that influence the global currency markets.