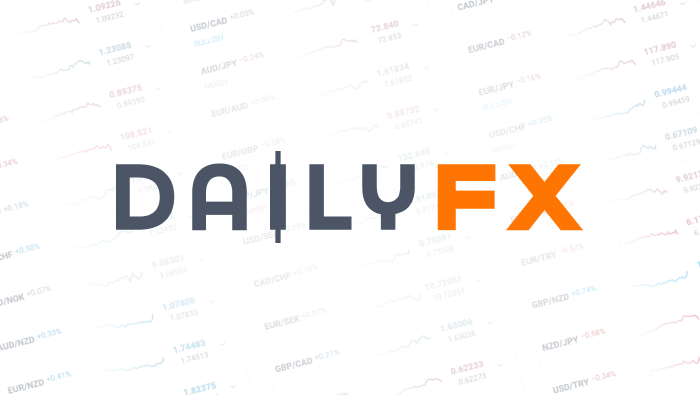 Learn Forex: Trading the Forex Bear Flags to Short the Market
Forex bear flag patterns provide excellent setups to join a strong downtrend.
Flag patterns are easy to recognize and have good risk to reward setups with small stops and large limits.
The tighter the consolidation and more overlapping price action, the more reliable the pattern.
Today we continue our two-part series on flag patterns by discussing the bear flag pattern.
Learn Forex: Bull Flag Pattern
(Created using FXCM's Marketscope 2.0 charts)
As can be seen in the above illustration, the forex bear flag pattern starts with a strong nearly vertical downtrend made up of large range bearish candles arranged I a flagpole. Price action churns up and down in either a horizontal rectangular consolidation between a well-define areas of support and resistance.
On some occasions, the channel may be angled upward as buyers struggle to push price higher against the prevailing market tide. Try as they might, buyers are overwhelmed by selling pressure with price failing to breach resistance and returning back to support.
Savvy traders will recognize this pattern and look for a break below support to join a resumption of the downtrend.
Learn Forex: Bear Flag Pattern Setting Stops and Limits
(Created using FXCM's Marketscope 2.0 charts)
How to Trade
As depicted in the chart above, the forex bear flag pushes sharply below support catching would-be bulls off guard. Once the downtrend resumes, a stop can be placed about four pips above the top of resistance and a break 4 pips below support. Limits can be set to take profits at a 1:1 with the final position set at height of the flagpole.
To minimize fake breakouts, traders can wait for closed candles below support on an hourly time frame. In addition, traders can use their favorite oscillators like Stochastics or MACD to get additional confirmation through negative divergences. In negative divergence, price makes a higher high, but price makes a lower high. This signals traders that the countertrend up move has come to an end.
As stated by Thomas Bulkowski in his book Encyclopedia of Chart Patterns, tight formations that neatly stay within the rising or horizontal channel. Channels that slope down in the direction of the trend have a higher percentage of failure. In addition, the longer the channel, the less likely of a continuation breakout.
In sum, the forex bear flag pattern is easy to recognize with simple rules to observe to enter. Price targets and stops make the bear flag the ideal pattern for traders of all experience levels to benefit from. So when bulls wave the flag of surrender, look for the bears and the downtrend to resume!
---Written by Gregory McLeod, Trading Instructor
To contact Gregory McLeod, email gmcleod@dailyfx.com. Follow me on Twitter @gregmcleodtradr
I hope you found this article helpful and informative in seeing how to short the market effectively. To further your education on other methods to enter into a trade short using Fibonacci, sign my guest book and take a free 20 minute lesson that will show you.
DailyFX provides forex news and technical analysis on the trends that influence the global currency markets.